Each week there are plenty of new games coming out. Although with so much going on it can be hard to keep track of them all. Thankfully Checkpoint is here to sift through them all and bring you our highlights of the week.
So let's jump in and have a look at what's coming out in gaming this week.
Essays on Empathy
Date: 18/05/2021
Genre: Collection
Platforms: PC
"Essays on Empathy is a curated compilation of Deconstructeam's best efforts in seeking new narrative experiences in games.
Inhabit the lives of a diverse cast of characters from all walks of life in bite-sized, innovative, interactive stories; from a hitman working at a flower shop, to a schoolgirl who is convinced her skeleton isn't hers.
Explore 10 unique, offbeat tales including "De Tres al Cuarto," a brand new short experience exclusive to the compilation about a couple of two-bit comedians trying to make it big."
Aerial_Knight's Never Yield
Date: 19/05/2021
Genre: Runner
Platforms: PC, Switch
"Aerial_Knight's Never Yield is a 3D side-scroller that plays much like a classic endless runner. The game has an interesting story that keeps players always in motion. Run, Jump, Slide or "Dash" for acrobatic variants leading to dope combinations and avoid the challenges that await. Aerial_Knight's Never Yield is being built for players who love to speedrun games while being an experience that casual players will enjoy as well."
Outbreak: Endless Nightmares
Date: 19/05/2021
Genre: Action / Survival Horror
Platforms: PC, PS4, PS5, Xbox One, Xbox Series X, Switch
"Outbreak: Endless Nightmares twists the series' survival horror gameplay by adding elements of roguelike gameplay. You'll need to explore, hunt for supplies, uncover clues, and fight your way through each anomaly – each consisting of semi-procedurally generated instances where both the environment, and the undead, are out to kill you!"
The Wild at Heart
Date: 20/05/2021
Genre: Adventure / Strategy
Platforms: PC, Xbox One
"A mysterious hidden realm. Two precocious kids fleeing hardship. Magical creatures and an oddball order of guardians who have lost their way. A stygian evil imprisoned. Welcome to the Deep Woods."
Mayhem in Single Valley
Date: 20/05/2021
Genre: Action / Platform
Platforms: PC
"Sometimes you have a bad day, and sometimes you wake up and accidentally start the apocalypse. Meet Jack, a mischievous kid with a twisted family, his trusty slingshot, and endless bad luck. In this action-adventure, it's up to you to stop the monstrous swarms at the end of the world, and make it back to the dinner table in time.
Save the world, and keep the town together – It ain't simple being the sole hero of a quiet town. As Single Valley begins to crumble, you'll uncover the town's hidden secrets along the way. What's scarier – hidden family history, the strange truth of your neighbors, or an adventure game breaking down its fourth wall right on its Steam page?"
Just Die Already
Date: 20/05/2021
Genre: Simulation / Sandbox
Platforms: PC, PS4, Xbox One, Switch
"Just Die Already is an old people mayhem sandbox game created by the designers of Goat Simulator.
You are an old retired person in a near future where people aren't having any children. There isn't anyone to pay for pensions due to those ungrateful millennials who prefer playing video games instead of doing actual work. With no one to cover your living costs, you – just like all other old people in this world – have no other choice but to survive on your own.
How will you survive in a world that wants you to Just Die Already?"
Of Bird and Cage
Date: 20/05/2021
Genre: Adventure / Music
Platforms: PC
"FIRST OF ITS KIND STORY-DRIVEN MUSIC GAME
Experience the overwhelming power of metal music like never before. Featuring artists from (ex) Guns N' Roses, Epica, Within Temptation, and many others! Music by Arnold Nesis.
Dive into a dark, twisted game specifically tailored to its music. Let symphonic metal lead you through a two-hour-long story of trauma, violence, and madness based lightly on 'Beauty and the Beast'."
The Longest Road on Earth
Date: 20/05/2021
Genre: Adventure
Platforms: PC
"Play in a song.
The Longest Road on Earth is a deeply personal and meditative narrative title. Play in the songs of four short stories featuring stripped down mechanics and no words. Each story is up for interpretation – what story lives inside you for each character and the world around them?
Be swept away by the haunting and sentimental lyrics of over twenty-four original, emotionally charged songs, sung by one of the developers.
Walking down The Longest Road on Earth will only take you two hours, and it's worth every step."
Knockout City
Date: 21/05/2021
Genre: Action / Sports
Platforms: PC, PS4, PS5, Xbox One, Xbox Series X, Switch
"Team up and duke it out with rival Crews in Knockout City™, where you settle the score with EPIC DODGEBALL BATTLES. Brace yourself for outrageous fun and intense competition in an all-new take on team-based multiplayer games.
Customize your character and form a Crew with friends to start your Knockout City takeover. Knock out opponents with trick shots and coordinated teamwork while dodging and catching balls flying across the map. No ball? No problem! You can literally ball up, roll into a teammate's hands, and become the ultimate weapon!"
Rust Console Edition
Date: 21/05/2021
Genre: Survival
Platforms: PS4, Xbox One
"In Rust, there is one goal above everything else: survive. Conquer thirst and hunger, battle the elements, create weapons and stay safe against hostile forces including other players, scientists, bears, wolves or even succumb to fire, drowning or radiation poisoning. In the struggle for survival and supremacy, players can build tiny cabins in the woods to huge scrap metal fortresses in an attempt to stay safe, as well as craft a variety of weapons, bombs and traps. A game without rules: Rust doesn't tell its inhabitants what to do. Players are free to be deceptive and aggressive with intense player vs. player combat, raiding and looting, but there is potentially even more to be earned with a team of friendly players by your side."
Kowloon High-School Chronicle
Date: 21/05/2021
Genre: Puzzle / RPG
Platforms: Switch
"Kowloon High-School Chronicle is a hybrid RPG, adventure, and first-person simulation game originally released in 2004 in Japan. Never before released in North America, experience this classic title, now remastered in HD on Nintendo Switch™!
Treasure Hunters – Adventurers who search for buried treasure scattered around the world.
In Shinjuku, Tokyo, a young man appears as a transfer student at Kamiyoshi Academy. While he seems like a normal student, he is actually a treasure hunter. His mission is to discover a mysterious ruin hidden deep beneath the school. Accompanied by his new friends from school, he sets out to discover the mysteries of a super ancient civilization. However, numerous traps, monsters called "Kehito" that lurk within the ruins, and the clutches of the "student council" stand in his way!
Build your relationship with friends, solve puzzles, dodge traps, defeat enemies, and discover the great mysteries and treasure sealed beneath the school!"
Miitopia
Date: 21/05/2021
Genre: Adventure / RPG
Platforms: Switch
"Cast your friends, family, or anyone you choose in a comedy-filled adventure to bring down the face-stealing Dark Lord! Create and customize Mii™ characters, assign them roles, and watch them come to life. Laugh along as your best friend and dear old grandma team up in the fantasy adventure of a lifetime!
Have a blast with new features—including an adorable horse pal, wigs and makeup, and more—on the Nintendo Switch™ system."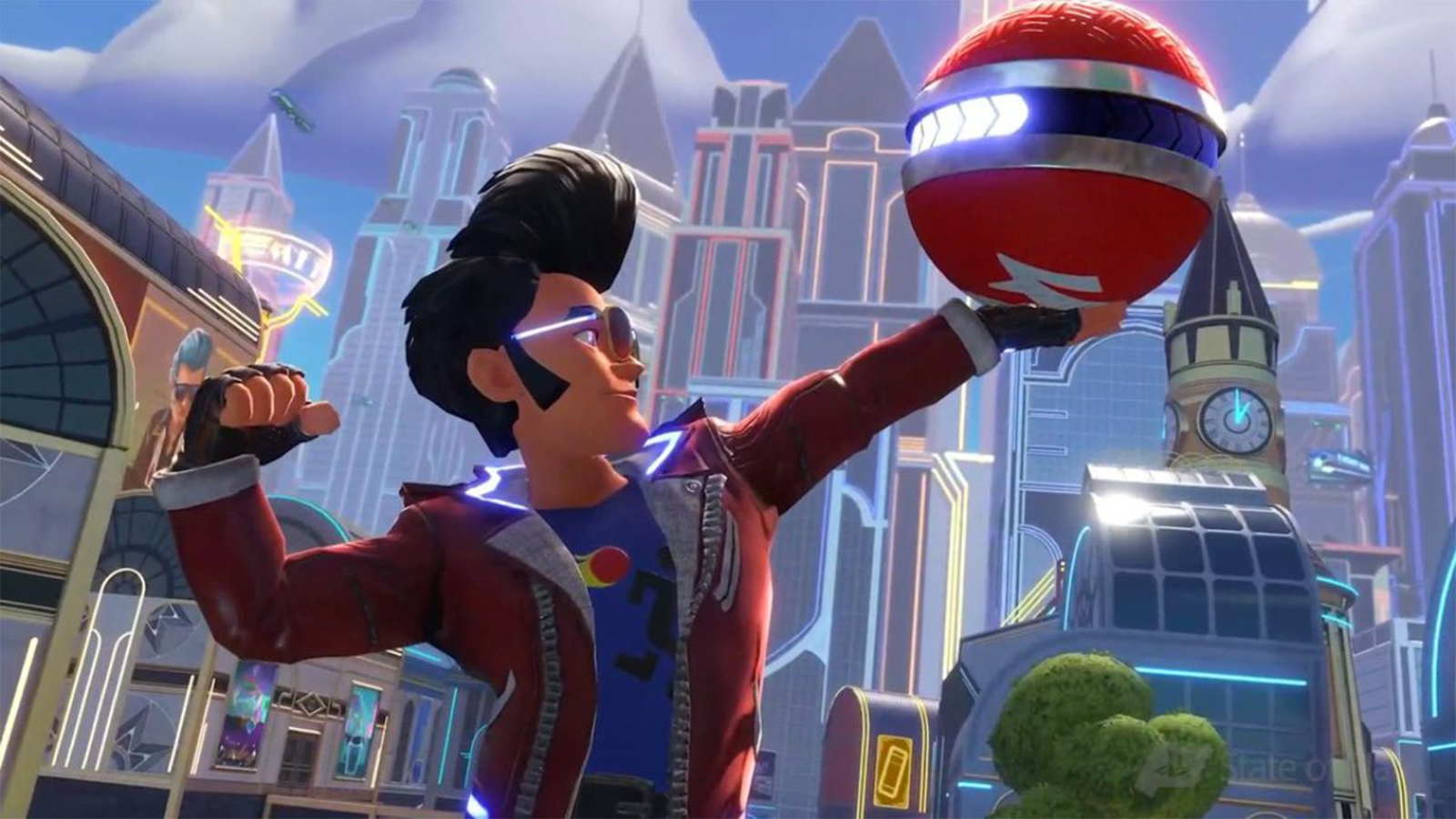 Knockout City
Cool, colourful and perfect to play with friends. It looks like an absolute riot! Will it end up being a fun and unique experience or just another generic battle royale? Who can say, we'll just have to find out!