Each week there are plenty of new games coming out. Although with so much going on it can be hard to keep track of them all. Thankfully Checkpoint is here to sift through them all and bring you our highlights of the week.
So let's jump in and have a look at what's coming out in gaming this week.
The Smurfs: Mission Vileaf
Date: 26/10/2021
Genre: Action / Adventure
Platforms: PC, PS4, Xbox One, Switch
"Go on an adventure to save your forest! Gargamel, the evil sorcerer just created the VILEAF, a plant that has the ability to attract and capture the Smurfs… but it's also TOXIC! Embody 4 iconic Smurfs and heal the plants on your way to Gargamel's hovel: the whole forest depends on you!"
Marvel's Guardians of the Galaxy
Date: 26/10/2021
Genre: Action / Adventure
Platforms: PC, PS4, PS5, Xbox One, Xbox Series X
"Fire up a wild ride across the cosmos with a fresh take on Marvel's Guardians of the Galaxy. In this third-person action-adventure game, you are Star-Lord, and thanks to your bold yet questionable leadership, you have persuaded an oddball crew of unlikely heroes to join you. Some jerk (surely not you) has set off a chain of catastrophic events, and only you can hold the unpredictable Guardians together long enough to fight off total interplanetary meltdown. Use Element Blasters, tag-team beat downs, jet boot-powered dropkicks, nothing's off-limits."
Workshop Simulator
Date: 26/10/2021
Genre: Simulation
Platforms: PC
"Feel the joy of turning the old into pristine condition again
Can an innocent request from your grandma lead to a nostalgic trip down memory lane, helping you find out about your family's history? Workshop Simulator is a relaxing restoration simulator – take vintage items and give them a second life – the respect for the usefulness of every object, which in the hands of a specialist can become a small work of art."
Neptunia x Senran Kagura: Ninja Wars
Date: 26/10/2021
Genre: Action
Platforms: PS4
"Gamninjustri – a place where all manner of ninjas gather.
As the struggle for control increased between the Daimyos of the nations, tensions rose between the two great nations, each of which was home to one of the major schools of martial arts.
The Compa Style which has mastered the Ninja Arts based on the Command Technique.
The Honeypa Style which has mastered the Ninja Arts rooted in the Action Technique.
The two camps were stuck in a ruthless competition of skill in order to achieve hegemony, but as they fought on, a mysterious army of mechanical ninjas made their assault. The mechanical ninja army overran the smaller nations in an instant, and the Steeme Legion leader, Yoh Gamer, made an announcement to the world:
The Super NINJA War to decide the world's strongest school is about to begin!"
Moonglow Bay
Date: 26/10/2021
Genre: Adventure / RPG
Platforms: PC, Xbox One, Xbox Series X
"In Moonglow Bay, you play as a rookie angler, working together with friends, family, and neighbours to hone your fishing skills, nourish relationships, and restore a remote town's fractured community."
Age of Empires IV
Date: 28/10/2021
Genre: Strategy
Platforms: PC
"One of the most beloved real-time strategy games returns to glory with Age of Empires IV, putting you at the center of epic historical battles that shaped the world. Featuring both familiar and innovative new ways to expand your empire in vast landscapes with stunning 4K visual fidelity, Age of Empires IV brings an evolved real-time strategy game to a new generation.
Return to History – The past is prologue as you are immersed in a rich historical setting of 8 diverse civilizations across the world from the English to the Chinese to the Delhi Sultanate in your quest for victory. Build cities, manage resources, and lead your troops to battle on land and at sea in 4 distinct campaigns with 35 missions that span across 500 years of history from the Dark Ages up to the Renaissance."
NASCAR 21: Ignition
Date: 28/10/2021
Genre: Racing
Platforms: PC, PS4, Xbox One
"NASCAR 21: Ignition redefines the official video game of the world's most popular stock car racing series. With incredible graphics and immersive gameplay, NASCAR 21: Ignition brings a whole new level of authenticity and atmosphere to the NASCAR Cup Series."
Saint Kotar
Date: 28/10/2021
Genre: Adventure / Horror
Platforms: PC
"In this story-and-choice driven psychological horror detective game, you play as Benedek and Nikolay – two troubled godly men in search for their missing relative in an ancient God-devoted town called Sveti Kotar. Here, an unknown presence preys upon the weak and sways on devil worship and witchcraft. Evidence points to your missing relative being involved in the grisly murders and the occult, but what is the truth? Are you also to blame for what happened?
Will you put the pieces together and unravel the truth behind the town's centuries-old horrid presence? Or is madness going to be your fate?"
Subway Midnight
Date: 28/10/2021
Genre: Adventure / Horror
Platforms: PC
"Board the train! Run away from a weirdo! Solve some puzzles! Make friends with some ghosts! Try not to become a ghost yourself!"
Undernauts: Labyrinth of Yomi
Date: 28/10/2021
Genre: RPG
Platforms: PC, PS4, Xbox One, Switch
"Escape from "Yomi" – a dungeon filled with riches – and danger.
You have been recruited into the Undernauts – a team of brave subterranean adventurers who comb the depths of a massive, monster-infested labyrinth in search of priceless resources. Make use of your powerful skills and magic items to create exits and reach the surface alive."
Super Robot Wars 30
Date: 28/10/2021
Genre: Strategy / Simulation / RPG
Platforms: PC
"30 years on, the battle for our world's future continues. Super Robot Wars is a tactical RPG that brings characters and robots from a variety of mecha anime together to battle their mutual foes."
Project Zero: Maiden of Black Water
Date: 28/10/2021
Genre: Adventure / Horror
Platforms: PC, PS4, PS5, Xbox One, Xbox Series X, Switch
"Mt. Hikami was once revered as a spiritual place.
It housed a unique religion based on beliefs and customs of worshipping water as a deity and is said to have been a site of many gruesome incidents and mysterious phenomena.
This mysterious and intertwined story follows three protagonists—Yuri Kozukata, Miu Hinasaki, and Ren Hojo—as each of them explores the ominous Mt. Hikami, a place where many came to die, and the secrets it hides."
Riders Republic
Date: 28/10/2021
Genre: Action
Platforms: PC, PS4, PS5, Xbox One, Xbox Series X
"Jump into the Riders Republic™ massive multiplayer playground! Grab your bike, skis, snowboard, or wingsuit and explore an open world sports paradise where the rules are yours to make—or break."
Mario Party Superstars
Date: 29/10/2021
Genre: Party
Platforms: Switch
"Calling all superstars! The Mario Party™ series is back with 5 classic boards from the Nintendo 64 Mario Party games. Race to get the most stars (and sabotage your opponents) on boards like the stellar Space Land or the spooky Horror Land! Party at your own pace by suspending a game and picking up right where you left off! The tides can turn quickly in Mario Party, so stay vigilant, partygoers. All modes can be played online*, too!"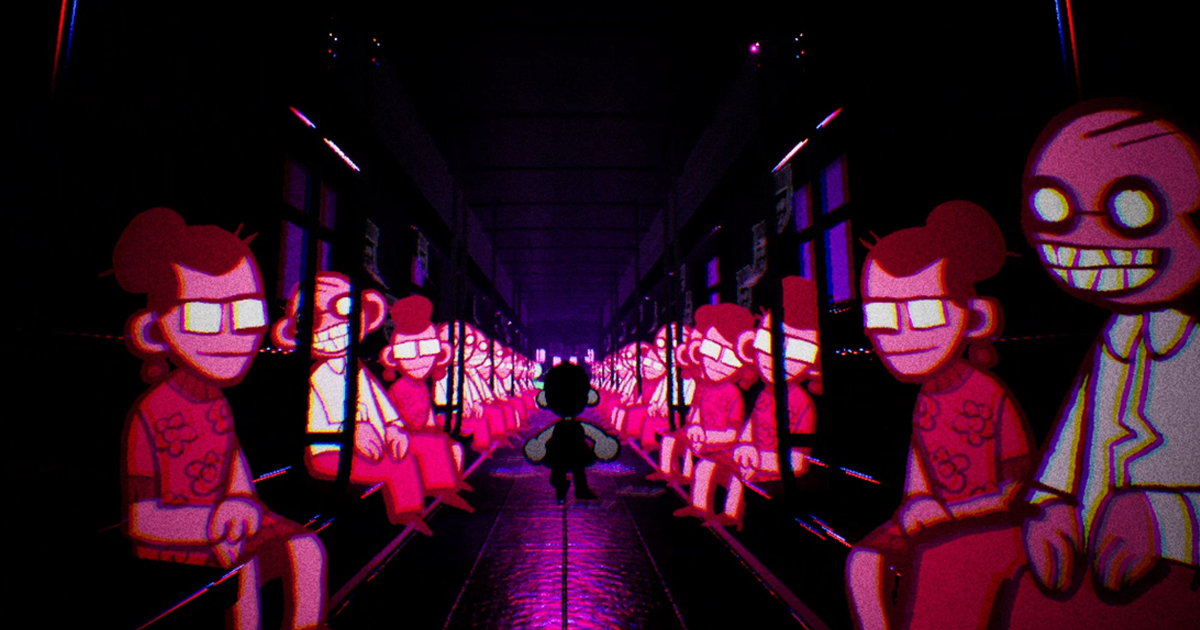 Subway Midnight
This delightful looking phycological horror may be a great addition to our spook month. Sometimes it's the seemingly cute and innocent games that will deliver that terrifying adrenaline shock to your system.