Each week there are plenty of new games coming out. Although with so much going on it can be hard to keep track of them all. Thankfully Checkpoint is here to sift through them all and bring you our highlights of the week.
So let's jump in and have a look at what's coming out in gaming this week.
MXGP 2021
Date: 30/11/2021
Genre: Racing / Simulation / Sports
Platforms: PC, PS4, PS5, Xbox One, Xbox Series X
"All the power of Motocross in your hands: the new MXGP 2021 is finally here!
The official MXGP videogame is ready to show you what it's made of: warm up your engines and get ready for the most realistic, exciting two-wheeled experience ever!"
Propnight
Date: 30/11/2021
Genre: Action
Platforms: PC
"Propnight is a 4vs1 multiplayer physics-based prop hunt mixed with classic horror survival.
In a small provincial town, teenagers continue to disappear mysteriously. But who or what is behind this?"
Gear.Club Unlimited 2 – Ultimate Edition
Date: 30/11/2021
Genre: Racing
Platforms: PC, PS4, PS5, Xbox One, Xbox Series X
"With the pedal to the metal, race along more than 3,000 kilometers of tracks that await you! On the mountainside, through a nature park, in the middle of the desert or along the coast, defend your position in more than 250 races, with championships, exhibition races and Grand Prix."
Solar Ash
Date: 02/12/2021
Genre: Action / Adventure
Platforms: PC PS4, PS5
"Solar Ash is the second game from Heart Machine, the creators of the award winning 2016 game Hyper Light Drifter. Journey through a surreal, vivid and highly stylized world filled with mystery, wild high-speed traversal, endearing characters, and massive enemy encounters." 
Cricket 22: The Official Game of The Ashes
Date: 02/12/2021
Genre: Sports
Platforms: PC, PS4, PS5, Xbox One, Xbox Series X
"Cricket 22 delivers the most robust, substantial game of cricket that fans have ever seen. Enjoy the full licensed Ashes contest – the pinnacle of the long-standing rivalry between Australia and England. In addition, contest Australia's big-hitting Big Bash T20 competition, the hugely innovative The Hundred in England, the tropical party of the CPL in the Caribbean, and take to the international field of battle with fully-licensed teams from Australia, England, The West Indies, New Zealand and Ireland.
And, in keeping with Big Ant's commitment to equality and equal representation, both the Men's and Women's games have been replicated across all of Cricket 22."
KungFu Kickball
Date: 02/12/2021
Genre: Action / Sports
Platforms: PC, PS4, PS5, Xbox One, Xbox Series X, Switch
"Compete against your friends in a fantasy sport that mixes soccer with kung fu action movies. Fly through the air and unleash a flurry of punches, kicks, and mystical arts to overpower the other team and smash the ball into their bell. Every bell ring counts as a point and the team with the most points when time runs out is crowned the winner.
Hone your skills in the single-player championship modes against increasingly difficult AI, then duke it out with friends in either local multiplayer or online multiplayer in versus or quickmatch modes." 
Happy Humble's Burger Farm
Date: 03/12/2021
Genre: Action / Adventure / Horror
Platforms: PC, PS4, PS5, Xbox One, Xbox Series X
"Congrats, you're hired! Serve customers and maintain the Happy's Humble Burger Farm restaurant alone on the overnight. But be careful; things fall apart if you mess up! After work, head home and keep your eyes open for a way to escape the Barnyard Buds and their fast food fever-dream."
Century: Age of Ashes
Date: 03/12/2021
Genre: Action / FTP
Platforms: PC
"Century: Age of Ashes is a free-to-play multiplayer dragon battle game. Master a growing roster of classes and dragons, compete in intense arena battles and rule the skies in fast-paced aerial combats."
Danganronpa Decadence
Date: 03/12/2021
Genre: Action / Adventure / Puzzle
Platforms: Switch
"Indulge in a decade of despair with four games in one!
Danganronpa Decadence contains the three main titles in the legendary Danganronpa franchise, Danganronpa: Trigger Happy Havoc Anniversary Edition, Danganronpa 2: Goodbye Despair Anniversary Edition, and Danganronpa V3: Killing Harmony Anniversary Edition, and also features the brand-new title Danganronpa S: Ultimate Summer Camp, a boardgame-style bonus game with all-new scenes and interactions between your favorite characters!
Celebrate the 10th Anniversary of Danganronpa with this exclusive Nintendo Switch™ four-games-in-one bundle."
Chorus
Date: 03/12/2021
Genre: Action / Adventure
Platforms: PC, PS4, PS5, Xbox One, Xbox Series X
"Take control of Nara, once the Circle's deadliest warrior, now their most wanted fugitive, on a quest to destroy the dark cult that created her. Unlock devastating weapons and mind-bending abilities in a true evolution of the space-combat shooter. Along with Forsaken, her sentient starfighter, explore ancient temples, engage in exhilarating zero-g combat, and venture beyond our waking reality."
Big Brain Academy: Brain vs. Brain
Date: 03/12/2021
Genre: Puzzle
Platforms: Switch
"Big Brain Academy makes its debut on Nintendo Switch! Challenge yourself with fun questions to iron out the creases in your grey matter!
Step up to brain-flexing challenges in five different categories: Identify, Memorize, Analyze, Compute, and Visualize.
Master each category to pump up your Big Brain Brawn!
Play with up to four players simultaneously, or pit your Big Brain Brawn against players all over the world in Ghost Clash, even when you aren't playing at the same time.
So how about stepping up to the plate and building up that Big Brain Brawn in a variety of styles, whether it's by untangling thorny puzzles alone, or by going head-to-head in thrilling contests with rivals?"
Icarus
Date: 04/12/2021
Genre: Action / Adventure / Simulation
Platforms: PC
"ICARUS is a session-based PvE survival game for up to eight co-op players.
Endure a savage alien wilderness on Icarus, humanity's greatest mistake. Survive its brutal environment as you explore, harvest, craft and hunt while seeking your fortune.
From their orbital station, prospectors drop to the planet surface for limited time sessions, where they learn to endure the alien environment, complete faction missions and search for valuable exotic materials. Those that survive return to orbit as seasoned veterans, converting their exotics into advanced technology, and taking on ever more challenging drops with newfound knowledge. Those that get left behind… are lost forever."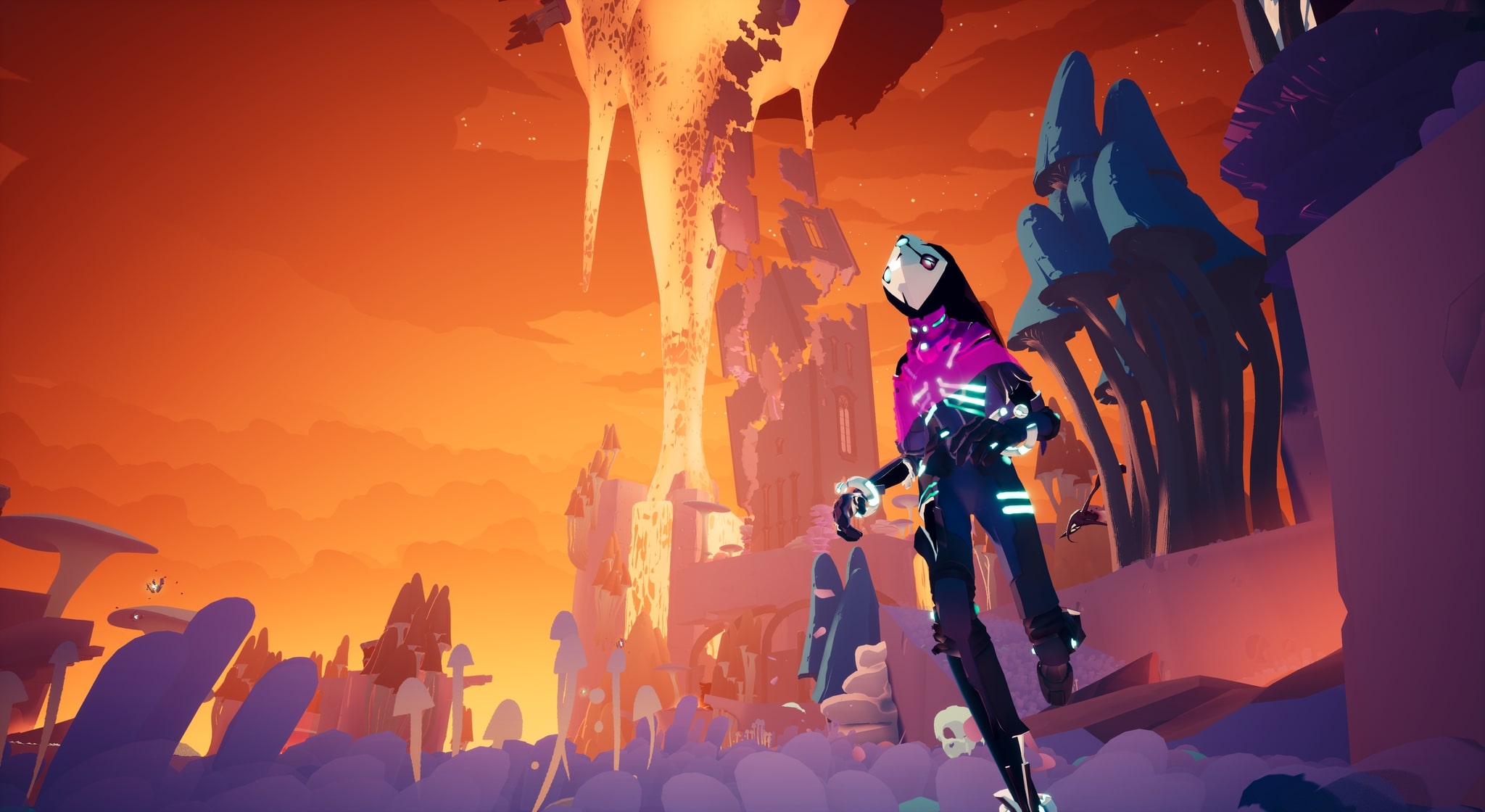 Solar Ash
Just the vibrancy alone is enough to draw you into curiosity with Solar Ash. Heart Machine knows how to create a visual feast of a gaming experience, so we are looking forward to seeing where Solar Ash will take us.