In a recent media event with VicScreen, we got an opportunity to go hands-on with some of Australia's most impressive and important upcoming video game releases. With over 50% of Australia's game development studios and workers operating out of Victoria, the sheer depth of creative talent we have pouring out of our state is simply staggering. From humble solo projects to six-figure, internationally funded experiences—Victoria runs the gamut of creative pieces of exemplary interaction fiction.
On offer were six games — Kinder World, Cult of the Lamb, Way to the Woods, Wayward Strand, Wood & Weather, and Future Folklore — whose developers were there, eager to talk about their projects. Most games had demos available for play as well, and with some generous time to ask questions, we were able to get the lowdown on these exciting upcoming releases.
Way to the Woods
One of the most exciting games would have to be Way to the Woods. This indie game wowed all the way back in 2019 when it was first revealed during Microsoft's E3 press conference. promising a 2020 release, the game soon vanished from the public conscious as development went silent with nary an update from the game's solo developer Anthony Tan.
Going hands-on with Way to the Woods was exciting as we got to see the vision become realised. A deer and their fawn in an abstract version of reality, making their way through pits of black tar-like substance and bringing light and energy back into the world. We now know Way to the Woods is expected in 2023, and if you're looking for more info on this one then we already have you covered!
Wood & Weather
Wood & Weather brings back fond childhood memories of playing with coloured building blocks. Not so much the 'building' part, but the part that comes next – having a toybox that you can muck around in. In Wood & Weather, you control a simple disembodied hand inside a sandbox environment. Your only goal is to interact with a little wooden block town by picking things up and moving them around. You can pick up almost anything that isn't nailed to the ground, often to amusing effect, and the way the town reacts will depend on whether it's sunny, raining, or snowing.
Discovering a new reaction or secret in the town will reward you with some 'inspiration', which you can use to unlock new weather types. It's a simple kind of fun, the kind that I can imagine turning on for a while to wind down. It's already packed with amusing details, like the way the hand walks on its fingers if you're close enough to the ground, or how the cars will try to get back on track after you're done dragging them around.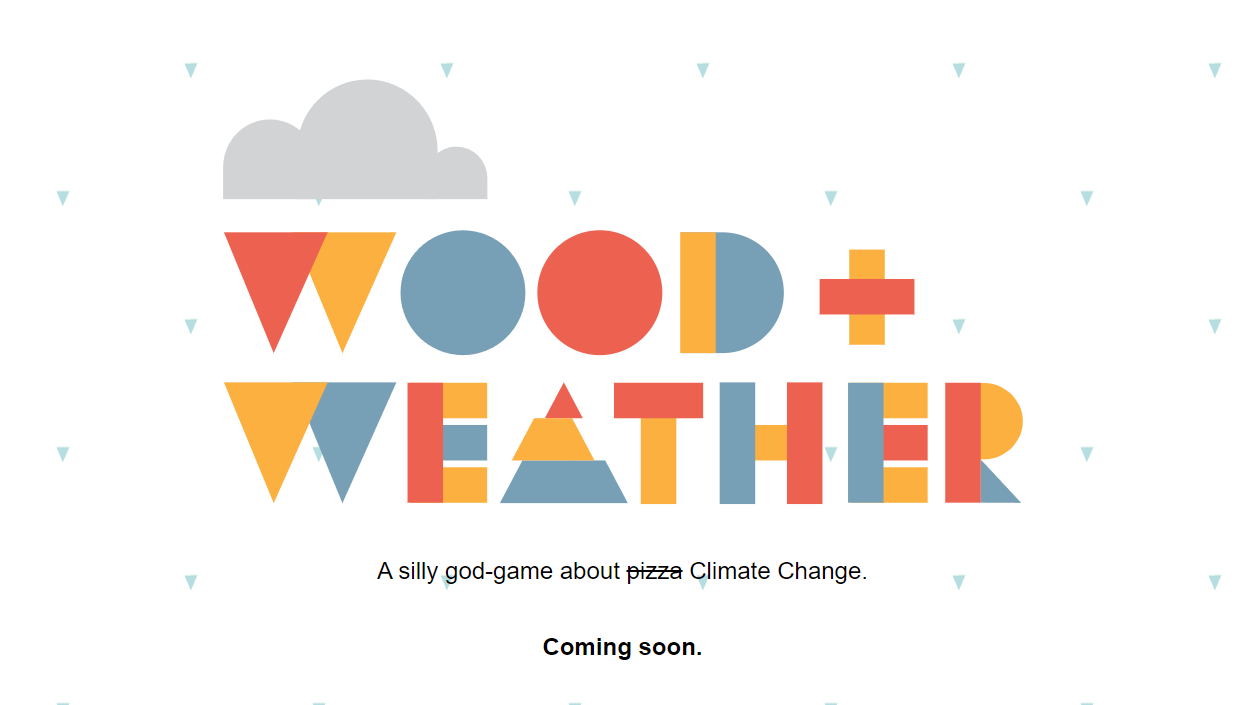 Wayward Strand
Taking unique stories and unpacking them in a non-linear fashion is the idea behind Ghost Pattern's Wayward Strand. This narrative adventure title takes place in the 1970s aboard a floating hospital where you'll spend time in the aged care ward, keeping the old folks company whilst learning details about the interpersonal relationships aboard the floating vessel as well as the vessel's history. There's an element of investigation in this one although every player's stories will be different. The patients will move about the airship freely, go about their daily routine, and have conversations whether or not you're present to witness them. This means information will be revealed differently to different players as everybody makes different choices about where to go, what to say, and what to do.
It's a bold design premise for a game with so many moving parts. Developer Ghost Pattern told us it was a bit of a logistical nightmare to figure out how it would all work. With 3 chapters each going for around 1 hour each, it's a bit of a bite-sized experience but one no doubt full of meaningful and personal stories told from an age group video games rarely pay attention to. You can expect to see Wayward Strand launch on September 15 to PC and console.
Kinder World
In a fast-moving and often unfair world, it can be necessary to take a step back and engage in something to heal the mind and remind yourself that there are good things in the world too. Kinder World is a mobile game currently available to download in Alpha mode. You start with a single house plant to take care of, and you water it by answering wellness questions that are designed to make you think about the positive things in life. Every day your plant will grow, delivering positive affirmations from other players around the world. It's the kind of game that's designed only to take up a few minutes of your time every day. And even if you forget to open the app for a day, or month, or year, your plants will never wither, so there's no pressure whatsoever.
Developers Lauren and Jack talked to us about how they designed the plant to grow: just like real vegetation, the plants in Kinder World grow uniquely from one another. The direction and size of the leaf is different every time, meaning that your plant might look very different from other players'. There is even a chance for a leaf to grow with a rare colour mutation, which will definitely add a fun element of surprise. The developers say they already have a thriving Discord, where players share their plant variants. We've been told Kinder World will be launching as a full product in November of this year.
Future Folklore
Future Folklore promises to bring some much-needed First Nations perspective into the Victorian indie scene. Although this game is only in its very early stages and so didn't have any gameplay or trailers to show, the devs did share a few details on what the game will be. Created by an entire team of First Nations people who specialise in art, music, and design, this game will be set in a fantasy version of the Australian bush featuring unique flora and fauna. Although it's too early for any sort of overview of the gameplay, the main theme is going to be caring for country. Since it's so early in development, it will probably be a while before we hear more, but we do know that it will be a mobile game so that it's as accessible as possible.
Cult of the Lamb
Having only just released, the name on everybody's lips is Cult of the Lamb. Developer Massive Monster was available to field questions about this release as well as the incredibly exciting journey they have been on, partnering with an internationally renowned publisher and able to create a game they're incredibly proud of. Being privileged to witness the game's launch trailer before it was publically available gave me goosebumps as this hyper-stylistic game neared its release.
Taking queues from both the roguelike and colony sim genres, Cult of the Lamb is a bit of a unique beast but one that feels absolutely fantastic to control. It was admittedly the game I spent the least amount of time with at the event itself, but that's only because I had already played the game in its entirety to bring you our review. Cult of the Lamb is a superb release and one that everybody should be paying attention to. Watch this space, Cult of the Lamb could easily be the biggest and most awarded Aussie game of the year.