At Pax 2022, Charlie and Tom had the opportunity to interview Dave Oshry, CEO of New Blood Interactive. The California-based team is known for its retro-inspired first-person shooters DUSK, AMID EVIL, ULTRAKILL, and Gloomwood, their most recent release. Oshry opened up about the studio's humble beginnings, influences, and how Steam Early Access has enabled the team to respond to player feedback and develop multiple titles in only a few short years.
The studio started out in 2014, working on DUSK, its first title to reach a major audience or critical acclaim. DUSK first shows two hallmarks of New Blood's design philosophy, those being an influence of 90s first-person shooters, most notably Quake and DOOM, and the usage of Steam Early Access. DUSK was released in Steam Early Access on January 11th 2018, with an eventual full release on December 18th of that year.
According to Oshry, Steam Early Access has enabled the team to develop according to player feedback and make changes and fixes without needing to patch it post-full release. The Steam Early Access model also enables the team to build a player community and positive word of mouth throughout the Early Access period.
After the success of DUSK, New Blood's later releases would all use the Steam Early Access model. Subsequent games have notably spent a longer period in Early Access, with ULTRAKILL marking its second year in Steam Early Access on the 4th of September 2022. ULTRAKILL also shows how Steam Early Access can be used to release games episodically, with the game receiving its Act II: Imperfect Hatred update in August of this year. Gloomwood, the team's most recent release, has also debuted on Steam Early Access. This success on Steam has led to DUSK also getting its own Nintendo Switch port on October 28th 2021.
This continued method of delivery is doing quite well for New Blood Interactive. That aforementioned community and word of mouth have done numbers. While remaining a small team of less than twenty, Dave Oshry confidently assured that they can remain comfortable in doing what they do. Their LinkedIn page similarly reflects that successful grassroots studio feeling, with their bio reading "New Blood is a game development studio founded by friends and run like maniacs. We develop, we publish, It's Whatever™."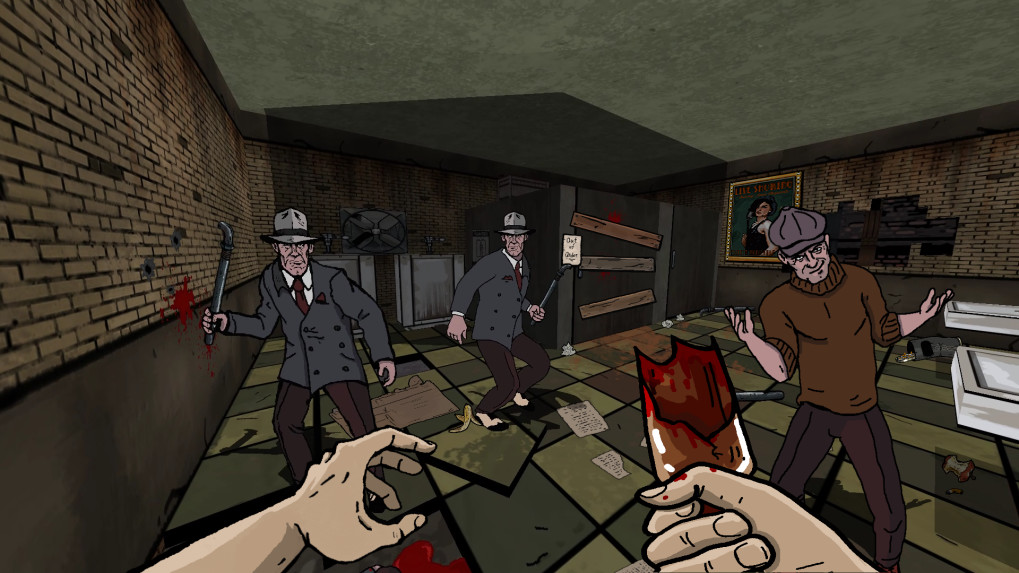 That 'Whatever' attitude transcends into not only their marketing but their community. An unofficial fan-made kart racer by the name of New Blood Kart is in the works, featuring key characters across New Blood Interactive's catalogue. Body Pillows based on their mascot robot character in the very violent and bloody ULTRAKILL was the first of their merch to go. Among that was a shirt that simply read 'SICK C*NT' (uncensored in print) in red impact font, tapping into the local audience down here at PAX Aus 2022. Similarly, Oshry is something of a personality in the industry, always plugging smaller shooters in the space, creating and sharing memes about New Bloods' games.
Four game demos were on offer at the expo. The upcoming mobster shooter / immersive sim Fallen Aces, ULTRAKILL, AMID EVIL and DUSK. The latter two of these have already been fully released for some time, and other than drawing in newcomers, also pulled in those already well acquainted with the studio, just wanting to play their games in a new setting.
No matter the level you engage with New Blood Interactive and its fanbase, you won't have to dig deep to see that passion. The studio at this point feels like the champion and advocate of the boomer-shooter genre, ushering in its resurgence.
Since its 2014 beginnings, New Blood Interactive seems to be in a better spot than ever. "We're actually looking to make less games." Dave Oshry explained. The studio has a good thing going with the way they gradually tease, garner attention for and then release their games. So much so that this glimpse of a lighter load for the overarching team even means that they're not currently asking for any pitches. Oshry clarifies that they are also more or less at the exact size they want the studio to be at.
Each of New Blood Interactive's games is inspired by something prior. DUSK features a level design similar to John Romero's Doom and Quake, containing abstract geometry and nonlinearity. ULTRAKILL is a frenetic game all about keeping that combo up as you bathe yourself in blood from a riotous body count (think Doom and Devil May Cry). Gloomwood is described by some of the popular genre reviewers as a "Thief with guns." That level of devotion (while also offering their own flair) isn't really seen anywhere else. It's because of that and so much more that New Blood Interactive are where they are today. The first-person shooter isn't dead. It's alive and well in the indie space.
New Blood Interactive's booth at PAX Aus 2022 was one of our favourite hangouts. For other coverage from the event, you may very well want to check out the locally-made Conscript.