Each week there are plenty of new games coming out. Although with so much going on it can be hard to keep track of them all. Thankfully Checkpoint is here to sift through them all and bring you our highlights of the week.
So let's jump in and have a look at what's coming out in gaming this week.
Labyrinth of Galleria: The Moon Society
Date: 14/02/2023
Genre: Strategy / RPG
Platforms: PC, PS4, PS5, Switch
"Labyrinth of Galleria: The Moon Society offers dungeon-crawling adventures with new quality of life improvements and 50 hours of exploration alongside a cast of fully customizable companions to do your bidding. Use a variety of pacts and puppet soldiers to customize a team of up to 40 fighters to dive into the darkness and discover the secrets with the Labyrinth of Galleria…if you dare!"
Blanc
Date: 14/02/2023
Genre: Adventure / Indie
Platforms: PC, Switch
"Experience the poetic tale of a wolf cub and a fawn in the spectacular world of Blanc. Lost in a sudden snowstorm, they will have to lean on each other in order to follow the footprints their families left behind in the snow. Immerse yourself in the stunningly beautiful black-and-white world of Blanc – completely hand-drawn on paper in 2D before coming to life in 3D. Blanc focuses on the journey and experience of the animals with text-free gameplay and storytelling, allowing players to dive completely into its wondrous world."
Red Tape
Date: 14/02/2023
Genre: Adventure / Indie
Platforms: PC
"Welcome to Hell Incorporated. You've been chosen from a host of the deserving dead to experience 9 circles of employment satisfaction. You play as an angel trapped in hell due to a paperwork mishap. You'll have to explore the 9 circles of Hell Inc., fight through hellish bureaucracy, and cut all the red tape to get an audience with the Devil himself. You'll be running, jumping, waiting in line, and experiencing a corporate hell first hand. Climb through the ranks and help solve problems in all 9 circles of hell."
Ten Dates
Date: 14/02/2023
Genre: Adventure
Platforms: PC, PS4, PS5, Xbox One, Xbox Series X, Switch, iOS, Android
"Ten Dates is the sequel to the interactive rom-com, Five Dates. Misha, a millennial from London in search of that elusive in-person connection, tricks her best friend Ryan into going to a speed dating event with her. Each with their own five potential matches, Misha and Ryan must pluck up the courage and turn on the charm to date wildly different personalities."
Wanted: Dead
Date: 14/02/2023
Genre: Action / Adventure
Platforms: PC, PS4, PS5, Xbox One, Xbox Series X
"Wanted: Dead is a new hybrid slasher/shooter from the makers of Ninja Gaiden and Dead or Alive. The game follows a week in life of the Zombie Unit, an elite Hong Kong police squad on a mission to uncover a major corporate conspiracy. Play as Lt. Hannah Stone, a hardboiled Hong Kong cop, and plow through mercenaries, gang members and private military contractors in a spectacular cyberpunk adventure."
Pharaoh: A New Era
Date: 15/02/2023
Genre: Strategy / Simulation
Platforms: PC
"Immerse yourself in the history of Ancient Egypt with 50 missions and over 100 gameplay hours in Pharaoh: A New Era, a remake of Pharaoh (and the expansion Cleopatra: Queen of the Nile), one of the best city builders from the golden age of Sierra Entertainment. Stone by stone, build your city and manage all aspects of its development to ensure it prospers and makes you a powerful and revered Pharaoh."
Returnal (Port)
Date: 15/02/2023
Genre: Action
Platforms: PC
"Break the cycle as this award-winning third-person shooter brings bullet hell action to PC. Selene's roguelike odyssey arrives with a suite of arresting graphical and performance-based enhancements to ensure an unforgettable journey. This includes the full Returnal™ experience, complete with Suspend Cycle, Photo and Co-op Modes, as well as the Tower of Sisyphus included from day one."
DIG – Deep In Galaxies
Date: 16/02/2023
Genre: Action / Adventure / Indie
Platforms: PC
"Kinda like Mario Bros, but with guns and explosions. And you can dig, too. It's a roguelike, like most other indie games out there, so if you die you can start over again. And that's not even the best part: you can get super powerful and combo-kick a lot of ass."
Loretta
Date: 16/02/2023
Genre: Adventure / Thriller
Platforms: PC
"Loretta is a housewife. Her husband Walter is a writer. Dragged from the glitz and glamour of New York City and thrust into a dilapidated farmhouse in the rural south, both are unsuccessful, struggling with their finances and their relationship. But when Loretta learns of her husband's infidelity and a remarkably lucrative life insurance policy filed in his name, a grisly plan begins to take root. It is up to the player to decide how far she will follow it."
THEATRHYTHM FINAL BAR LINE
Date: 16/02/2023
Genre: Rhythm / Music
Platforms: PS4, Switch
"A rhythm action game packed with 385 carefully selected music tracks from across the whole FINAL FANTASY series.
The music of FINAL FANTASY comes together here
Includes popular tracks from a total of 46 different games, featuring the latest music from FFI through to FFXV in the main series, as well as remakes, spin-offs and various different soundtrack CDs. Relive the thrilling battles and soaring emotions alongside beautiful music and video."
Wild West Dynasty
Date: 16/02/2023
Genre: Adventure / RPG
Platforms: PC
"Wild West Dynasty is a story-driven mix of RPG, City Builder, Life Simulation and Survival set in the American 1800's. As a lone survivor, you have to find a place to call your own and build the foundations of your settlement for generations to come. Craft, gather, grow crops, recruit pioneers craftsmen and prospectors, survive the harsh environments landscapes and uncover the mysteries of your family's history."
Rooftop Renegade
Date: 17/02/2023
Genre: Action / Racing
Platforms: PC, PS4, Xbox One, Switch
"ROOFTOP RENEGADE is an action platformer all about speed & flow. Evade capture through futuristic skyscrapers channeling powerful abilities from your hoverblades.
Boost through levels under constant bombardment, avoid dangerous hazards, and make split second decisions that mean the difference between a new personal best or total wipeout."
Joon Shining
Date: 17/02/2023
Genre: Action / Adventure / Sports
Platforms: PC
"Joon Shining is a golf-like platformer with a fantasy twist. Combining traditional golf & mini-golf with elements of puzzle platforming, it evolves the hit-and-wait formula of golf by adding *magic*!
You play as Joon – a young wizard travelling across the multiverse. As you advance through 8 unique worlds, learn to master your arcane powers to solve weird & mind-bending challenges.
Harness your abilities to manipulate physics. Solve puzzles. Discover collectibles. And learn the secret of the Mage Drops…"
WILD HEARTS
Date: 17/02/2023
Genre: Action / Adventure
Platforms: PC, PS5, Xbox Series X
"WILD HEARTS™ is a unique twist on the hunting genre, where technology gives you a fighting chance against fearsome beasts infused with the ferocious power of nature itself. Take on these creatures alone or hunt with friends in seamless co-op.
No one remembers why the Kemono began their rampage through a once-prosperous Azuma. Fueled by desperation, they wield the power of primal nature at its most destructive. For a while, it seemed that none could stand against their overwhelming might. But hope arrives in the form of a formidable hunter armed with deadly weapons and ancient technology called Karakuri that could turn the tide of battle."
Tales of Symphonia Remastered
Date: 17/02/2023
Genre: RPG
Platforms: PS4, Xbox One, Switch
"In a dying world, legend has it that a Chosen One will one day rise from amongst the people and the land will be reborn. The line between good and evil blurs in this epic adventure where the fate of two interlocked worlds hangs in the balance. Follow the journey of Lloyd Irving as he and his friends try to save both worlds."
The Settlers: New Allies
Date: 17/02/2023
Genre: Strategy / Simulation
Platforms: PC, PS4, Xbox One, Switch
"True to its almost 30 years legacy, this new entry in the series combines in-depth build-up experience with real-time strategic battles. Choose among 3 unique factions and explore this whole-new world powered by state-of-the-art graphics. Your settlement has never looked so lively."
A Weekend in Puzzleburg
Date: 17/02/2023
Genre: Adventure / RPG
Platforms: PC
"A Weekend in Puzzleburg is a cozy slice-of-life role-playing game with over 180,000 ways your weekend vacation can play out. No need to fight monsters or save the world from impending doom – you've merely booked a relaxing weekend getaway in a town known for its puzzles. Welcome to Puzzleburg!"
Knights of Braveland
Date: 17/02/2023
Genre: Action / Adventure / RPG
Platforms: PC
"Join the Heroes Guild and travel the path from a rookie to the hero of the kingdom. Head on a hunt for the vicious boss solo or with your friends. Your adventure will be randomly generated from hundreds of different events."
SpaceBourne 2
Date: 18/02/2023
Genre: Action / Adventure / Simulation
Platforms: PC
"SpaceBourne 2 is a single-player, open-universe RPG and third-person shooter game with an abundance of features, including role-playing, mining, trading, piracy, crafting, and deep exploration. The story picks up where it left off in SpaceBourne, but now the player's goal is to build a new empire in the galaxy, with the methods of doing so being completely up to the player."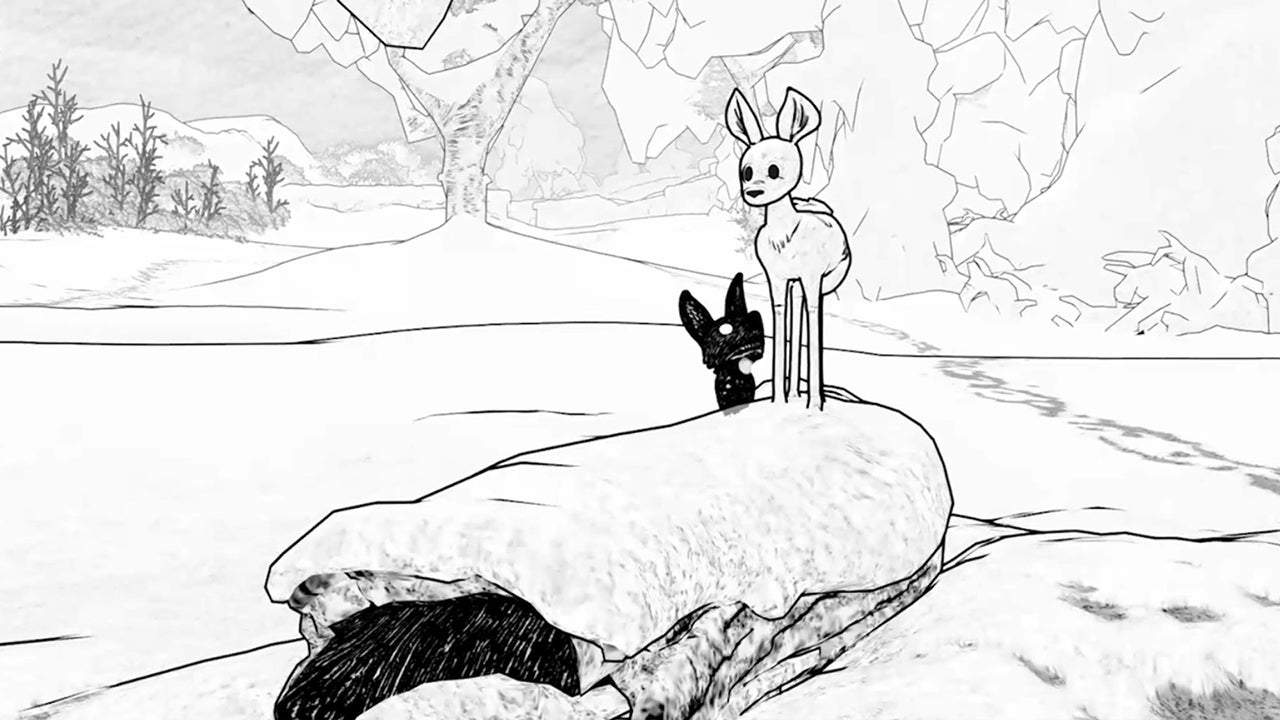 Blanc
A story of few words has the potential to speak volumes. Such simple art with the sweetest little co-op duo is sure to have us all emotional by the end. Blanc's trailer just oozes innocent joy and adventure, I cannot wait to play this cosy game with a buddy.
Be sure to check out last week's Coming Out to see what you may have missed!
What new titles coming out are you most excited for this week? Let us know!