Each week there are plenty of new games coming out. Although with so much going on it can be hard to keep track of them all. Thankfully Checkpoint is here to sift through them all and bring you our highlights of the week.
So let's jump in and have a look at what's coming out in gaming this week.
Like a Dragon: Ishin!
Date: 21/02/2023
Genre: Action / Adventure
Platforms: PC, PS4, PS5, Xbox One, Xbox Series X
"1860s Kyo is plagued by widespread inequality, and one samurai will change the course of history in his search for justice. Take up the sword of Sakamoto Ryoma and venture to Kyoto to find your father's killer, clear yourself of a framed murder, and restore your honor. In doing so, you will bring an end to the samurai era and forever change the future of Japan. Draw your blade, load your revolver, and join the revolution in this heated historical adventure that only the creators of Yakuza: Like a Dragon could produce."
Atomic Heart
Date: 21/02/2023
Genre: Action / Adventure / RPG
Platforms: PC, PS4, PS5, Xbox One, Xbox Series X
"Welcome to a utopian world of wonders and perfection, in which humans live in harmony with their loyal and fervent robots.
Well, that's how it used to be. With the launch of the latest robot-control system mere days away, only a tragic accident or a global conspiracy could disrupt it…The unstoppable course of technology along with secret experiments have brought rise to mutant creatures, terrifying machines and superpowered robots—all suddenly rebelling against their creators. Only you can stop them and find out what lies behind the idealized world."
Digimon World: Next Order
Date: 22/02/2023
Genre: RPG
Platforms: PC, Switch
"The Digital World has run rampant with Machinedramon and is now in a state of utter chaos. As a Digidestined, it's up to you to restore order to the world in Digimon World: Next Order, a monster collecting RPG.
Find and recruit as many faithful Digimon companions as possible to rebuild the Digital World. Will you be able to balance both training and exploration to stop the virus-infected Digimon from causing complete destruction?"
PlayStation VR2
Date: 22/02/2023
Genre: VR
Platforms: PS5 Hardware
"Escape into worlds that feel, look and sound truly real as VR gaming takes a huge generational leap forward. Enjoy heightened sensory and emotional experiences as PlayStation®VR2. Sense technology combines eye tracking, headset feedback, 3D Audio and the new, intuitive PlayStation VR2 Sense controller to create an incredibly deep feeling of immersion."
DYSCHRONIA: Chronos Alternate
Date: 22/02/2023
Genre: Adventure / RPG / VR
Platforms: PSVR2
"Welcome to artificial marine city, Astrum Close. Crime rate: 0.001%. Here, dreams are utilized to ensure crime is prevented before it even happens. The founder of this so-called paradise, Professor Albert Rumford, is killed in an unprecedented, theoretically impossible incident. Special Supervisor Hal is assigned to this extraordinary case and tasked with getting to the bottom of the mystery.
Why was the Professor murdered? What is going on in this idyllic metropolis? Perceive past memories with the ability that lies in your left hand. As you get closer to the truth, you will plunge deeper into danger."
Horizon Call of the Mountain
Date: 22/02/2023
Genre: Action / Adventure / VR
Platforms: PSVR2
"Experience the majestic world of Horizon like never before in this new adventure for PlayStation®VR2. The stunning visuals and innovative features of the new PS VR2 Sense controllers fully immerse you into the world of Horizon for an experience like no other.
Ascend the towering peaks of the Carja Sundom as Ryas, a disgraced former soldier, and unravel a new mystery surrounding the machines to redeem yourself and save your people. You will also meet Aloy, other familiar faces, and new characters along the way. Journey back out into the wilds like never before in Horizon Call of the Mountain."
Blood Bowl 3
Date: 23/02/2023
Genre: Strategy / Sports
Platforms: PC, PS4, PS5, Xbox One, Xbox Series X, Switch
"Brutal, crazy, tactical… this is BLOOD BOWL! The iconic death sport returns with the new video game of fantasy football faithfully using the latest board game rules and new content. Create your team, then crush, mulch and cheat your way to the top… leaving your opponents in the graveyard."
Chef Life: A Restaurant Simulator
Date: 23/02/2023
Genre: Simulation
Platforms: PC, PS4, PS5, Xbox Series X, Switch
"Choose and customise dozens of kitchen components (cooking surfaces, food processors, ovens, etc.) to build your dream kitchen! Before firing up your burners, organise your team and manage your suppliers to obtain premium ingredients that would impress the most demanding of gourmets. Track your finances and predict how busy you will be so you are not overwhelmed by the dinner rush!"
Redemption Reapers
Date: 23/02/2023
Genre: Simulation
Platforms: PC, PS4, Switch
"Redemption Reapers is a dark fantasy simulation game set in a medieval world. Be immersed in the tale of the desperate struggle between the Ashen Hawk Brigade and the terrifying Mort legions.
With despair looming as the menacing Mort horde marches ever closer, help your small resistance defeat the enemy masses by bringing together a rich variety of character builds and a meticulous strategy. Experience the exhilaration as you rise up to overcome the odds and achieve victory!"
Sons of The Forest
Date: 23/02/2023
Genre: Action / Adventure / Horror
Platforms: PC
"Sent to find a missing billionaire on a remote island, you find yourself in a cannibal-infested hellscape. Craft, build, and struggle to survive, alone or with friends, in this terrifying new open-world survival horror simulator."
Metal Mutation
Date: 23/02/2023
Genre: Action / Adventure
Platforms: PC
"Metal Mutation is a Post-Cyberpunk Action Roguelike Dungeon Crawler set in a not-so-distant future taken over by companies and technology. As highly developed mechanical prostheses and AI have spread, so has a metal mutation caused by nanoparticles. With mankind and society on the brink of collapse, a Cyborg and an AI join forces to prevent the inevitable."
Company of Heroes 3
Date: 23/02/2023
Genre: Action / Strategy
Platforms: PC
"The legendary strategy franchise is back! Company of Heroes 3 is the ultimate package of action, tactics and strategy. Take charge in the heat of real-time battle, then command as a General guiding the overall campaign where every decision matters.
Overwhelm your opponents with four unique factions and all new international Battlegroups. Command ground, air and naval forces and build supply lines to crush enemy advances on the new Dynamic Campaign Map – no two playthroughs are ever alike! Play at your own pace across campaign and skirmish modes before diving into blistering multiplayer action. Discover the untold stories of a stunning Mediterranean theatre, featuring next generation destructible environments, all powered by Relic's proprietary Essence Engine."
Grim Guardians: Demon Purge
Date: 23/02/2023
Genre: Action / Adventure
Platforms: PC, PS4, PS5, Xbox One, Xbox Series X, Switch
"When a demon's castle darkens the land, two sisters challenge its halls. Together they can break the curse.
In order to save their school after it turns into a massive demonic castle, two "Demon Hunter" sisters slash and shoot their way through this 2D action adventure. Players can swap between control of both characters on the fly, each with entirely different skillsets. Proceed through the castle while confronting the demonic bosses that await deep within."
The Pale Beyond
Date: 24/02/2023
Genre: Adventure / Simulation / RPG
Platforms: PC
"You didn't ask to lead this expedition, but here you are. Stuck in the ice, Captain missing, miles from civilisation. Someone has to take charge. Manage your meagre resources, balance safety and morale, make the hard calls, and head in the only direction you can – through The Pale Beyond."
Kirby's Return to Dream Land Deluxe
Date: 24/02/2023
Genre: Platformer
Platforms: Switch
"Kirby's Return to Dream Land Deluxe is a new version of Kirby's Adventure Wii for Nintendo Switch! Up to four players can join Kirby and friends as they travel through Dream Land to help Magolor repair his crashed spaceship."
OCTOPATH TRAVELER II
Date: 24/02/2023
Genre: RPG
Platforms: PC, PS4, PS5, Switch
"The story takes place in Solistia, a land comprising an eastern and western continent divided by the sea. It is a bustling era, wherein large vessels navigate busy sea routes and the power of steam gives birth to new technologies. Some people thrill to glamorous stars of the stage and industry, while others are brought to tears by war, plague, and poverty.
In this faraway realm, eight travelers hailing from different regions venture forth for their own reasons. Step into their shoes and explore the land as you see fit, using their unique talents to aid you along your journey.
Embark on an adventure all your own."
Clive 'N' Wrench
Date: 24/02/2023
Genre: Action / Adventure / Platformer
Platforms: PC, PS4, PS5, Switch
"Clive 'N' Wrench is a 3D platformer starring Clive, a rabbit, and Wrench, the literal monkey on his back. Your adventure takes you hurtling through time and space in a 1950's refrigerator on a heroic quest to thwart the tyrannical Dr Daucus and stop his evil plans."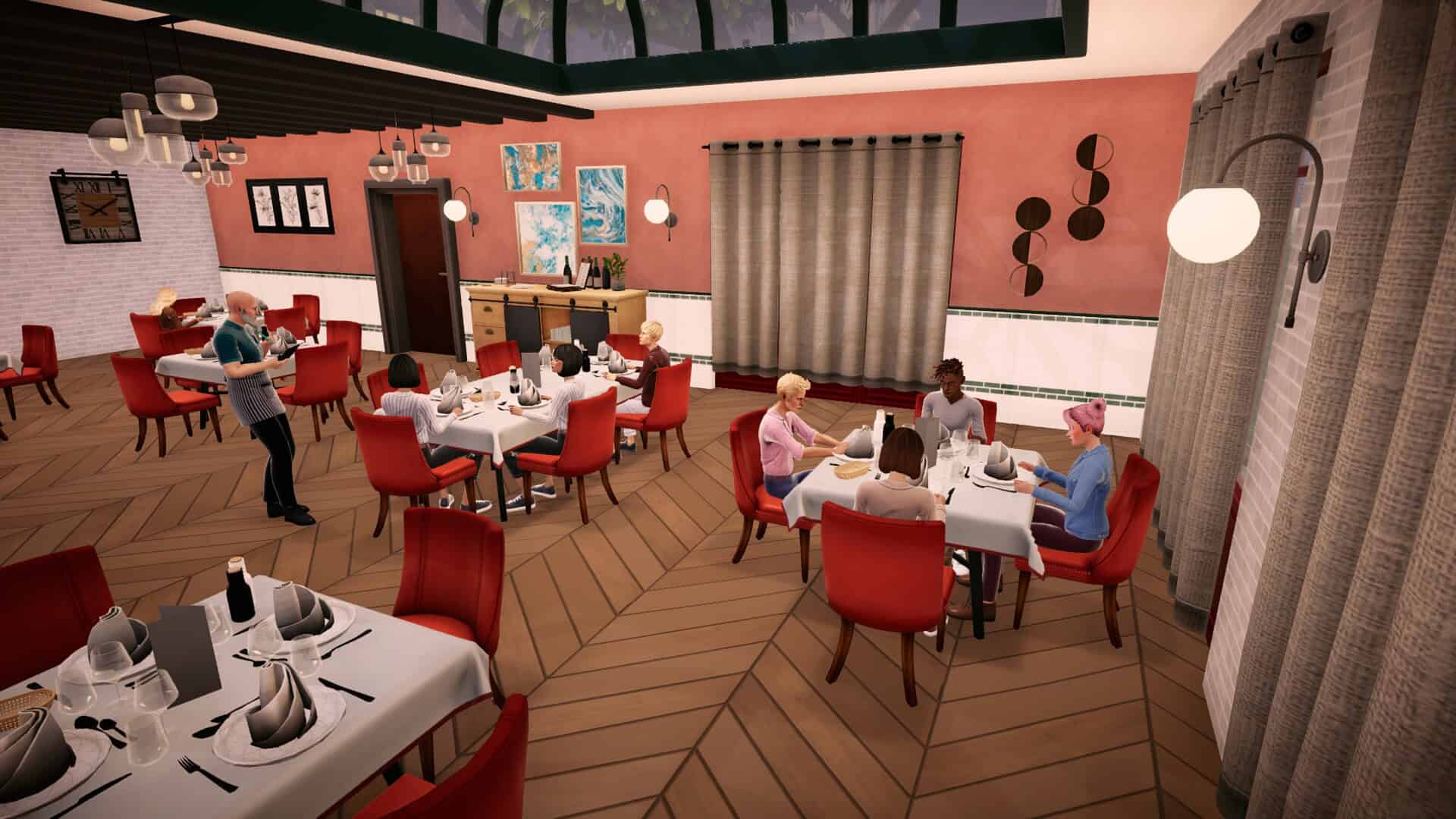 Chef Life: A Restaurant Simulator
We have another big week of releases, and another cozy game the simulation players may like. It's a solid opportunity to live out those big restaurant fantasies without the anxiety and stress of working in the real life service industry. We can't wait to see what's on the menu for this one.
Be sure to check out last week's Coming Out to see what you may have missed!
What new titles coming out are you most excited for this week? Let us know!