Each week there are plenty of new games coming out. Although with so much going on it can be hard to keep track of them all. Thankfully Checkpoint is here to sift through them all and bring you our highlights of the week.
So let's jump in and have a look at what's coming out in gaming this week.
Partum Artifex
Date: 27/02/2023
Genre: Horror / Puzzle
Platforms: PC
"A first-person atmospheric horror-puzzle game that focuses on the narrative to tie together the gruesome world with creative puzzles. Explore the mind of a twisted serial killer who wants nothing else than to show his work of art as well as tell his story to the world."
Dungeons of Aether
Date: 28/02/2023
Genre: Strategy / RPG
Platforms: PC
"Dungeons of Aether is a turn-based dungeon crawler designed by Nikita 'ampersandbear' Belorusov from the Aether Studios team. Rivals of Aether is known for its intense competition and twitch skills, while Dungeons of Aether allows you to take things at your own pace – but it's still just as challenging! Every choice you make can lead you deeper into the dungeons or to an early demise. Will you carry out a treasure chest, or be carried out in a pine box?"
Destiny 2: Lightfall
Date: 28/02/2023
Genre: Action / Shooter
Platforms: PC, PS4, PS5, Xbox One, Xbox Series X
"Travel to Neptune and discover a neon metropolis unlike any you've explored in Destiny 2. Meet the Cloud Striders, join the fight against the Shadow Legion, and prevent devastation in the technologically advanced secret city of Neomuna."
Scars Above
Date: 28/02/2023
Genre: Action / Adventure / Shooter
Platforms: PC, PS4, PS5, Xbox One, Xbox Series X
"A colossal and enigmatic alien structure appears in Earth's orbit and stuns the entire world; humanity names it 'The Metahedron'. The Sentient Contact Assessment and Response team (SCAR) – consisting of scientists and engineers – is sent to investigate.
Things don't go as planned and the Metahedron hauls the team across space onto a mysterious extrasolar planet. Playing the role of Dr Kate Ward – a SCAR member – who wakes up dazed, alone in a strange, hostile environment. Determined to survive, you set out to find your crew and unravel the mystery behind what's happened."
Rytmos
Date: 28/02/2023
Genre: Puzzle / Music
Platforms: PC, Switch
"Rytmos is a relaxing puzzle game, where you create music by solving maze puzzles. Travel from planet to planet and discover new music. Solve the puzzles on each side of the cubic planets and create small musical loops that slowly evolves into full music compositions. Hear how the music slowly unfolds, as the loops generate unique musical sequences that layers together with the rest of the planet's loops. Jam on top of the music from the planet with a great selection of 20+ fun unlock-able musical toys."
LEAP
Date: 01/02/2023
Genre: Action / Shooter
Platforms: PC, PS4, PS5, Xbox One, Xbox Series X
"LEAP is a fast-paced, multiplayer first-person shooter featuring epic large scale battles, each with players armed to the teeth. Become an elite LEAP mercenary as you soar into battle. Fight for either the United Earth Defense Coalition (UEDC) or the rebel Exo-Terrans – whoever pays the most, wins your trigger finger and excessive arsenal."
Aery – Calm Mind 3
Date: 02/03/2023
Genre: Indie / Simulation
Platforms: PC, Switch
"Aery – Calm Mind 3 is an interactive game experience that is designed to relax your mind and soul. You jump into the role of a little bird, explore beautiful landscapes and collect magical crystals that mark certain landscapes. Because there are no enemies or any other danger in this game you will be able to lean back and enjoy the scenery and the sensation of flying. It is a great game for relaxing and calming down after an exhausting day full of hassle."
King Of The Castle
Date: 02/03/2023
Genre: Strategy / Multiplayer
Platforms: PC
"Become the Monarch in this medieval party game and navigate a hilarious world of politics, treachery, and all-out rebellion, as your decisions see an empire flourish or come crashing to your feet.
King of the Castle is a multiplayer game of politics, shifting power dynamics and intrigue. Host games of 3 to 24 other players, who join as your 'loyal' Nobles on browsers for free, or stream with Twitch Mode to an unlimited number of players!"
Wo Long: Fallen Dynasty
Date: 03/03/2023
Genre: Action / Adventure / RPG
Platforms: PC, PS4, PS5, Xbox One, Xbox Series X
"Wo Long: Fallen Dynasty is a dramatic, action-packed story of a nameless militia soldier fighting for survival in a dark fantasy version of the Later Han Dynasty where demons plague the Three Kingdoms. Players fight off deadly creatures and enemy soldiers using swordplay based on the Chinese martial arts, attempting to overcome the odds by awakening the true power from within."
Void* tRrLM2(); //Void Terrarium 2
Date: 03/03/2023
Genre: Action / Adventure
Platforms: PS4, Switch
"Void Terrarium is a caretaking dungeon RPG set in a contaminated world in ruins starring Toriko, the last surviving human, and Robbie the robot.
Toriko is alone and helpless in this perilous world, so you must explore the wastelands to gather food, materials, and other resources to maintain and furnish the terrarium–Toriko's safe haven which protects her from the toxins in the atmosphere."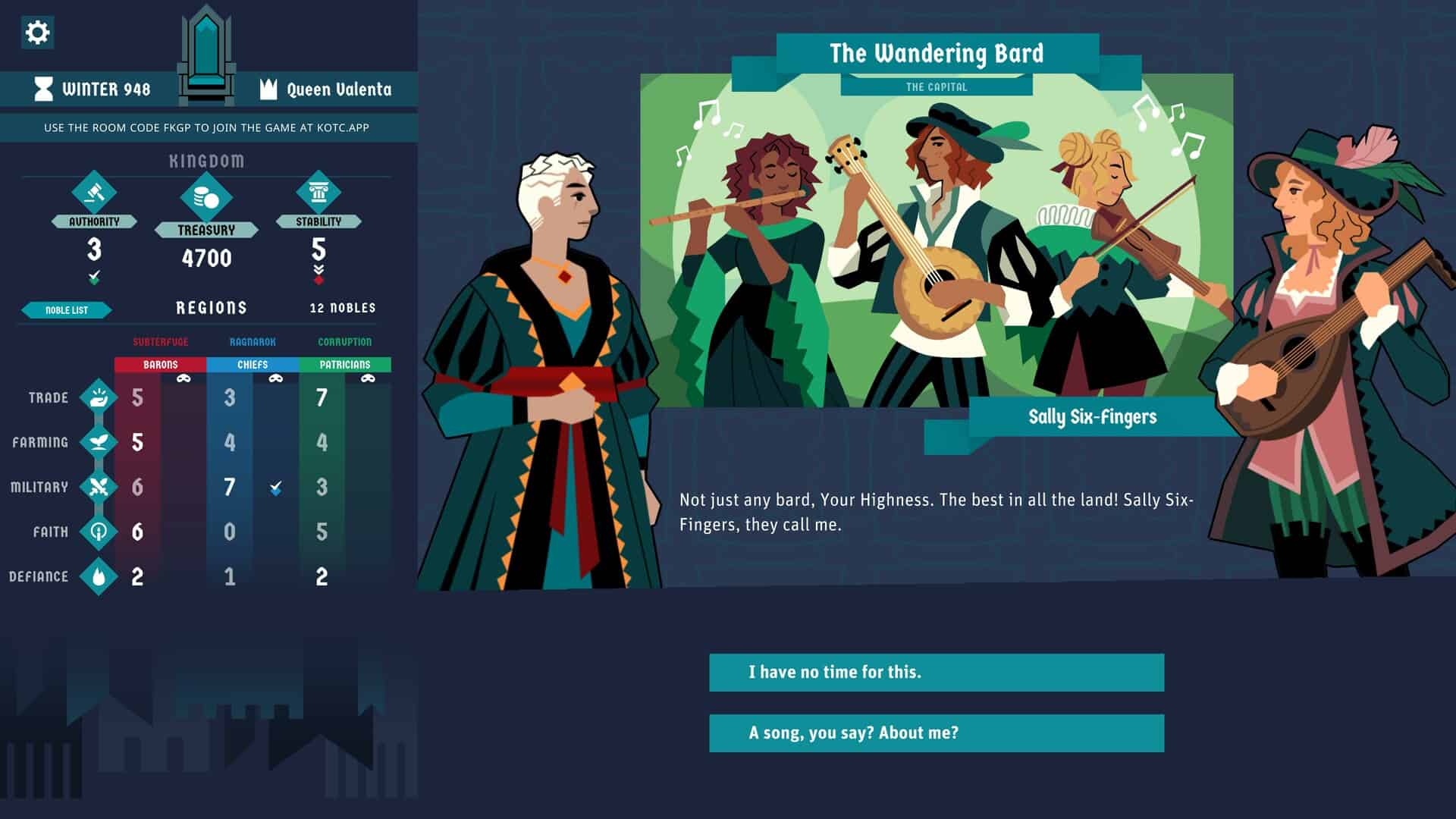 King Of The Castle
Party games are never amiss in our collection, especially ones where there's a play for power. The fact that King of the Castle is optimised to play with large groups or communities without players needing the game, means we'll surely see many streamers playing it in the future. It's very cool to see games evolving for mass interactivity as the gaming world changes.
Be sure to check out last week's Coming Out to see what you may have missed!
What new titles coming out are you most excited for this week? Let us know!