A little under 2 years since its triumphant release on the PS5, Housemarque's Returnal has landed on PC. It returns with stellar and gripping roguelike gameplay and all its content updates, rounding out to be the more refined and polished version of the game.
For those not versed, Returnal follows an astronaut named Selene who crash-landed on the planet Atropos. What began as a search for an anomaly known as the White Shadow quickly becomes a more complicated journey. Selene finds herself stuck in a time loop. Whenever she dies, she wakes up back on her crashed spacecraft, forced to battle through the trying environments once more. Perseverance is needed to hopefully escape and break the loop.
Returnal is already a proven and excellent foray into the roguelike genre and I thoroughly enjoyed my time with the original release. That enjoyment increased tenfold when playing on PC where all the bells and whistles were at hand. My relatively high-end PC kept up well with moving a majority of the graphical sliders to the max, experiencing detailed shadows and reflections like never before. I criminally don't yet have the best television set up for my PlayStation 5, so experiencing this suite of options uncompromised was exciting and enriching.
Atropos is dripping with atmos. Every single biome. That remains true no matter whether you're in the hot red Mars-like sands of the Crimson Wastes or the cruel iconography of the Overgrown Ruins, where green nature meets decaying structures. Eldritch, alien enemies will assault you at every turn, with their tendrils swimming in the otherworldly moonlight. A barrage of projectiles in deep reds, blues and purples will stand between you and victory.
Experiencing it all over again with every dreadful horror that awaits is a stark reminder that this is but one of PlayStation's most visually interesting IPs. Housemarque is an unbelievably talented game developer and they're really on to something here. More bold high budget forays of niche genres need to exist. When they pay off its well worth it.
Similar praise can be said for Returnal's soundscape. I cannot imagine the plethora of work that went into creating each and every soundscape, big or small. Creepy and spine-chilling screeches of your foes, the sounds of you working your futuristic tech as you scan oddities, the punchy gunfire emitted from Selene's weaponry… it's all palpable and entirely bolstered by using high-quality headphones.
On release, Returnal already felt like it was at times testing the limits of the PlayStation 5, so early on in its life. Though an amazing game, it wasn't a stranger to crashes. This plus the combination of the game previously not saving mid-run lead to some serious problems. In saying that, after a handful of hours with it on PC, I've had no such issues except for rare stuttering. This is an issue I believe I'll be able to resolve myself as I tweak and middle about with my settings. I'm quite lucky I have the specs and computer to do so, though I can see this being a game that'll test one's PC. A modern-day Crysis, if you will.
This time around I also chose to play solely on a mouse and keyboard rather than plugging in my Dualsense controller. Sure, I'm missing the flashy haptic feedback and adaptive trigger functionality, but I'm pleased with how smoothly I'm progressing regardless. Mouse maneuverability combined with high sensitivity means I feel well-equipped to pop off shots mid-air and mid-dodge with pinpoint precision.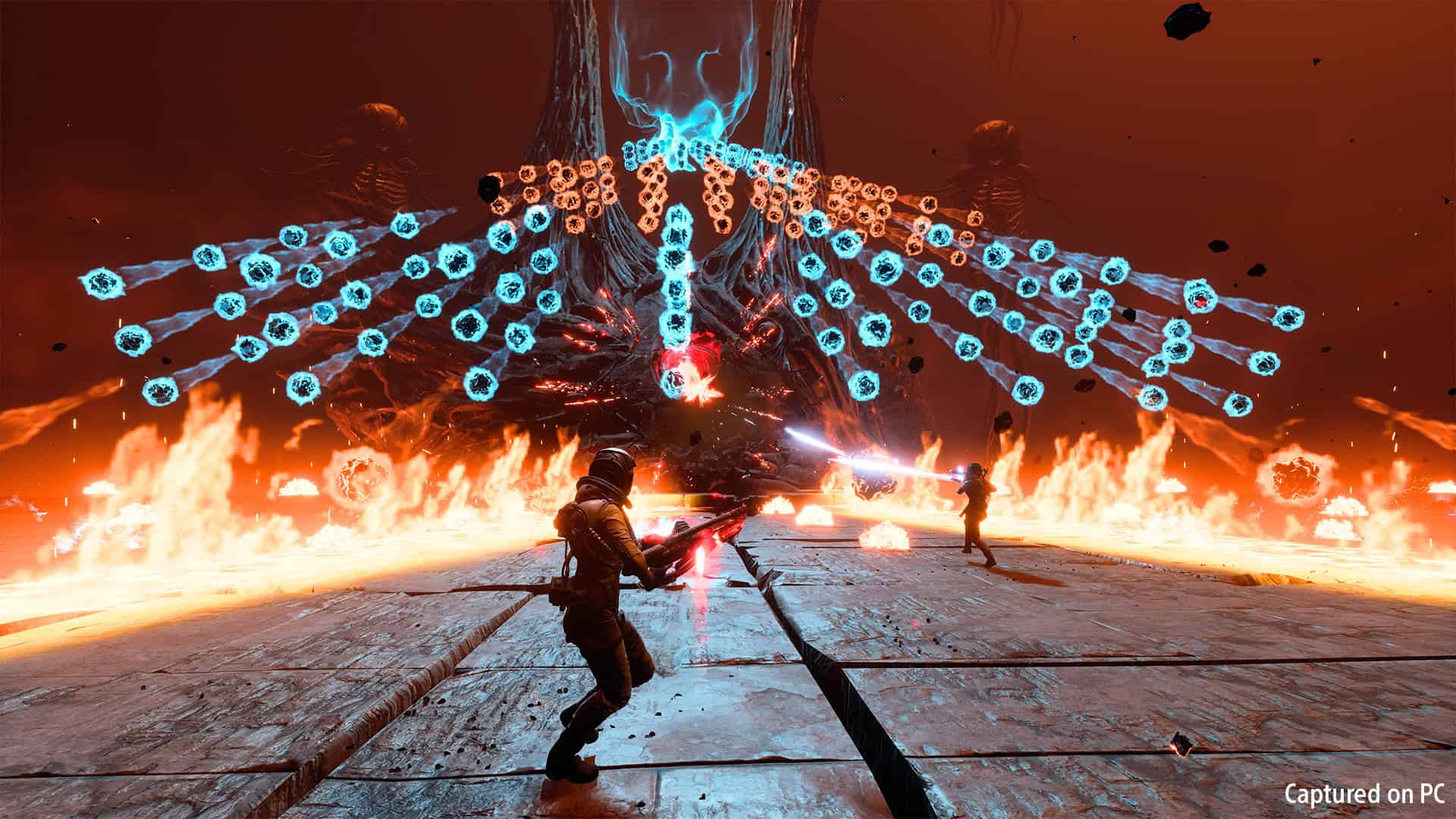 I'm only a few hours and a few biomes into my revisit with Returnal. With an already incredibly busy month of releases this February, this is a game that once again is remaining on my mind. It's one I'm excited to chip away at again when I do find the time. Maybe I'll even see some of you other scouts out there in Apropros once more. Best of luck!
Returnal is available on PC via Steam and the Epic Games Store on February 15. Whether old or new to the game, it's well worth checking out.