Death Stranding released on the PS4 last year to somewhat mixed reviews, but it is finally getting a beefy PC release that looks set to really test your hardware.
First off, as we all know, PC's can be quite powerful depending on the hardware of the user, so it is no surprise to learn that Death Stranding on the PC is quite capable of reaching over 100 frames per second. The PC release will also feature enhanced visuals and allow for up to 4K gaming, again dependent on the individual's hardware, but if you have a rig capable of 4K gaming at above 30 frames per second then I can only imagine how beautiful this already stunning title would be.
Below is the minimum and recommended specifications for the title that have been shared online, with the 60FPS at 1080P resolution being quite easy to accomplish with a medium powered rig.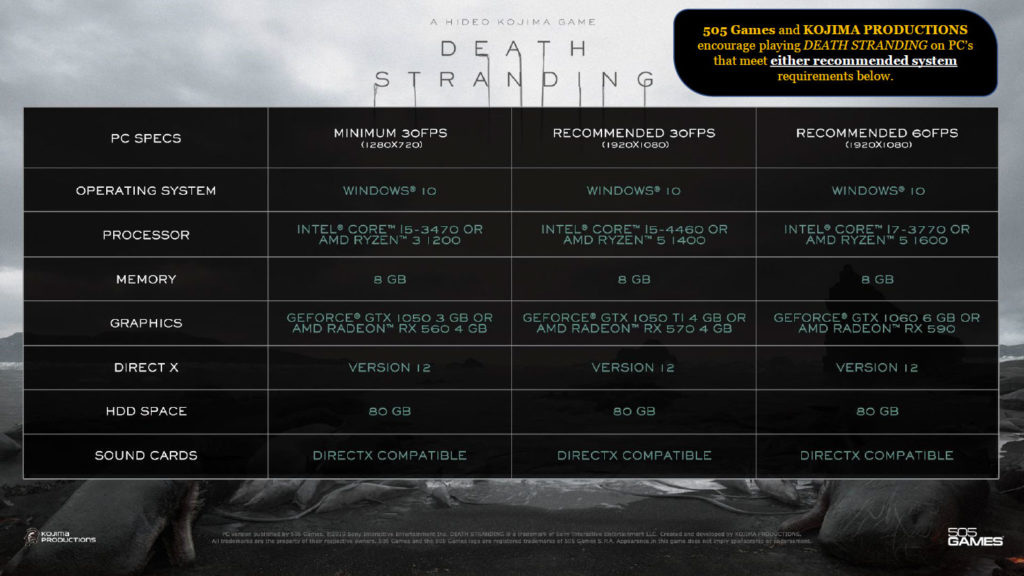 The PC version also features DLSS 2.0, which is is the implementation of Nvidia's DLSS (Deep Learning Super Sampling) technology. DLSS 2.0 is described by Nvidia as a "deep learning neural network that boosts frame rates and generates beautiful, sharp images for your games. It gives you the performance headroom to maximize ray tracing settings and increase output resolution."
Essentially, this will allow for a superior looking game without sacrificing on the experience or quality. If you preorder the title you will also get access to a few character customization goodies like gold sunglasses, a gold exoskeleton, and a crabeater hat.
Modding on the PC is also a very important aspect of the experience, so I look forward to seeing what kind of creative and entertaining mods the community will come up with. Fingers crossed for a mod that allows you to play as Conan O'Brien.
Death Stranding received a mostly positive review from us, albeit with a few caveats. In saying that, whilst this game is certainly not for everyone, if you missed it the first time around on consoles it could well be worth your time giving this enhanced experience a shot.
Death Stranding will release for PC on July 14th 2020.