Spellbreak, Proletariat's fantasy action-spellcasting Battle Royale title was announced late last year but now has a launch trailer and release date! The trailer was shown during the Gamescom livestream, and shows how the game combines magical elements with the very popular Battle Royale format.  Players will be tasked with building their character to be the "ultimate battlemage" by mastering "elemental magic to fit your playstyle and cast powerful spell combinations to dominate other players."
The open BETA for the game took place last month which lead Proletariat to fix a few issues that players had by communicating with them via Discord and also via playing the game alongside fans.
Players will be able to choose which class of battlemage they want to invest their time and powers into. These include Frostborn, Conduit, Pyromancer, Toxicologist, Stoneshaper, or Tempest. You will be able to take the power of two magic gauntlets at once and blend them to create powerful spell combos that launch "fiery tornadoes, electrified gas clouds and more!"
By exploring the ruptured Hollow Lands battlegrounds, players will be able to find "hidden chests that contain magical runes and game-changing equipment. These items give you the ability to fly, teleport, control time, become invisible, and more." The Hollow Lands is not the only area that will be playable, with new lands opening up via new chapter updates. With these updates, the world of Primdal will reveal "more of the deep, rich lore behind this powerful place and its people."
Another cool feature is that the game will be cross-play and cross-progression. That means you'll be able to play with your mates no matter what their gaming platform is. You'll also be able to "take your character, progress, customizations, and more to any of those platforms at any time."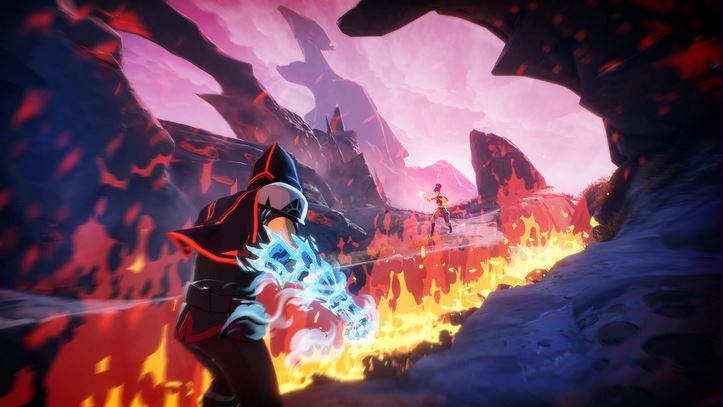 Spellbreak will be casting its spell on players when it releases as a free-to-play title on Nintendo Switch, PS4, Xbox One and PC on the 3rd of September, 2020.