2020 has been a rough time. That may sound like old news now but for Ubisoft the drama continues to unfold. They've been in a spot of bother recently. High ranking employees have been outed as alleged predators, operating under the protection of Ubisoft for years. On top of that, Tom Clancy's Elite Squad, an Ubisoft IP, cooked up a storm of controversy when it used Black Lives Matter imagery inappropriately to further drag the company under a microscope. So in an attempt to assuage any controversy, Ubisoft CEO Yves Guillemot got in front of the camera to issue an apology prior to Ubisoft's recent digital event, Ubisoft Forward. It's better than last time, but it's still rather underwhelming.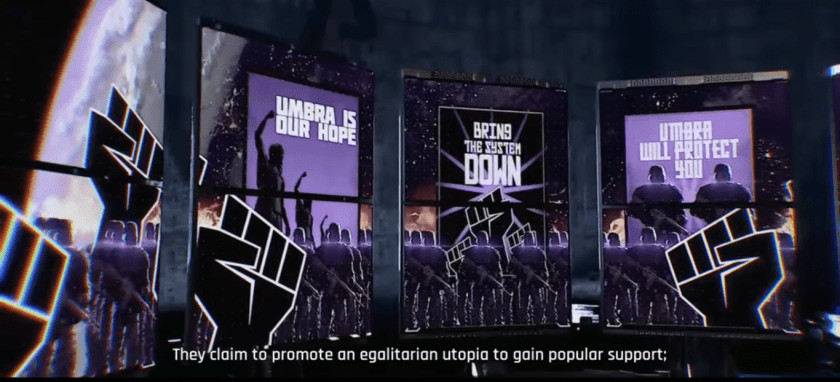 Whilst it deserves a full-length feature discussion, let's summarise the Elite Squad issue. It's worth reminding everyone of the story. Elite Squad is a mobile game that utilises characters from across the Tom Clancy game universe. The villains of the game are terrorists, using the cover of liberal protest for their terror. These terrorists also utilise the image of a raised fist, clearly suggesting a revolutionary protest, akin to the recently resurging "Black Lives Matter" movement. All of this, according to Ubisoft, is in no way political.
The assertion that the images and storyline presented are not politic is the height of cowardice. The conspiracy itself has existed as right-wing politics for so long. News coverage focuses on looters and violence for ratings and attention, and rarely captures the reality of protest. So often, pundits will hold aloft such destructive imagery as anarchy that could cover acts of terror. This is not something that Ubisoft did by accident. And if they did do it by accident, then this becomes a serious case of ignorance happening in regards to a meaningful global movement.
So Ubisoft has issued an apology, or at least they suggest they're sorry.
This is not the first time Ubisoft has tried to apologise. The previous Ubisoft Forward started with Ubisoft putting up the following text, which only 2 months later is pretty hard to find: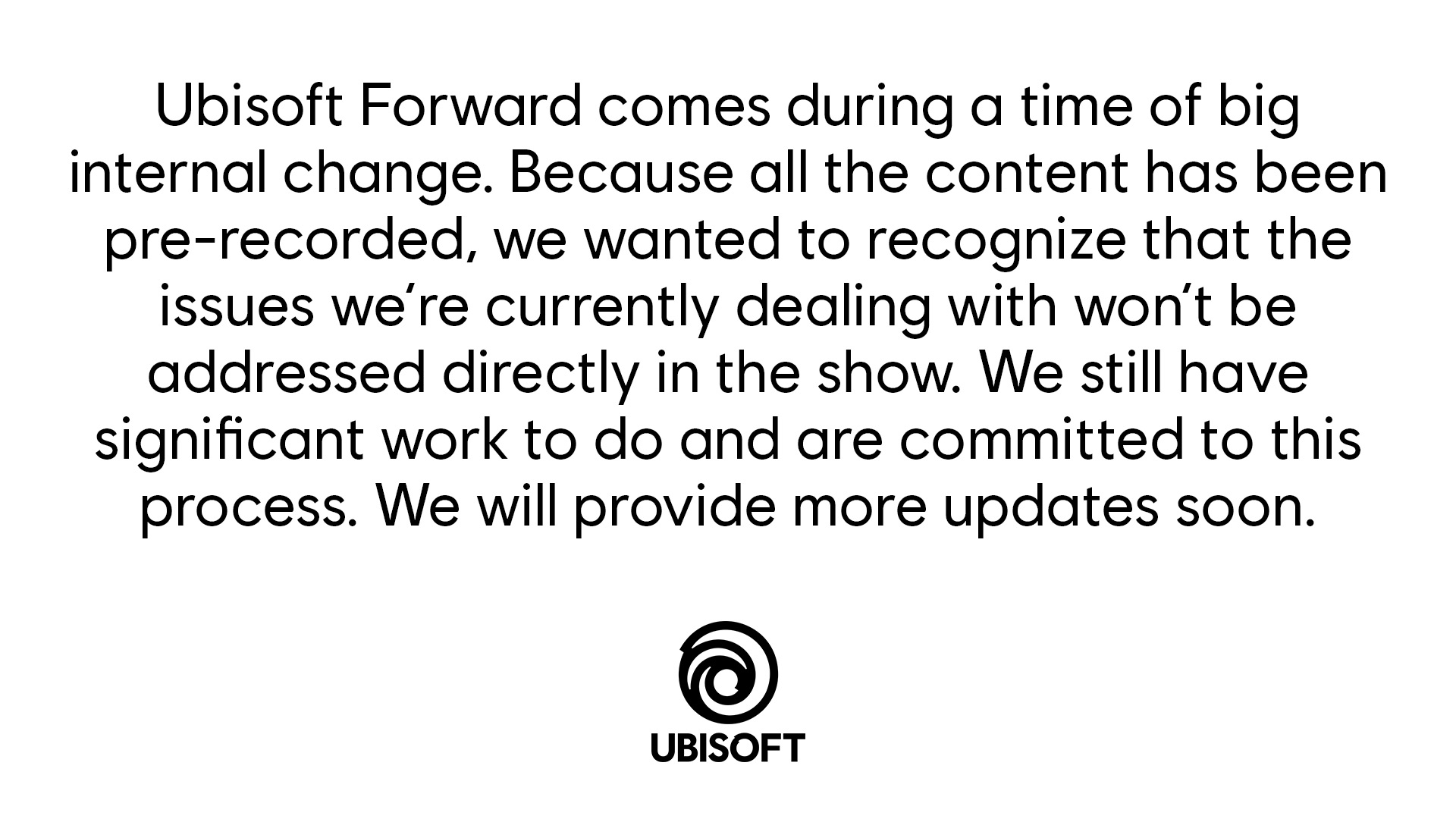 I love this text because it just plainly states the goal of all pre-show apologies. Address the thing, put it in a box, and throw it in a fire and focus on the games. I understand the desire honestly. No one wants to think about the human suffering that can go into making things. Now more than ever people want to focus on the good news. That's exactly what Ubisoft, Blizzard and all other companies want during a controversy: distraction. Ubisoft is inching toward what human people consider an apology. But the latest attempt still falls pretty short.
You can watch their most recent apology below.
So let's unpack what we have here. The apology starts with an intro to the showcase being a place for "developers and players to come together to celebrate their shared passion for games". So right out of the gate, there is a divide. The showcase is for passion and celebration, the apology is for the messy human drama. There's an established distance between the good news and the bad news. This echoes a big issue with this apology, that it's entirely separated from the showcase. Why? "Time constraints". It's part of a live stream that lasted about two and a half hours. 150 minutes and five could not be spared for the apology. Furthermore, this is a digital conference. Push it back a day or two, or something. This is an entirely transparent excuse. Honestly, my main problem is the overwhelming desire to duck the actual issue.
The video itself is not quite up to scratch. Sure it's a bit of an improvement on any apology that came before it. Unlike the previous apology there is at least a reference to the issue at hand. They don't dig through all the details but weak progress is progress I suppose. At the very least the apology does provide ownership of wrongdoing, and commitment to improving. There only problem I still have is that I can't say I trust it.
I think in many ways the resolution I have about this apology is my lack of faith in it. This is, after all, technically the second public apology Ubisoft has made on the topic of sexually predatory behaviour. These atrocities were committed by high-ranking workers. There can be no argument that these atrocities went on under everyone's noses. For those in the orbit of Ubisoft, this was an open secret. When predators are seen, acknowledged, and allowed to operate, there is no walking it back. Yves Guillemot has, and, if the apology holds true, will continue to work to remove the toxicity. Good. However, as someone who had the authority and undoubtedly the knowledge to do so earlier, it's difficult to believe. At best he is a boss who's allowed some horrifically bad things to take place, trying to make amends. At best we should keep an eye out and hope he maintains his word. It won't erase the part he played in the whole mess, but if it returns a semblance of proper workplace standards for the workers, then that's good. At worst, this is another set of keys to jangle in front of an uncaring audience. A distraction from the real issues to focus on some quite pretty game trailers.