The launch of Marvel's Avengers has not been without its difficulties. The game has been losing active players at an alarming rate, prompting Crystal Dynamics to assure players that content is on its way. Unfortunately, patching the game's myriad bugs and balance issues has been a bigger task than they anticipated. This has lead to the delay of the upcoming Hawkeye DLC, as well as the PS5 and Xbox Series X ports of the game. To thank the players who have stuck around, however, the developers are offering a free bundle of in-game resources.
"Moving forward, we intend to have a fixed, predictable patching cycle to ensure all new content meets both our and your high standards and has time for extensive internal testing", writes Crystal Dynamics on the future of the game's updates. "We know fans are hungry for new content, but delivering a fun experience is our priority. With this in mind, we've decided to push Kate Bishop's Operation launch back a bit, out of October. We're sorry for this slight delay, but we are dedicated as a team to quality first."
"We've also made the decision to shift our PlayStation 5 and Xbox Series X|S launch to next year to ensure that we give our team the time to deliver a next-gen experience showcasing all that this game is meant to be.  More details to come."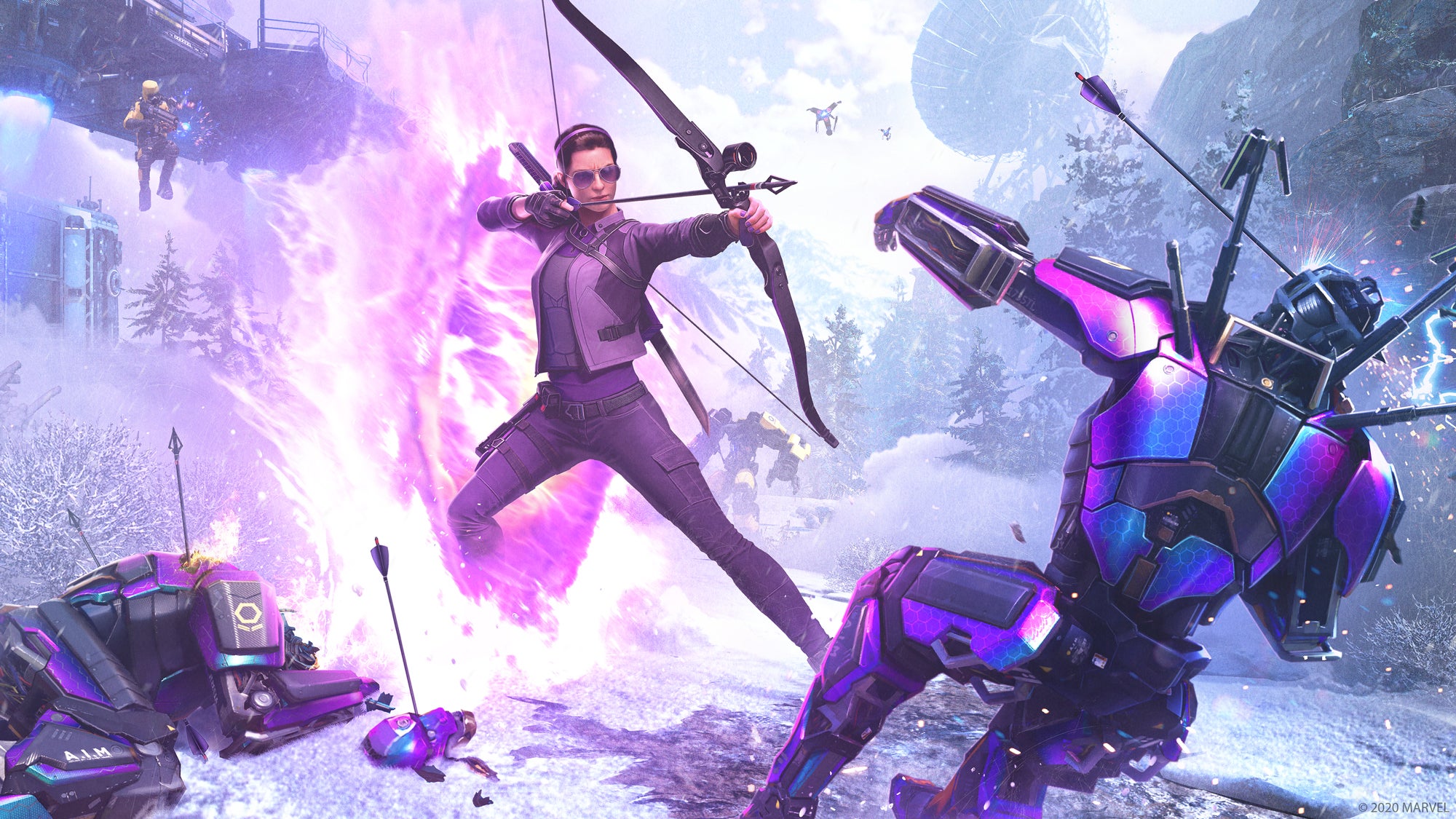 The delay of the Hawkeye DLC is perhaps expected, considering the extent of the fixes required. The delay of the next-gen ports, on the other hand, is a more significant change of plans. Marvel's Avengers did not launch in a very stable state on PS4, Xbox One and PC; perhaps Crystal Dynamics and Square-Enix are hoping for a reset in the game's perception if its launch on PS5 and Xbox Series X is as smooth and trouble-free as possible. We only know that it will no longer be coming out in 2020, leaving the exact new release date unknown.
To thank the players who have stuck around, the developers are offering a "digital thank-you bundle" for all players. From 10:00 AM PDT October 22, players will receive 1500 credits, 7000 units, 250 upgrade modules, 20 DNA keys and a Sarah Garza-Inspired Nameplate. Crystal Dynamics have already confirmed a list of upcoming fan-requested gameplay features that are in development for Marvel's Avengers. These include:
Avengers Initiative Ping System: A system that will allow players to mark objectives, resources, health crates, and enemies, allowing players to command AI companions to hack/smash doors or prioritize specific enemies.
Reassemble Campaign Replay: An option to reset the Reassemble campaign and replay it with your Super Hero's level and gear intact.
High Contrast Mode: An accessibility feature that will allow the player to apply solid darken veils behind text to improve readability.
Hero Icon Visibility: An option to adjust the display of identifying icons above a Super Hero's head to be on by default or dynamic.
Mission Reward Clarity: Improved clarity around mission-specific rewards when viewed on the War Table. This will allow players to more strategically take on missions to meet their current goals and seek out specific gear and resources.
Offscreen & Ranged Enemy Attack Indicators: Better feedback for players to avoid offscreen and ranged enemy attacks.
Now, these delays not great news for Marvel's Avengers' player-base. The game is already experiencing a dearth of substantial endgame content. The fact that significant new characters and gameplay features are being indefinitely pushed back is not exactly going to encourage players to return. Crystal Dynamics is not wrong to focus on bug fixes and other smaller tweaks. However, it sounds like Marvel's Avengers really needs some kind of big new reason to bring lapsed players back onboard beyond incremental updates.
Hopefully these delays will ensure that Marvel's Avengers and its DLC are as polished as they can be on release. A problem-free 2021 relaunch on PS5 and Xbox Series X might be the opportunity Marvel's Avengers really needs to win back the crowd.