With the dawn of a new year, people are excited about what big games are coming out in 2021. Nintendo intends to start 2021 with a bang if a recent leak is credible. According to a document, the first Nintendo Direct of the year, scheduled for Monday will reveal a plethora of new highly-anticipated titles. Super Mario Odyssey 2, Splatoon 3, Bayonetta 3 are all slated for release in 2021, the leak alleges. Most notable though is the announcement of two massive launches for April 23. On this date, both the constantly rumoured Switch Pro, and, as a launch title, the sequel to Legend of Zelda: Breath of the Wild (titled Legend of Zelda: Echoes of the Past). There's only one problem: this seems totally fake.
Please be real. pic.twitter.com/MELdryhGn6

— Gothalion (@Gothalion) January 5, 2021
While there are scant few typos in the whole thing, such as "First Party Softwar" and "Plant's Vs Zombies", the real problem is in the bigger picture. 'Hard copy' leaks are often suspect, as it implies Nintendo employees just randomly leave sensitive documents for someone to find. But in the context of the current global pandemic, it's even further from the realm of possibility. With most companies conducting all meetings virtually, why are they printing out documents, and who is "just walking by" to pick them up? If it isn't a fake, it's hard to see how this came to pass.
Another problem, albeit one that's a harder pill to swallow, is that this list of big-time franchises is likely far too good to be true. Among the list is Legend of Zelda, Mario, a yet to be formally announced Fire Emblem game, Splatoon, a new console, new Bayonetta, Kingdom Hearts, Hollow Knight: Silksong, No More Heroes, and Bravely Default 2. Is your mouth watering yet? Well, maybe that's exactly the point.
Ask yourself this simple question: When has a single Nintendo Direct actually delivered something of this scale? If this was real, it would be an absolutely bonkers lineup of titles. Let's consider the "safe bet" announcements – games that we know are already in development. Games likes Bayonetta 3 and Legend of Zelda: Breath of the Wild 2 have no release date, but fans are hotly awaiting a release announcement. It's no wonder someone would believe that the release details would drop any day now.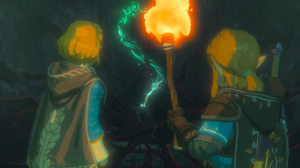 Other items lack any real credible basis outside of guesswork. Many of these titles have had no proper announcement. They are simply a numbered sequel. The games industry has proved time again they will try and make a series out of anything. Super Mario Odyssey 2, Splatoon 3 and Mario Kart 9, for example, seem like totally viable titles. Other titles instead slap on a new subtitle to claim a new entry in the series, such as Kingdom Hearts: Destiny's Embrace. It's a reference to in-game lore, so it fits the bill for a sequel name.
These would make great releases on the Switch Pro – if it exists. But the Switch Pro remains an entirely speculative console. Ever since the idea of a smaller, cheaper Switch has floated around, gamers have discussed the possibility of a more expensive decked-out Switch, but Nintendo has never expressed an in creating such a console. Even the fact that the document has called it the 'Switch Pro' is suspect, as that title was one created by fans. And if the Switch Pro is questionable, so is its long list of third-party ports. Overall, most, if not all, items listed in the document feel untrustworthy.
So, it's another fake leak. We get those every year. So what's the problem? Well, if 2020 has made us keenly aware of one plague on the industry, its hype. Hype culture has always been a bit of a stain on games promotion, but with the chaos of 2020, it truly hit a point of toxicity. Naughty Dog fans waged war over The Last of Us Part II. Cyberpunk 2077's launch was a farcical mess. Amongst all that was the hostility from Nintendo fans, berating the company over "underwhelming" Directs.
While most comments on the tweet seem to realise the leak is incredibly suspect, I'm concerned that the hardcore zealots of the community will see this list and whip themselves into a frenzy. If January 11 comes and goes with no such direct, or one that doesn't follow the schedule laid for them, it may begin another wave of anger and resentment for not meeting expectations. 2021 is no blank slate, and all the horrors are not confined to 2020. I wanted this news to be real. I feel a bit swindled by this, led astray by my desire for good things around the bend. That's the challenge of the year ahead: we're so exhausted of terrible stuff that it's hard to see through people lying just to get our attention. More than ever, fake Nintendo Direct leaks like these are not harmless pranks but a real blow to the psyche.