We've recently reached an upsetting milestone. As of January 2021, the infectious COVID-19 has been on our shores for a full year. I don't think I need to tell you that, in all ways, coronavirus has made things difficult. While games are getting delayed, and we in all likelihood head into the probably the slowest year for game development, it does open up interesting avenues. There has never really been a time where social distancing has really ever been part of the public consciousness. So perhaps it should come as no surprise that even games are playing with the concept. Such is the case with Serenity Forge's Half Past Fate: Romantic Distancing.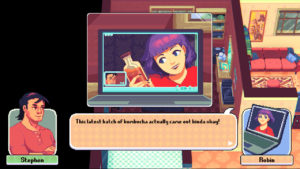 Romantic Distancing is a smaller spin-off to the Serenity Forge's original Half Past Fate released in March of last year. It was definitely one of those games that seemed to just drop at a time I needed it. As the world was shutting down, this game was a ray of sunshine. It was a striking game, in that it was the first game that really felt like a "rom-com" title for the medium. The original looked at 3 separate couples coming together through circumstances, finding love over years, weeks or even just one hectic day.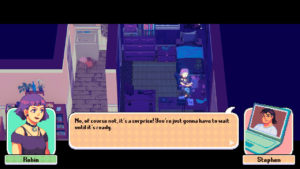 Romantic Distancing is a smaller project, as one may expect. It instead follows one couple. Robin and Steven have sparks flying from the first encounter, but when lockdowns keep them separated, they'll have to try and maintain their connection until they can see each other again. As one may expect, it seems to have a similar feel to the original; though with some more constraints placed on where you can go. It is an interesting concept to see how relationships may change with difficult circumstances. I'm looking forward to what Serenity Forge brings for this second instalment. After all, we still need a shot in the arm every so often.
Half Past Fate: Romantic Distancing launches Valentine's Day on Steam.