PlayStation have finally given us a release date for the very anticipated Ratchet & Clank: Rift Apart for PlayStation 5.
Announced last year and originally rumoured to be a potential launch title, we can confirm that the PS5 exclusive will be available on June 11.
"Ratchet & Clank: Rift Apart is a brand-new full-length adventure. When the evil Dr. Nefarious uses a device that can access alternate dimensions to find a galaxy where he always wins, Ratchet and Clank are separated. As they try to re-unite, they will meet a new Lombax resistance fighter, explore new and familiar locales (but with new dimensional twists!), and wield a whole new arsenal of out of this world weapons." said Marcus Smith, Creative Director at Insomniac Games.
"If you've never played a Ratchet & Clank game before, this is an excellent one to start with as the adventure is a stand-alone storyline, but longtime fans of the series will find deeper layers of connection to previous games."
The post also went on to detail the pre-order bonuses for the game.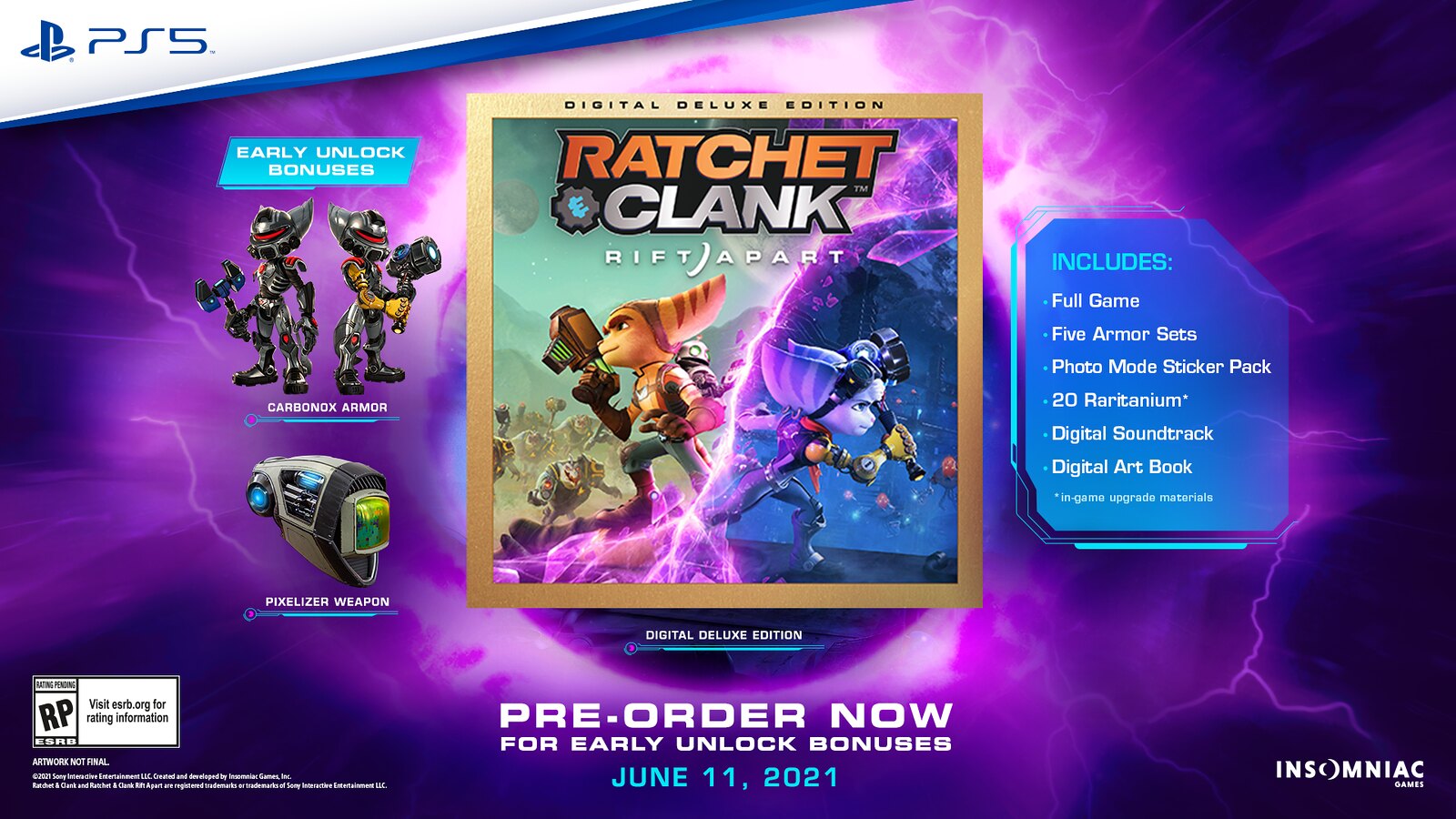 "The Digital Deluxe Edition is available on PlayStation Store to pre-order. In addition to the Ratchet & Clank: Rift Apart game, you'll receive the following content: 5 additional armor sets, 20 Raritanium to get a head start on upgrading your weapons, a sticker pack to use in Ratchet & Clank's first ever photo mode, as well as a digital artbook and a digital soundtrack. For those of you who like physical discs, don't fear, as there is an upgrade option for owners of the Ratchet & Clank: Rift Apart Standard Edition to allow you to purchase the content included in the Digital Deluxe. For both physical and digital versions of Ratchet & Clank: Rift Apart, there will be an in-game menu prompt guiding players to make the upgrade through PlayStation Store."
We can't wait to get stuck in to the next adventure for Ratchet, Clank, and the mysterious new Lombax, which Smith says "And yes, we know you are asking for the new Lombax's name. And it's not fair that we put her in the art-work and aren't telling you yet. Hang in there, you'll be feeling rosy soon."
Ratchet & Clank: Rift Apart will be released exclusively for PS5 on June 11, 2021.