Strange, but true! a steamer by the name of Rudeism has completed a full run of Hades using a custom controller he created… out of a pomegranate. Hades is, of course, the critically acclaimed rogue-like set in the underworld of ancient Greece that won Indie Game of the Year in 2020's Game Awards (and won top spot on Checkpoint's own Game of the Year list). It's notoriously difficult, even without using a pomegranate for a controller. You can watch Rudeism complete the insane run below:
Rudeism is a New Zealand-based streamer who often plays games using strange controllers. He has used a Guitar from Guitar Hero to play multiple games, including Portal 2 and Rocket League, and has created his own controllers out of every day objects like bananas, jelly beans, and a frying pan. His reason for using a pomegranate for Hades is undoubtedly a reference to the in-game pomegranates, Poms of Power, which help to level up Zagreus' 'Boons' and make him stronger. The fruit is also famously involved in a Greek myth in which Hades tricks the goddess Persephone into staying in the underworld.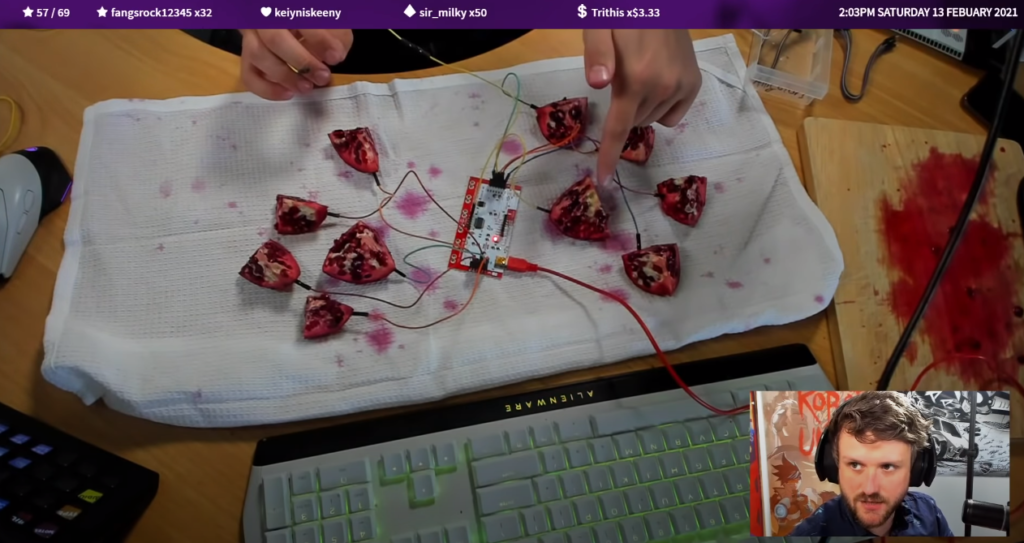 Rudeism explained in a tweet that he created the controller by attaching pieces of the cut-up fruit to a MakeyMakey – a simple circuit board that's designed to turn everyday objects into a touchpad. The setup wasn't perfect, as the wires would come loose multiple times during his run, forcing him to pause to reattach it. There was also no way for him to aim, though his chosen weapon was one that doesn't require much aiming anyway. Using special attacks was also difficult, so he ended up using only regular attacks and the Call, a special boon that calls in one of Zagreus' many powerful relatives to deliver a powerful attack.
At the end of the run, Rudeism's time was 22:42:54, which is super impressive given how difficult it is to complete a run that quickly using just a regular controller.