Believe it or not, The Oregon Trail is fifty years old. Since its original and influential premiere, the game that chronicles a character guiding a wagon (and party of settlers) from Independence, Missouri to Oregon's Willamette Valley has seen many, many new versions and releases. Largely, this is because it's an interesting educational video game and as such saw itself being used as a teaching device in schooling. Oregon Trail did plenty right all those years ago. It challenged players with fighting off disease, managing inventory in your limited covered wagon and surviving the many misfortunes found on the road. One thing the game has failed to get right however is Native American stories and representation. That is, until the revamped Apple Arcade version came along.
Last week, Apple Arcade started April off with a bang, releasing over 30 surprise additions to its library and joining some already great games. Perhaps one of the most notable on the list was this new version of Oregon Trail, developed by Gameloft. This version of the game comes with updated visuals, multiple playable characters and a better representation of Native American people. Gameloft share their intentions in crafting a game with better stories from the get-go, offering a heartening message at the game's start. We've included this for you below.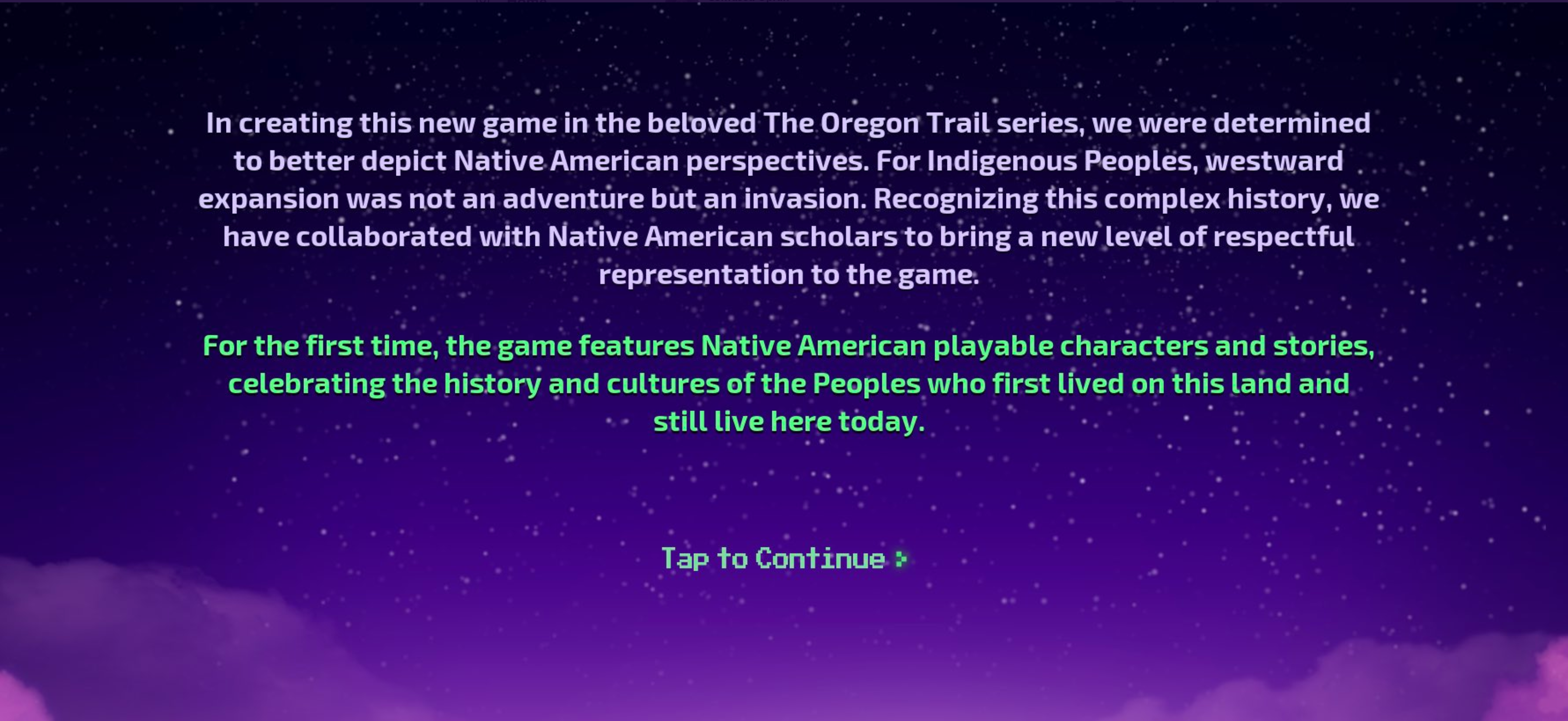 The original Oregon Trail was very much a product of its time. It depicted these brave white settlers venturing out on the trail as heroes, rather than the ones actually invading. Across the journey, Native Americans were previously potential enemies in your path that could attack you at any moment. Thankfully, fifty years on and some obvious clarities have dawned on developers resulting in this new version that looks to promise to no longer vilify such individuals.
The Oregon Trail by Gameloft was created in collaboration with Native American scholars. It's an exciting and welcome new addition that may very well warrant your attention. For those looking to get something fresh out of Apple Arcade, it's up there in your highest bets.