The PS5 and Xbox Series X/S ports for Greedfall now have a release date. In addition, more info about the game's upcoming paid expansion, The De Vespe Conspiracy, has been revealed. Both can be purchased as a bundle as Greedfall: Gold Edition, whose physical version also comes with a bunch of fun goodies, like a map of the setting and some stickers.
The next-generation ports will include improved load times, as well as enhanced visuals and up to 4K UHD resolution mode. There will also be a 60 FPS performance mode for those that want a more responsive experience. If you own the game on PS4 or Xbox One, the next-gen ports will be free downloads, which is a nice touch.
The next-gen versions feature:
– Improved visuals, faster loading
– Up to 4K UHD resolution
– 60 FPS performance mode

🎁 PS4 and Xbox One versions can be upgraded for free! pic.twitter.com/J2CPuJTYpk

— GreedFall (@greedfall) June 24, 2021
As well as these upcoming next-gen ports, Greedfall is also getting its first premium expansion. Titled The De Vespe Conspiracy, the DLC will bring De Sardet and their companions to a new region to unravel a conspiracy. It will also bring new weapons and costumes to find and craft, as well as a raft of new enemy varieties. No price tag has yet been revealed for the DLC, or if any more expansions following this are on their way.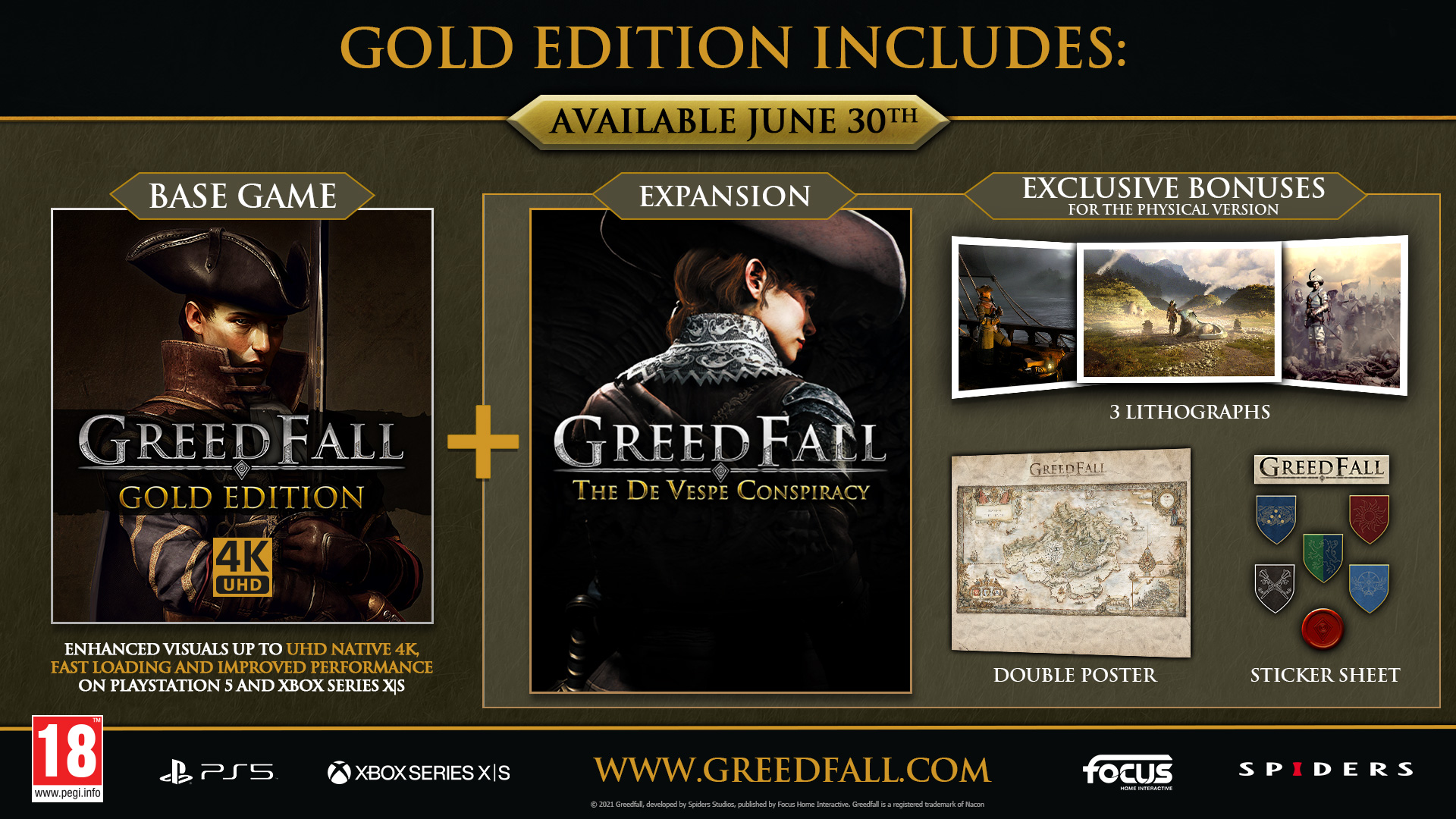 Despite being a new IP, Greedfall ended up selling over 1 million units in its first year, which is an astonishing success for an untested property. Hopefully the continued support for Greedfall might signify that we have a bold new franchise on our hands. Both the upgraded next-gen ports and The De Vespe Conspiracy expansion will be available next week on June 30th 2021.