Crystal Dynamics has confirmed that a much-requested feature is finally heading to Marvel's Avengers next month. Following an upcoming update, players in the same multiplayer party will be able to pick the same character, rather than being limited to one Black Widow or Iron Man per session. Other new content, such as Multiplayer Mega Hives and Omega-Level Threat: Family Reunion are also heading to Marvel's Avengers in July.
In a Roadmap Update for July, the developers confirm that "due to your feedback, we're permanently turning on the ability to play multiple of the same Hero during matchmaking and when forming Strike Teams. Tachyon energy in the world has reached a level where Hero selection is always similar to the Tachyon Anomaly Event. We'll have more information about these features later in July!"
Prior to this change, only certain Tachyon Anomaly Event missions allowed multiple party members to choose the same hero. Now, that ability will be rolled out permanently for other multiplayer modes in Marvel's Avengers. This update has been a long time coming as part of their 2021 roadmap of updates and additional content.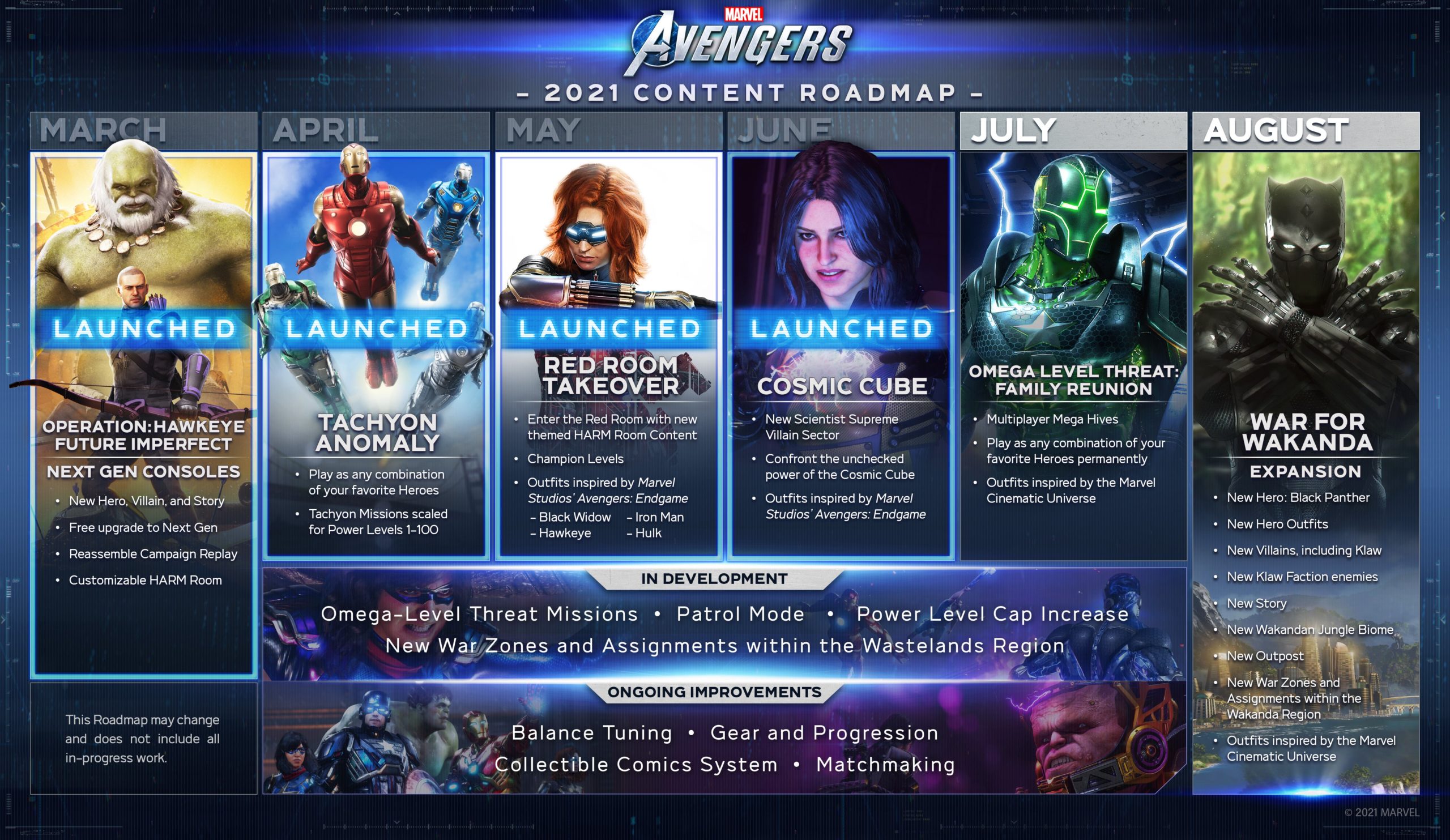 In addition to this gameplay feature, Multiplayer Mega Hives, as well as Omega-Level Threat: Family Reunion are also on their way. Multiplayer Mega Hives will be more difficult than the single player version. However, the multiplayer version only has 4 Heroic Gauntlets to complete, rather than 8, making it somewhat shorter to complete. Omega-Level Threat: Family Reunion will be one of the toughest challenges yet in Marvel's Avengers, culminating in a showdown against the Super-Adaptoid.
Following these July updates, fans then have the more substantial War for Wakanda event to look forward to in August. War for Wakanda will bring in the fan-favourite Black Panther as a playable character and explore the setting of T'Challa's homeland of Wakanda.
After War for Wakanda has rolled out, Crystal Dynamics promises to "provide another roadmap in the next month or two so that you'll have an idea of what our exciting path forward looks like". Marvel's Avengers has not had the easiest ride since its release last year; hopefully the upcoming gameplay updates and new content will keep its fans engaged for the foreseeable future.