Bandai Namco has released an epic new trailer for the upcoming action JRPG Tales of Arise during Summer Game Fest 2021. Additionally, the Collector's and Deluxe Editions have been revealed and detailed on the official website and looks chock-a-block with goodies for die-hard fans to get their physical and digital mitts on.
Check out the new trailer below:
The trailer shows off the beautiful art direction, character models, and environments while very cryptically revealing some loose plot elements and the likely villain of Tales of Arise. As is standard in the world of JRPGs, everything is a little confusing and overwhelming but looks bloody pretty at the same time.
Tales of Arise is set to launch on 10 September 2021, and you can pre-order now on PS4, PS5, Xbox One, Xbox Series X|S, and PC. You can find details of the Collector's Edition, Digital Ultimate Edition, Digital Deluxe Edition, Digital Standard Edition, and Standard Edition below.
By preordering any of the Digital Editions, players will receive the following:
• Alphen and Shionne Costumes
• Wing-Themed Outfit Accessories
• Cooking Recipes
• Food Items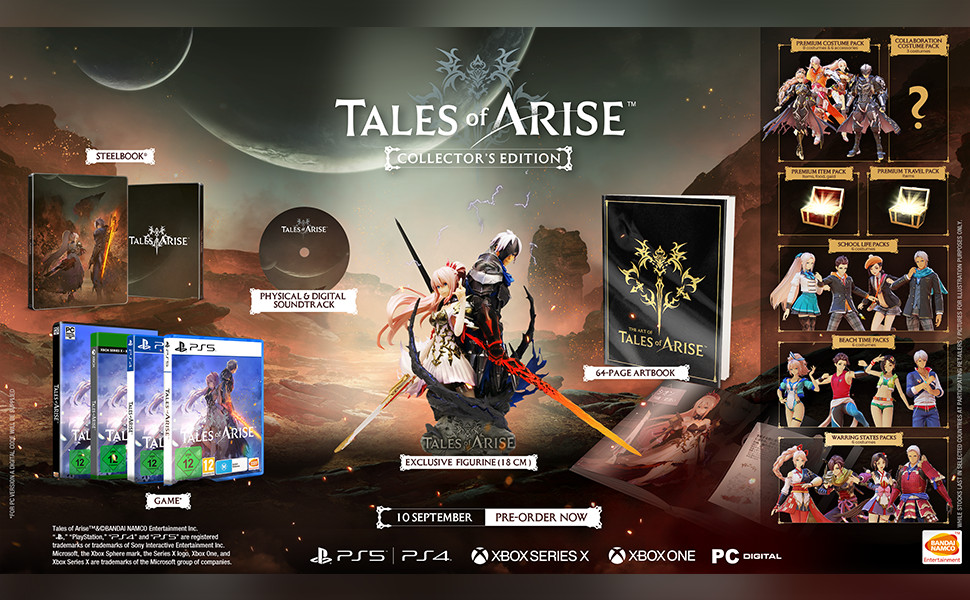 Collector's Edition
• Standard Edition of Tales of ARISE
• Exclusive 18-cm Alphen and Shionne figurine
• Steelbook case
• 64-page hardcover art book
• Physical CD soundtrack
Available exclusively on the BANDAI NAMCO Entertainment America Inc. online store, while supplies last.
Digital Ultimate Edition
• Tales of Arise full game
• Premium Travel Pack
• Adventurer's Pack (includes Premium Item Pack, Premium Costume Pack)
• Collaboration Costume Pack
• 18 Additional Costumes
Digital Deluxe Edition
• Tales of Arise full game
• Premium Travel Pack
• Adventurer's Pack (includes Premium Item Pack, Premium Costume Pack)
Digital Standard Edition & Standard Edition
• Tales of Arise full game