UPDATE (20 July 2021): The Skate team at Full Circle have unveiled the "We're Working On It" video teaser. In short, it shows off some behind the scenes development, motion capture sessions, skaters and gamers who are helping to make the game, and a few other hints. From what we can tell, it seems the new game will have a similar open-world to Skate 2 with the movement of Skate 3.
The official Skate Twitter account has shared an update on their game development over this past year. We can now expect some new information on the upcoming sequel or reboot in the coming days.
It has been nearly 11 years since Skate 3 gave us an arcadey and modern take on the skateboarding video game genre. Fans are consistently on the edge of their boards for a new Skate, with previous teases and rumours fuelling the fire.
The small brief that Full Circle, the developers of the next game, are sharing on Twitter notes new information or footage coming tomorrow.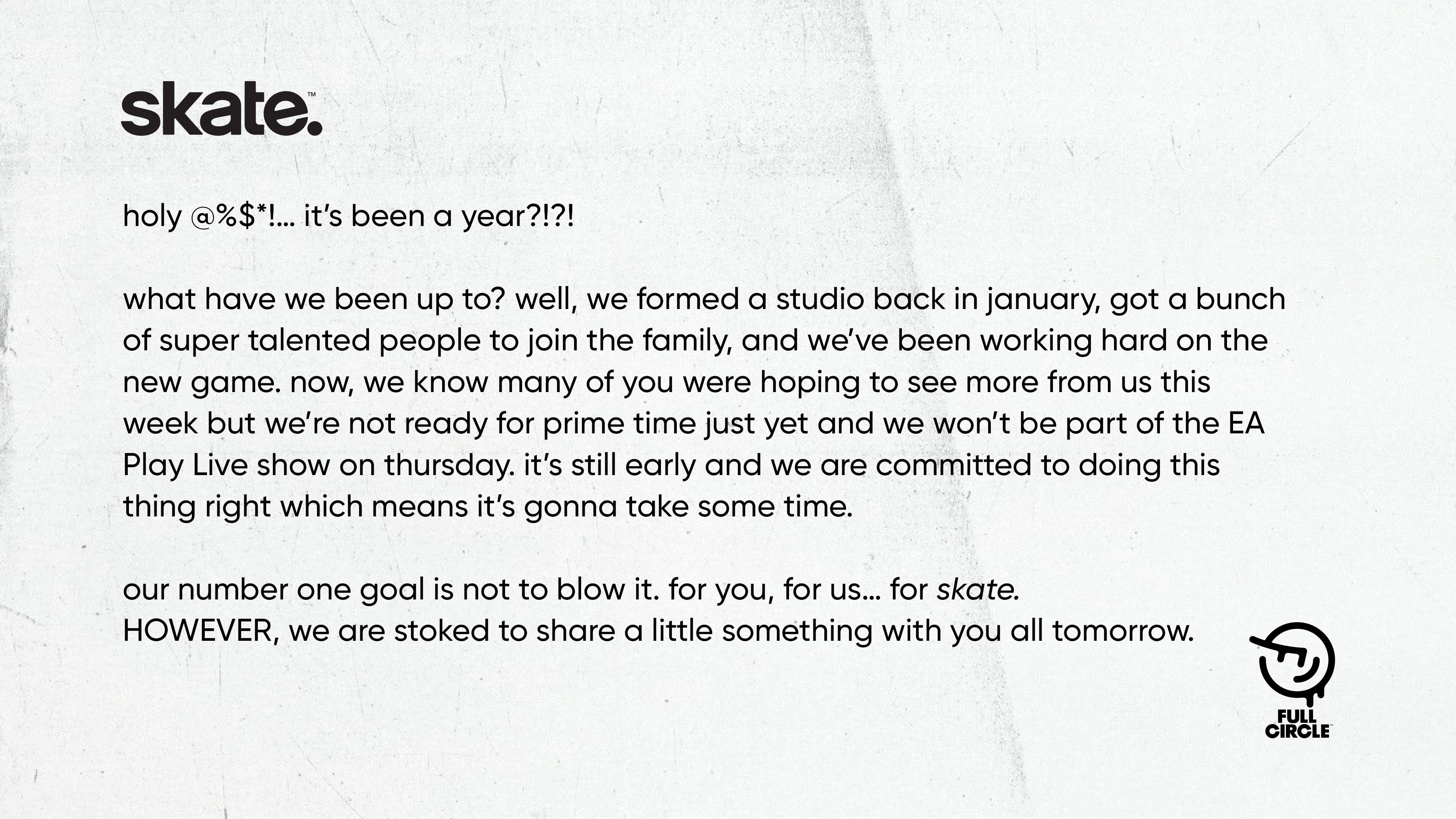 "What have we been up to? Well, we formed a studio back in January, got a bunch of super talented people to join the family, and we've been working hard on the new game. Now, we know many of you were hoping to see more from us this week but we're not ready for prime time just yet and we won't be part of the EA Play Live show on Thursday. It's still early and we are committed to doing this thing right which means it's gonna take some time.
Our number one goal is not to blow. For you, for us… for Skate. HOWEVER, we are stoked to share a little something with you all tomorrow."
Full Circle is currently hiring for a Social System Design Lead, a Full Stack Software Engineer, and more for a project titled "SKATE". It does seem like this may be a reboot of the series, potentially as a live-service type game that can be worked on for an extended time.
While we continue to seemingly wait forever for the newest Skate game, at least we have an outstanding remaster of Tony Hawk's Pro Skater 1+2 to keep us occupied.
We'll continue to update you on this story as it evolves in the next few days. So, keep watching our socials and website for immediate news on Skate 4 or the newest entry in the franchise.