Get ready to master a whole bunch of crazy new rounds cos' Fall Guys: Ultimate Knockout Season 6 is releasing on December 1st. We've got all the dirt on what this new season will look like, so get super pumped Fall Guys fans! All up, this season sees 5 new rounds, 25 new costumes, 50 tiers of rewards and a Sackboy Limited Time Event. Yup, it's shaping up to be pretty awesome, so let's take a closer look at what's in store.
Firstly, let's talk about these five new rounds. Party Promenade is the game's "wildest" gauntlet and has heaps of new obstacles. These include water balloon cannons, acrobatic trapeze bars and vacuum tubes that zoom around. Full Tilt sees your bean take on a classic in a new way; the new speedy 360 degree see-saws will see you dodge force fields and rapid rotating bars.
Next is Pipe Dream, where your character jumps down a tube that leads to a different maze. The Fall Guys devs are wanting to surprise fans about what waits on the other side of the tubes. Airtime is all about staying airborne for as long as you can via trapezes, rotating platforms, conveyor belts and of course, your own fancy moves. Last but not least, is Leading Light where you battle against other beans and force fields to be the centre of attention.
The Fame Path Festivities and Rewards are packed with goodies, such as 20,000 Kudos and over 20 Crowns to unlock along with 50 tiers of rewards. Also being added to the Fame Path Festivities is two Jin Sakai skins straight from Ghost of Tsushima. Along with the Ghost Of Tsushima protagonist, there will be over 25 new costumes that have been dubbed "carnival couture" that will make you and your bean feel extra sprightly and ready to take on the big beans.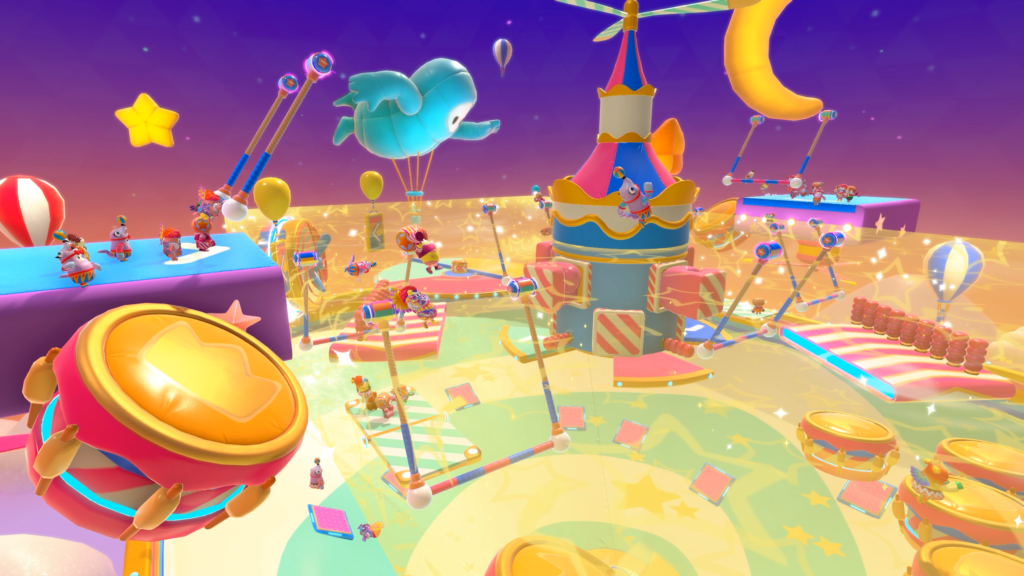 Also, based on player feedback, devs Mediatonic have fixed and added a number of elements to the game. These include more limited time events which will encompass more challenges, varied rewards and a limited edition Sackboy event! Circular tubes are back in the Final Round, flipper issues fixed on Tundra Run and Short Circuit and Spectator Mode now automatically focuses on Party members.
So, bring on Season 6! Seeing as Epic Games has bought Fall Guys you will now have to have an Epic Games Account to play on PC. Fall Guys: Ultimate Knockout is available on PlayStation consoles and PC.