It's finally happening! The iconic blue battle bus from Fortnite is coming down under, bringing with it a whole new experience for players. Not only has an ANZ branch of Fortnite's social media been opened, but Epic Games has been extra keen to celebrate this new connection to us players down under! Aptly named Fortnite Lands Down Under, it's aiming to show off Australian and New Zealand Culture to folks all across the world who play the game. Take a peek at the Fortnite Creative map below. CRIKEY!
Welcome to the Lands Down Under! 👋 Hit the beach, save the Kiwi, enjoy a meat pie and build your own Aussie tradie empire.

Explore the island today: 4371-6551-3016.#FortniteANZ #LandsDownUnder@fn_alliance @FNZenCreate pic.twitter.com/neHQHe9FSe

— Fortnite ANZ (@FortniteANZ) November 25, 2021
Having played the experience earlier this week, I was quite in awe at the depth of what's been made. The folks at Alliance Studios and Zen Creative have worked hard to build an experience that players will appreciate. Roam the center and see the local animals of Australia and New Zealand situated in amazing dioramas. The space is by definition, a museum of neat cultural references that only a locale team could bring together. It also features collectible coins that can be used to redeem up to 6 free Australian in-game sprays by George Rose – a Melbourne artist. There will be one spray available per day starting from the 25th of November. Personally, I'm loving these sprays!
Along with the Visitor Centre, there are 4 mini-games in Fortnite Lands Down Under that take into account every group size. They are as follows;
Sydney Surf Spectacular – Ride the waves in this arcade water thrill ride. Take on your friends to see who can win while you nab power-ups and surf your way to victory. Nothing says Australia like a surf comp on the iconic waves of Bondi Beach!
Bake vs Batter – If you love Overcooked then this will have you keen for sure. Take over the kitchen in either a Fish and Chips shop or a Bakery in this chaotic
Kiwi Hideout – If the first 2 games seem a little out of your league or you're looking for a more chilled-out minigame then Kiwi Hideout is the one you should try. Help the Kiwi keeper find the missing little creatures that have wandered off before their bedtime. This game will test your eyes as you search the path and bushes for where they're hiding.
Aussie Tradie Empire – The last mini-game is probably its most detailed. Compete with your friends to be the first to build your own house. You might even get to grab a snag at an iconic Australian hardware store. Need I say more? This is also a great opportunity to imagine what it's like to own a house HA.
Many will remember Fortnite creating an Icon Series skin of the legendary Lazarbeam who shot to fame with his Fortnite content during what is now known as Chapter 1. His skin is a homage to his origins when his day job was being a tradie.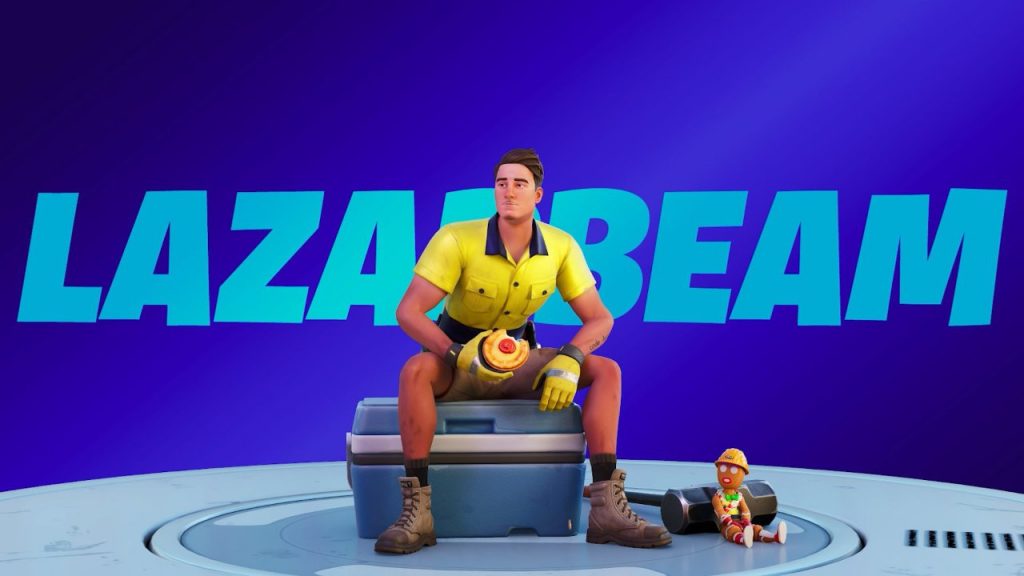 Alliance Studios and Zen Creative wanted to create a map that would be a decent nod to the cultures of Australia and New Zealand and I reckon they've done more than understand the assignment! Exploring the Visitors Centre is a lot of fun, and super rewarding when you see just how much work has gone into the Fortnite Lands Down Under creative map. There's even a space in the Centre where ANZ brands can feature in the future as a way of further showcasing the lands down under! The map is live now so jump in ASAP to check it out, get the limited daily sprays and support this ANZ collab.
And that's not all, Chapter 3 is coming!
It appears Season 8 is set to be the last season of Chapter 2 for the hit battle royale game, with promos already appearing that refer to The End. It's crazy to think the season is almost over but alas it's going to mean new things are coming to the game. Catch the latest below!
Welcome to the beginning of The End.

Chapter 2 Finale I 12.4.21 I 4 PM EThttps://t.co/JUIsVf3lpu pic.twitter.com/KbhSRR3KqL

— Fortnite (@FortniteGame) November 24, 2021
We don't know much yet but it's obvious the climax of this season is going to involve the Cube Queen who's floating above the pyramid in the centre of the map. Better start saying your goodbyes to this map seeing as the last time we got a new map was at the start of a new chapter. If you'd like to jump into the latest season there's still time, check out all the details on season 8 here! Also, the skins present in this teaser have all been available in-game before so we haven't laid eyes on any new stuff yet.
For even more details about what's coming at the end of the season click here. You can catch the finale of Fortnite Chapter 2, Season 8 at 8 am on December 5th so be sure not to sleep in!