As we anticipate more information on WWE 2K22 to drop in January, we've been given a sneak peek of some of the features we can expect from the next entry in the popular wrestling franchise, and some of the changes are definitely for the better.
A "Hit List" trailer has been released, showing a top 10 list of "features and innovations". Highlights include a redesigned gameplay ending with redesigned animations from the ground up, stating that as soon as players pick up the controller, they'll feel the difference. Beyond that, there is new controls, "stunning" graphics and an immerseive presentation that is being referred to as the "most dynamic entry in the series to date". Check it out.
Additionally, WWE 2K Showcase is back, looking to focus on the legacy of Rey Mysterio. MyGM mode has been an oft-requested return, where players can draft superstars, book matches and manage contracts, essentially a WWE version of Football Manager that has always been a fan favourite.
MyFACTION lets you build a legendary faction across generations to create your own nWo, DX, Evolution or whatever else, with MyRISE the name of the new career mode that will see you take a WWE Superstar from Rookie to Legend. The Universe Mode and Creation Suite are also featured. Overall, the game is looking good so far, and we expect more information to come in January, ahead of the release in March 2022. This marks the longest gap between a mainline WWE game in… well… ever. WWE 2K20 released at the end of 2019 and was critically blasted, while 2020 saw the release of the arcadey WWE 2K Battlegrounds.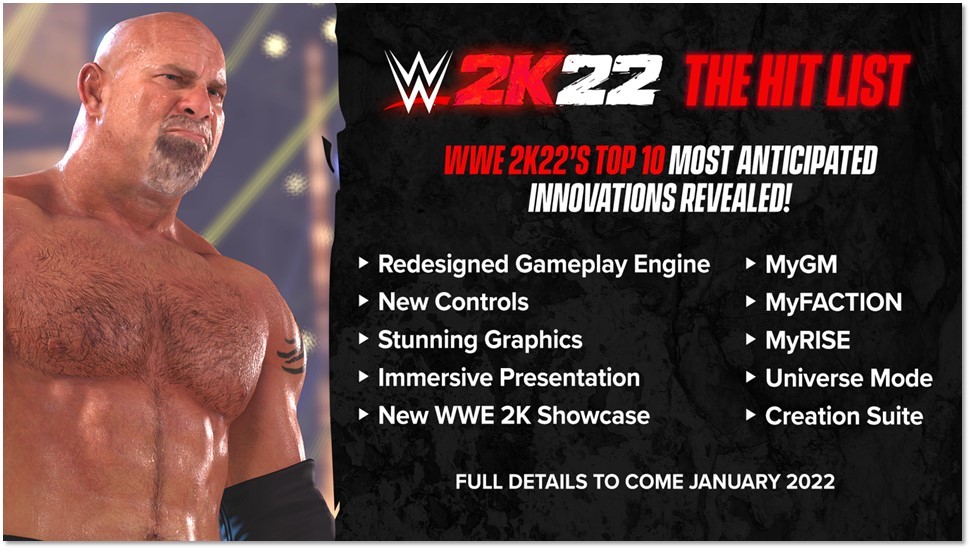 Let's hope WWE 2K22 is a success and brings the series back on track – although we do wonder how many adjustments to the roster will need to be made between now and then. WWE 2K22 is set for release in March 2022.