Remember the days of sitting in the computer room at primary school and playing Where in the World is Carmen Sandiego? (the 1996 version) and not having a care in the world? Now you can experience it again with General Interactive Co's new game, Chinatown Detective Agency.
Chinatown Detective Agency is a point and click adventure set in a 2032 Cyberpunk Singapore. World governments have collapsed, as the economy approaches its "apocalyptic climax". Singapore is one of the few nations left with some order, but "even that seems like fleeting hope". Like most cyberpunk/cyber noir (or tech-noir) settings, the world is corrupt and the police are crooked. Because of this, the best detectives are making their own private investigation services. If you can't afford them, well, you're more than happy to take the law into your own hands.
We play as Amira Darma, once a member of INTERPOL, now opening her own services. As we track down criminals, witnesses, and clues both in Singapore and around the world. Players will have to do real-world research and investigation, like searching online for an airport code, or tracking down a quote. We have to manage our time and money and interact with clients who are either level headed or have ulterior motives.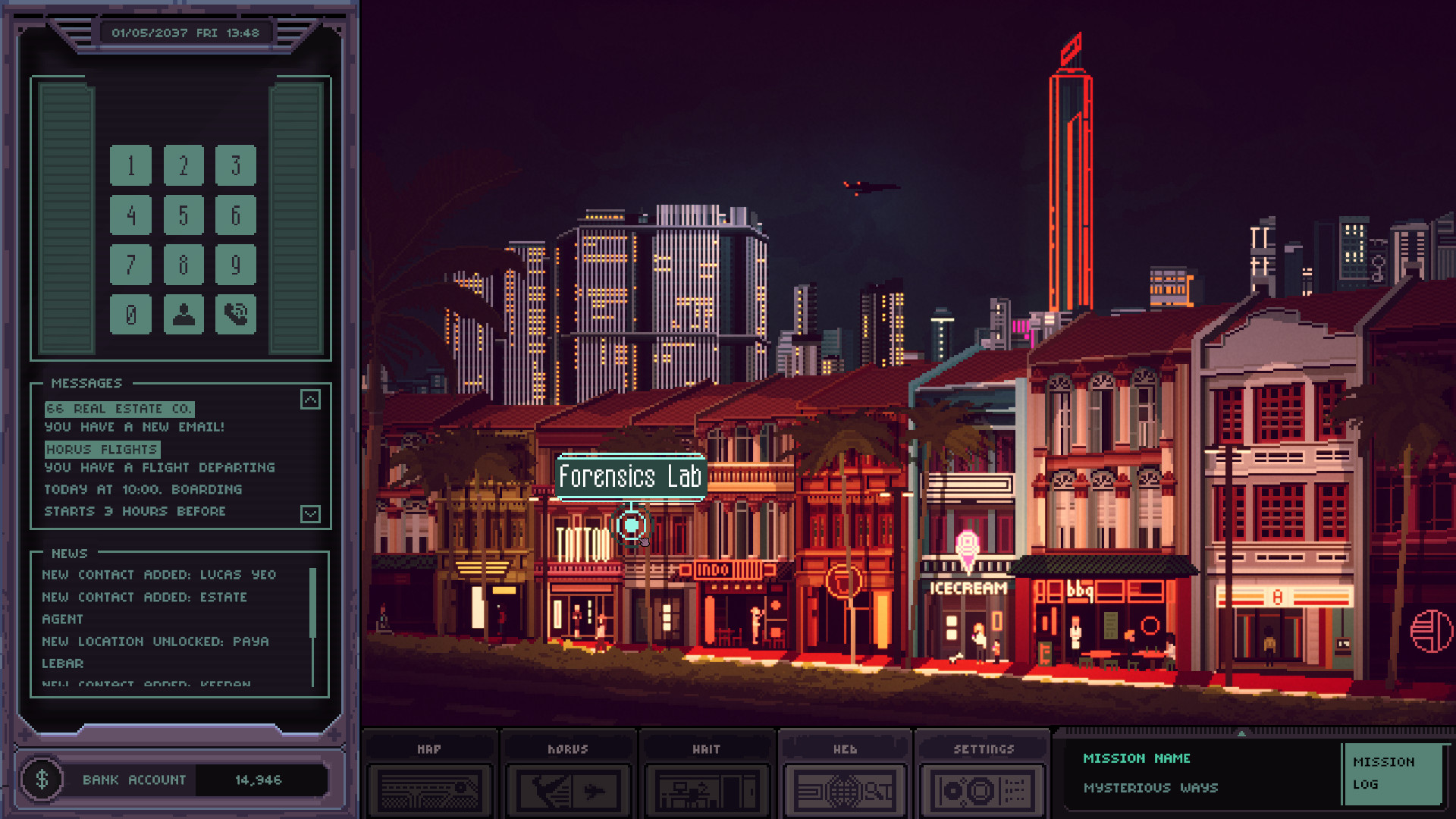 So, what can you do in this game? Well, we can unravel a global conspiracy. General Interactive Co mentions that they found inspiration in media such as Blade Runner, The Da Vinci Code, and Black Mirror. Playing the character of Amira, we can become an investigator like Nancy Drew but in the future. You'll need to make sure you've organised your time, as it's a "precious resource". As the old saying goes, time is money, and "the clock is always ticking". Throughout the game, you can assemble a team of contacts, and even hire some staff. Lastly, Chinatown Detective Agency basks in the neon noir cyberpunk genre glow.
General Interactive Co's first foray was a winemaking tycoon game titled Terroir released in 2017. In it, you manage your own vineyard styled in a tile-based design. Originally founded in 2016 in Singapore, the studio now has members based over the world. After the release of Terroir, the studio began development of Chinatown Detective Agency later that year. Last we spoke about them was Humble Games showcasing 10 indie titles which will hit Xbox Game Pass on day one of release.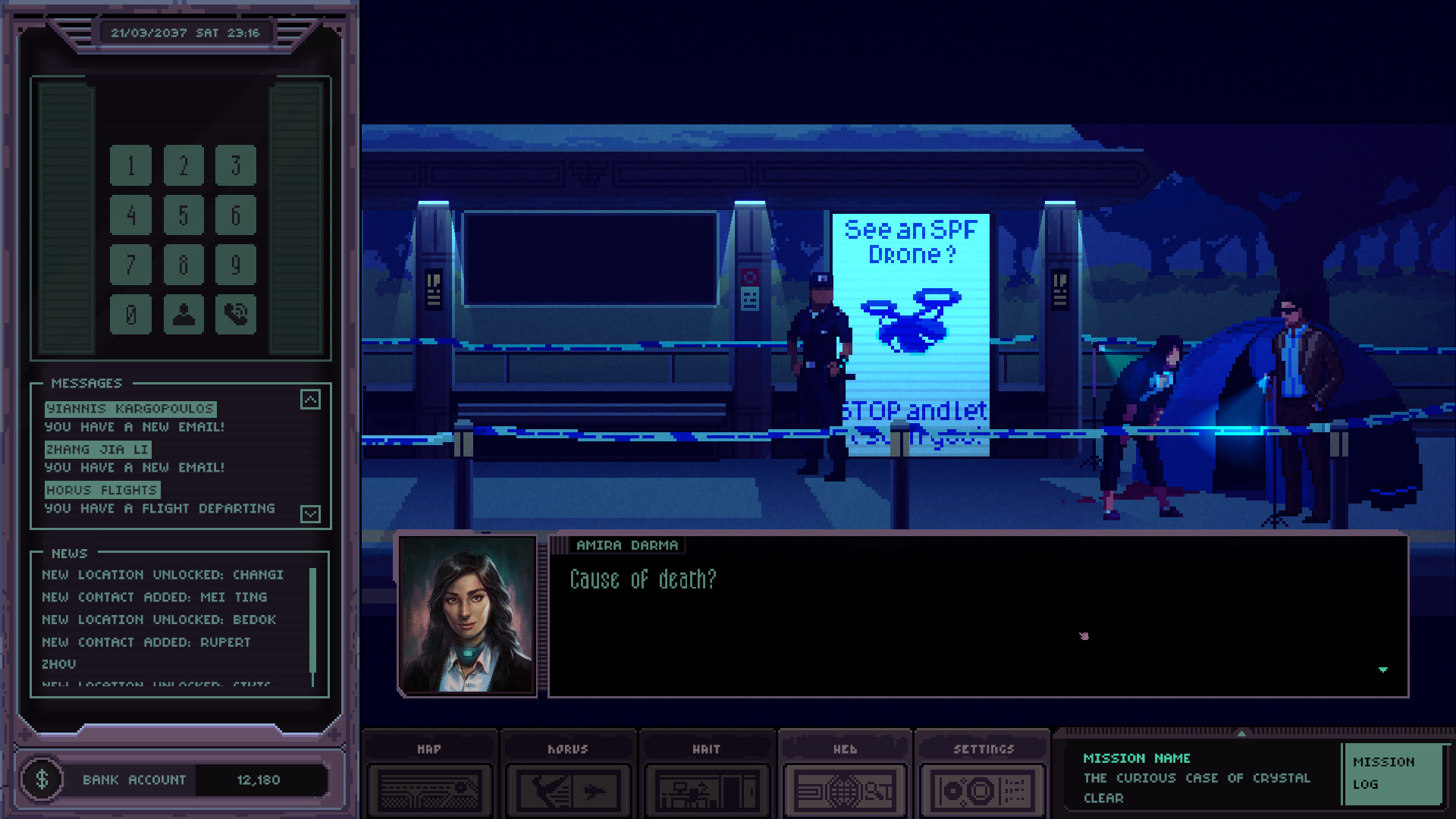 Initially, Chinatown Detective Agency was published to Itch.io in its Alpha stage. Then they began a Kickstarter with a goal of $57,000 Singapore Dollars (which translates to roughly $57,294 AUD). They were able to surpass it and come to a total of $82,012 and fund three of their stretch goals. It's already winning a bunch of awards and getting nominated too. This includes one of the Most Anticipated Indie Games as well as Best Storytelling. We're sure that Chinatown Detective Agency will make a huge splash, and will tell an amazing story.
Chinatown Detective Agency is set to release April 7th, 2022 on PC, Xbox One, and Nintendo Switch. You can find it on Steam, GOG and Humble Store. If you want to keep up to date with General Interactive Co's progress, you can follow them on Twitter, Facebook, YouTube and their official website.