The massive consumer gaming expo PAX is returning to Melbourne this year after a 3-year hiatus due to the global environment. PAX Aus 2022 runs from Oct 7-9 at the Melbourne Exhibition and Convention Centre with games available to play on the showroom floor, panels containing important and exciting voices from within the gaming industry, and communities from the indie dev scene, the cosplay scene, and the tabletop scene all converging into one game-filled weekend.
We're excited to announce that Checkpoint Gaming will be at PAX Aus 2022, and here's how you can get involved!
Panel: Checkpoint LIVE: Topic Tophat
Time and place: 3:30pm on Sunday, Oct 9 at the PAX Together Theatre.
Description: A lively rendition of the Checkpoint broadcast, adapted for a live panel audience. Join the Checkpoint Gaming crew alongside special guests as they turn to the Top Hat of Truth, awaiting the mysteries and secret prompts inside. It's fun, it's silly, and it's packed with hattitude.
Luke Mitchell (he/him) – Checkpoint Gaming

Elliot Attard (he/him) – Checkpoint Gaming

Edie Wakelin-King (she/her) – Checkpoint Gaming

Ella Lowgren (she/they) – Mighty Kingdom

Cat Benstead (she/they) – Hear Us Scream
Extra Details: Come join us for what should be a silly and super fun live panel full of randomised prompts, audience participation, an incredible giveaway, and the knowledge of 5 industry experts who have worked on the development, media, and PR side of gaming. No topic is off-limits when the Top Hat of Truth is involved. We'd love you to join in on the fun! Keep the time free in your schedule and be ready with your best question.
Submit your questions for the panel by emailing [email protected] with the subject line "Checkpoint LIVE: Topic Tophat Question". Nothing is off-limits!
For those who want access to the full PAX Aus 2022 panel schedule, you can check out the mobile app. Details are also available on the PAX Aus website.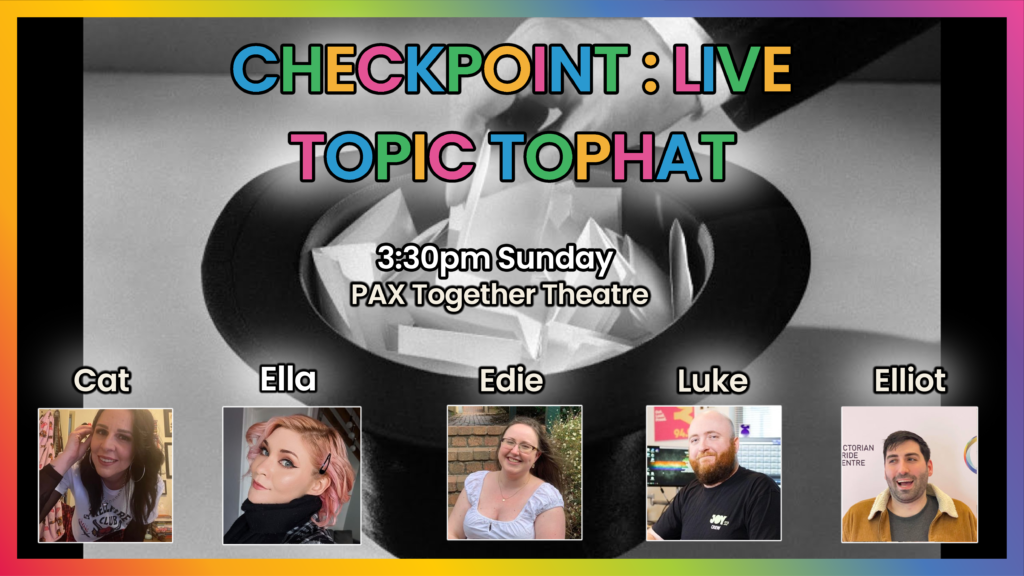 Booth: Checkpoint Gaming on JOY 94.9
Time and place: All weekend long at the PAX Together Lounge (formerly the Diversity Lounge).
Description: The Checkpoint Gaming crew will be available for the full 3-day experience and can be found upstairs in the PAX Together Lounge. We'll be there ready to share our experience and knowledge as radio presenters, writers, reviewers, and general games media people. As an LGBTQIA+ organisation, we know about the importance of diversity and inclusivity and are hoping to be able to bring that positive message to PAX Australia. Stop by the Checkpoint Gaming booth if you want to say hello or to find out more information about Checkpoint Gaming and our home broadcasting radio station JOY.
Giveaway: SteelSeries X Devolver Digital
About: The Checkpoint Gaming booth will also be the place to go if you'd like to join in on our PAX Aus Giveaway featuring SteelSeries peripherals and Devolver Digital games. 3 major prize packs will be given out across the 3 days of PAX with minor prizes also available.
Major Prize Pack (x3): SteelSeries Arctis Nova Headset, SteelSeries Apex 3 Keyboard, SteelSeries Rival 3 Gaming Mouse, SteelSeries QcK Gaming Mousepad, digital game code for Cult of the Lamb, digital game code for Return to Monkey Island, digital game code for Card Shark, and a digital game code for Weird West.
Minor Prize (x3): SteelSeries Rival 3 Gaming Mouse
How to enter: Find the Checkpoint Gaming booth at PAX Aus to enter, or simply keep an eye out on our website or social media channels.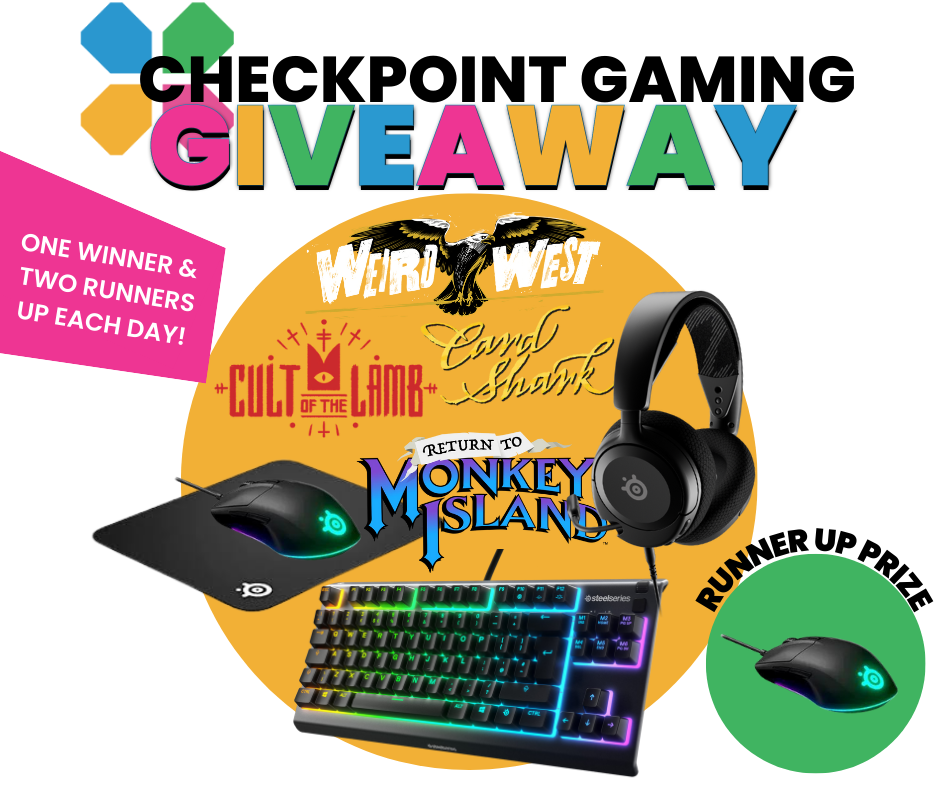 PAX Pins: A 1-UP to Diversity
About: We'll be selling custom-made raised enamel pins, designed for us to include both our logo and slogan, from our booth in The PAX Together Lounge.
Price: Only $10 per pin via Eftpos (we won't have cash payment options available). Alternatively, every $10+ subscriber on our Patreon is also welcome to collect their pin. Subscriber pins will be put aside for the individual to ensure stock does not run out.
Specs: 30mm x 19.9mm, raised enamel, dye black plating finish, individually bagged.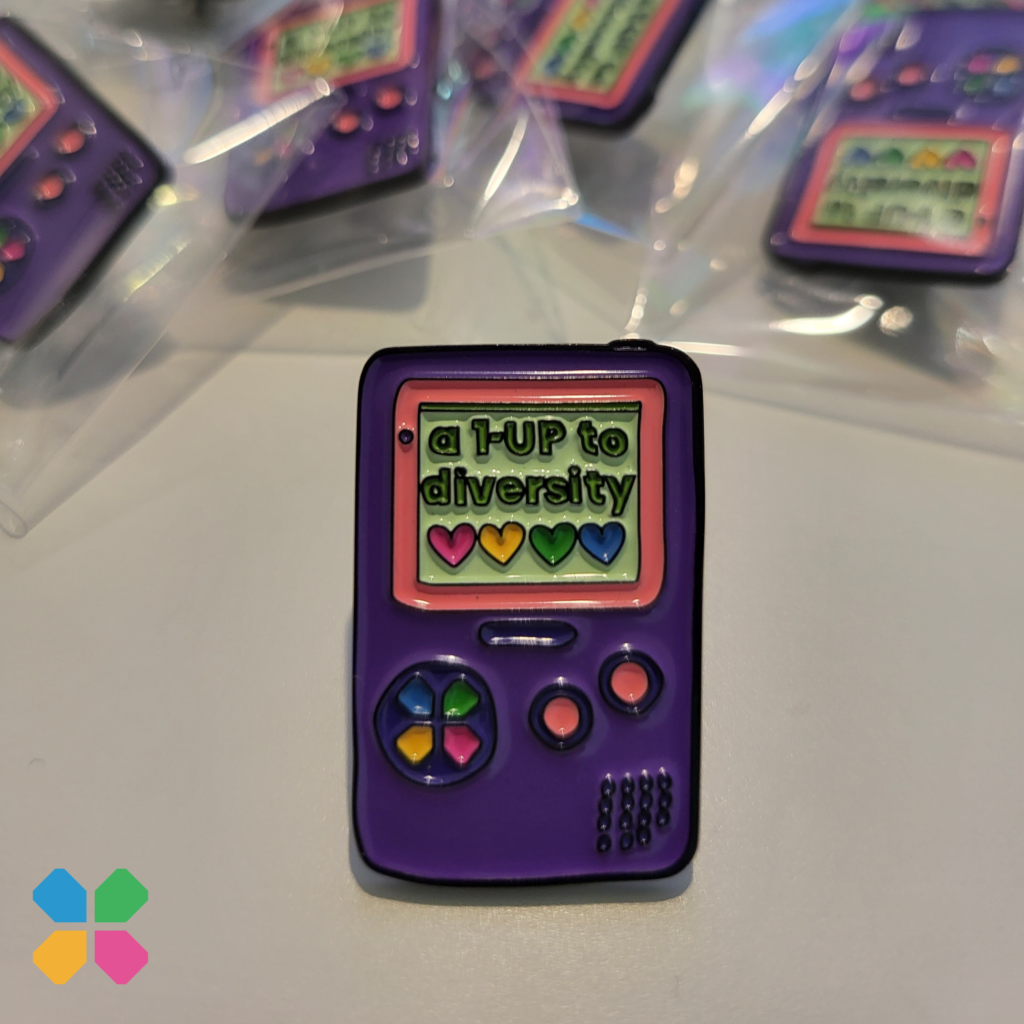 That's it for now. We can't wait to see you at PAX Aus 2022!