In a surprise move that sent shockwaves through the gaming community, Valve has shadow-dropped Counter-Strike 2 (CS2) after an extensive Limited Test period.
Counter-Strike 2, powered by the Source 2 engine, comes with physics-based rendering, cutting-edge networking, and a robust set of Community Workshop tools.
In addition to the iconic objective-focused gameplay that Counter-Strike has defined since its inception in 1999, Counter-Strike 2 introduces a host of exciting features:
All-new CS ratings: The Premier mode receives a significant update, enhancing competitive gameplay.
Global and regional leaderboards: Compete with players worldwide and showcase your skills.
Map overhauls: Rediscover classic maps, meticulously redesigned for a fresh gaming experience.
Dynamic smoke grenades: Revolutionize your strategies with smoke grenades that behave realistically.
Tick-rate-independent gameplay: Enjoy smoother, more responsive gameplay.
Redesigned visual effects and audio: Immerse yourself in the action with stunning visuals and enhanced audio.
Seamless inventory transition: All items from CS:GO carry forward into CS2, ensuring your collection remains intact.
Counter-Strike 2 is not merely an update. As players dive into the world of CS2, they'll discover a wealth of new opportunities and experiences that will hopefully breathe new life into the series.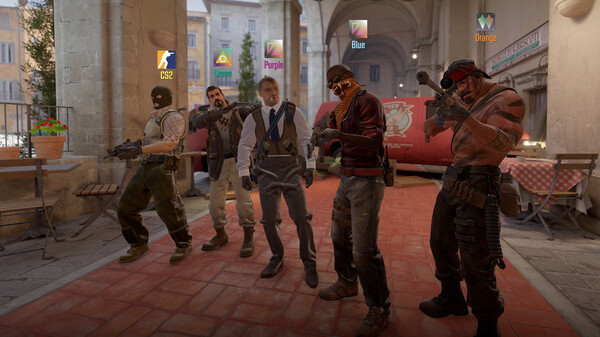 For dedicated CS:GO players, this transition is a seamless one. Upon launching CS:GO, a game update will automatically transform your beloved CS:GO into the new CS2. However, for those new to the world of Counter-Strike or those who may have uninstalled CS:GO, a quick visit to the Counter-Strike 2 Steam page grants instant access.
Perhaps the most thrilling news for existing CS:GO players is that all your hard-earned progress and cosmetics will carry over. This means that your inventory and achievements remain intact, ensuring you won't lose a single item or accolade you've worked for.
While CS2 is technically an update to CS:GO, it is, in essence, the launch of a brand-new game within the Counter-Strike universe. One of the most notable changes is the extensive overhaul of the game engine, breathing fresh life into every aspect of the gameplay experience. With this engine upgrade comes a host of transformative gameplay modifications, promising a more immersive and strategic gaming adventure.
In a similar fashion to how Blizzard launched Overwatch 2 as an overhaul of the original game, CS:GO will now become the official Counter-Strike 2 product. Familiar risks and worries are already sneaking around the fanbase heads: will it be different enough, is this just a meaningless way to keep Counter-Strike relevant, or will the game actually feel like a sequel? Time will tell.
For over two decades, this shooter has stood as a pinnacle of competitive FPS gaming, drawing millions of players into its fold. We're looking forward to seeing how the game evolves with the release of Counter-Strike 2.