Platform:
Nintendo Switch
Released:
August 29, 2023
The art of a rhythm game channelling and championing licensed music has long died down. Existing largely in growingly desolate arcades and scarcely on our home consoles, rhythmic games with beloved pop and rock (or anything in between) songs are sorely lacking. Gone are the days of Guitar Hero, Dance Dance Revolution or even Rock Band. Prevalent now are rhythm games that while still strong, only have the budget or means of having their original songs. Enter Samba De Amigo: Party Central. The return of SEGA's maraca-wielding mascot and the moving and grooving party game is here, intent on bringing back the rhythm game feel of yesteryear.
Samba De Amigo: Party Central has two means of input: traditional button pushes or throwing it all back to peak motion controls with the Wii, shaking a pair of Joy-cons about to simulate the shaking of maracas.  There are six spots to hit these notes in a left and right circle prompt at the top, middle, and bottom fashion of your screen. Typical forms of notes the games would request of you are individual or paired-up notes in singular or quick succession and long sweeping notes that cross your screen. Depending on the difficulty level, these songs can get heated. Mixing up this stock standard gameplay are moments where the game requires you to strike a pose or engage in random modifiers (speeding or slowing up the tempo, etc.) that can affect the song you're in. This is a simple, but fun way to reinvent an expected rhythm game formula that works quite well.
Like with a lot of motion sensor-controlled games, mileage at the responsiveness of input may vary. It's hard to tell how much of this is a symptom of the Switch console itself and how much is on the game, but nevertheless, it can get a little frustrating when you're confident you're matching a prompt to a tee and you're given nothing. On the button press side of things however, it's a thoroughly enjoyable experience gliding your fingers across all face buttons, whether that's the D-pad or X, B, A and Y input. The motions that require movement are simulated well with simple flicks of the joysticks, holding up well and never feeling compromised or the lesser way to play.
Before the numerous soon-to-be-released DLC, there are 40 songs in the Party Central base game tracklist. They are as follows:
"Break Free ft. Zedd" by Ariana Grande
"Pompeii" by Bastille
"You Give Love A Bad Name" by Bon Jovi
"I Really Like You" by Carly Rae Jepsen
"Payback (feat. Icona Pop)" by Cheat Codes
"Karma Chameleon" by Culture Club
"Let You Go (feat. Kareen Lomax)" by Diplo & TSHA
"Good Feeling" by Flo Rida
"Runaway (U&I)" by Galantis
"I Will Survive (Eric Kupper Mix Extended)" by Gloria Gaynor
"I Love It" by Icona Pop
"Centerfold' by J Geils Band
"Bang Bang" by Jessie J, Ariana Grande, Nicki Minaj
"Sucker" by Jonas Brothers
"Move Your Feet" by Junior Senior
"TiK ToK" by Kesha
"Moves Like Jagger (feat. Christina Aguilera)" by Maroon 5
"Panama" by Matteo
"Pa'lla" by Max Pizzolante
"Plastic Hearts" by Miley Cyrus
"I Won't Let You Down" by OK Go
"Celebrate" by Pitbull
"The Cup of Life (La Copa de la Vida)" by Ricky Martin
"XS" by Rina Sawayama
"Bom Bom" by Sam and the Womp
"Get Busy" by Soolja
"Azukita" by Steve Aoki, Daddy Yankee, Play-N-Skillz & Elvis Crespo
"Escape From The City" from Sonic Adventure 2TM
"Fist Bump" from Sonic ForcesTM
"Macarena (Cover)"
"La Bamba (Cover)"
"Fugue (Classic)"
"Scent of Your Sweet Love" from SEGA®
"Let's Find It and Shake It" from SEGA®
"Chosen Mask" from SEGA®
"Wedding March" from SEGA®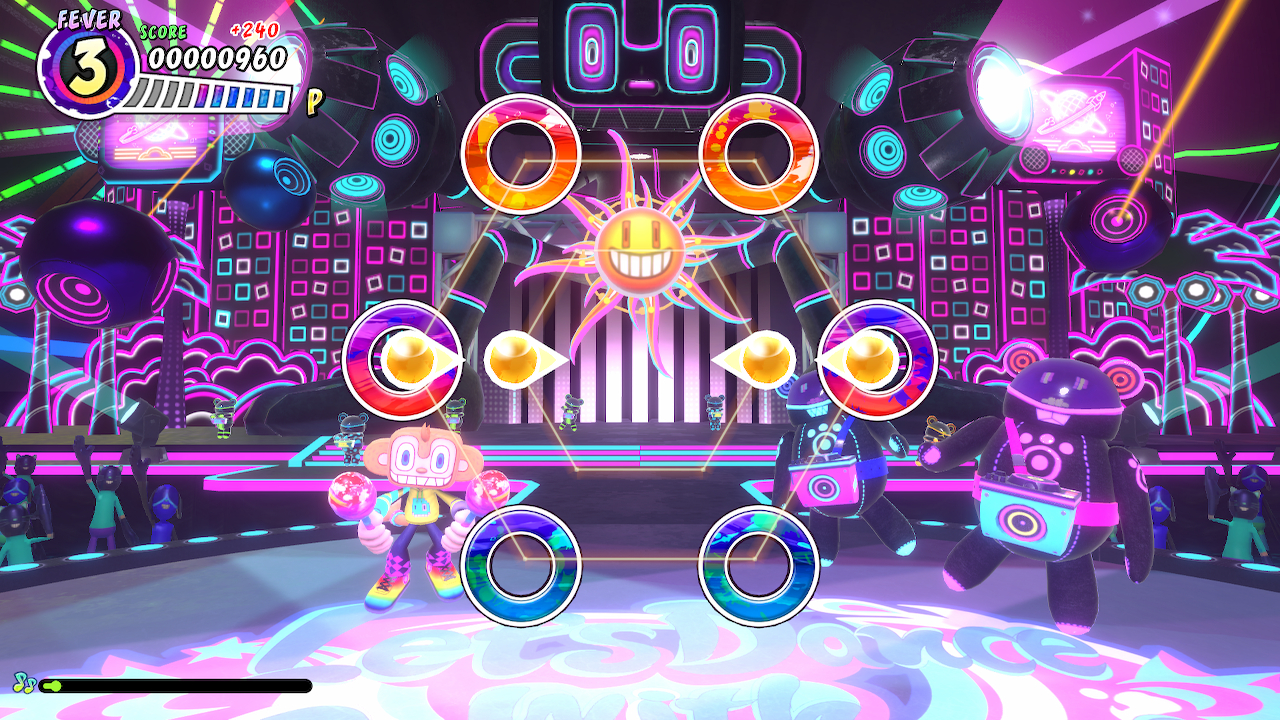 You'll notice these tracks cover the gambit, leaning into a good amount of older songs rather than just the Just Dance approach of the new. What this obviously means is that there will be something for all and because of that, it's a commendable effort. Not just your expected pop songs are there, rock tracks such as Bon Jovi's "You Give Love a Bad Name" are welcome delights. There are some certified bangers in the song list that in my recent sessions with the game have now once again become earwormed themselves into my very being.
I'd be remiss if I didn't mention that if you engage in playing one of the Sonic songs such as the evergreen Escape to the City, you're suddenly transported to a stage that resembles the San Francisco-esque hills of Sonic Adventure 2's City Escape level. Dancing right there next to you is the very blue hedgehog himself. Charming. Perhaps the weirdest, but also most hilarious addition is Centerfold by J. Geils Band, a very mature song about noticing your ex-girlfriend in the spread of a pornographic magazine. Perhaps a bit mismatched for the otherwise colourful and family-friendly approach that Samba De Amigo: Party Central was going for.
There are several ways to engage in each of these tracks. 'Rhythm Game,' is a simple quick selection of a song for an individual or pair to play locally. Other instances of local two-player play include 'Love Checker,' which has two doing their best to synchronise and equally perform well to get a percentage score rating at the end that identifies how compatible they are.
The HUD in this mode is incredibly charming and features lots of reds and hearts, with the most fun touch being that periodically in songs your pair of note highways combine into one, sharing input. For those playing at home, me and my partner of almost three years tried this mode out and the best rank we could score on the higher difficulties was "best friends" or "developing a relationship." Brutal to have Samba De Amigo of all things assess your relationship as such.
'World Party,' is where the peak amount of players in one song are found in-game. It works like a series of elimination rounds, starting at twenty players and gradually whittling down to you hopefully taking the number one slot. On the right side of the screen, you'll see a vertical scale a la Mario Kart where you can see your position in relation to others moving based on your score. It is tense and very much an evil distraction as you constantly nervously glance over at your rankings while trying to perfect each and every note.
"Not just your expected pop songs are there [in the tracklist], rock tracks such as Bon Jovi's You Give Love a Bad Name are welcome delights."
The closest Samba De Amigo: Party Central has to a campaign mode is 'Streamigo.' This is a quirky mode with a lot of appeal, seeing players work through a series of songs with set objectives. Samba, the cute little monkey you're technically playing as is something of an influencer in this mode, hunting online followers that are gained upon completion of a track. When you cross a set follower threshold, this is how you unlock a new set of songs. This is a nice skin to a campaign mode but what is least joyous about it is that, other than watching the follower count go up and checking off the 'numbers go up,' part of your brain, there's not much of a sense of progression. You're not for instance unlocking more songs to play in all modes. You can earn coins to customise Samba in cute ways, but that exact progression is available in all modes anyway.
Every so often mixing up from the typical challenge songs is a 1v1 battle (also available in local 2-player) against an NPC where periodically your performance is graded against your opponent. This is the best-of-six scenario where you need more than three wins in this grading to win overall. This is the peak of the mode and is spaced out well enough to feel climactic from long, tough challenge stretches.
The other pain with the Streamigo mode is that it requires a lot of grinding. The further in the game you get, the song unlocks become fewer and farther between. When you've exhausted all levels and still don't have enough followers to progress, you'll need to replay prior levels to continue. This means that while Tik Tok by Kesha is a bop, it's probably going to get quite grating perhaps hearing it back to back four times. There is some attempt at relief in the quasi-live-service implementation the mode has where each real week they cycle the exact songs that earn more followers. At the end of the day, however, Streamigo left me a little wanting and annoyed at the fact it artificially extended its length through this grindy nature.
Samba De Amigo: Party Central never really razzles and dazzles as a rhythm game, but that's okay. It's a competent game and made up for in the presentation. Bright and colourful stages that you're situated in mid-song are quirky and charming. The vibes are just immaculate. Seeing your background populated by partygoers and attendees also engaging in the celebrations with such wonderful songs is warming, wholesome and a vital part of gaming we see so scarcely these days. It's worth holding on to the few remnants of this genre that we have left.
6.5
Decent
Positive:
Diverse tracklist spanning several genres and decades
Button input mode translates well and makes for some finger twitching fun
Presentation is so unbelievably whimsical and charming
You can play Escape to the City with Sonic the Hedgehog
Negative:
Motion sensor input mileage may vary
Streamigo mode is grindy and artificially extended in length
Samba De Amigo: Party Central isn't quite the revitalisation of the licensed music rhythm game, but it is a decent, weird and charming little title. It's a big deal that the franchise is returning after fifteen years and to celebrate is a fun enough and grooving adventure that celebrates both a wide range of excellent songs across multiple genres and even the SEGA name as a whole. Playing in multiplayer, competitively or co-operatively makes for dastardly sabotage or harmonious pairing fun. While this lets up somewhat in motion control movements not being as responsive as they should, button prompt inputs make for a rhythmic good time as you work up a finger cramp or two gliding your fingers across the face buttons. The Streamigo campaign mode may offer a nice setting but will test players with its grindy nature and artificially bloated length. Still, for every shortfall, there's enough whimsy in Party Central that it will be certainly worth picking up those maracas and shaking it all out to a moving, grooving time.