We were recently invited to check out the amazing VR setup at Zero Latency in Melbourne. Zero Latency is the largest free-roam Virtual Reality (VR) entertainment network in the world, boasting over forty venues in more than twenty countries. With several games on offer, Zero Latency allows you and up to seven other friends to wander around in virtual worlds where you can shoot zombies, float around in space, and more.
While Zero Latency has been operating in Australia for a while, they've consistently been adding more VR games to their arsenal. In addition to a range of cooperative games, they released Sol Raiders in 2019, and are currently working on a free-roam VR version of Far Cry. They also opened up a 200 square metre arena in Sydney late last year.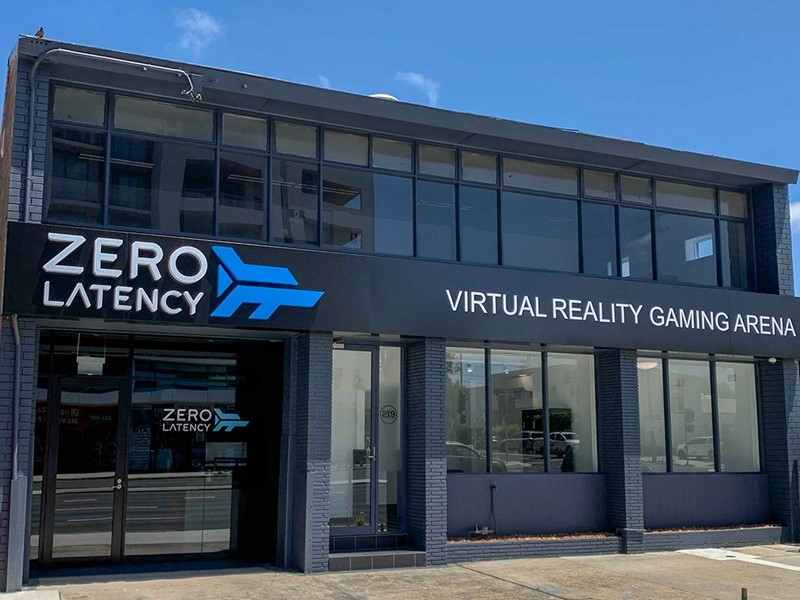 How does it work?
Before you dive into the VR space, you'll be provided with both a VR headset, a backpack which tracks your movement, and a controller in the shape of a gun through which you can interact with the in-game world. Thanks to the backpack containing an ultra-performance computer, there are no cables or wires to deal with either. In other words: once you and your friends are all strapped in, it's go time!
Singularity
The first game our team got to try out was a sci-fi shooter named Singularity. Set on a spaceship taken over by evil robots, you and your teammates are the last survivors of the human crew. Armed with four different weapons and a shield, you'll have to fight enemies ranging from flying drones, to running robots, to big AI bosses. To escape, you'll have to find your way out through a maze of corridors, fight enemies, and emerge from the battle victorious.
For me, Singularity was definitely a highlight of our VR experience, not just because it came with a range of different enemies that attacked you from all sides, but also because Singularity really plays with its in-game spaces in a very clever way. You'll find yourself walking down steep slopes, crossing an abyss via a tiny bridge, and floating around in no-gravity zones as well. In the middle of these clever in-game environments, it was hard to believe we were just eight people with headsets in a big empty room. Combined with the realistic gun controllers and the in-game surroundings, it's easy to feel like you've physically set foot in a completely different world, which is fantastic.
While the graphics in Singularity felt a bit old-school and 90's in places, it was certainly impressive to see how engaging a VR game can be in a physical space. In my eyes, it signals an exciting future for VR, and I can't wait to see which exciting games Zero Latency will release in the future as VR technology improves. – Lise.
Undead Arena
After annihilating sentient robot forces, the team was ready to pop some zombie brains in a classic arena gameshow. Set in a post-apocalyptic world where society has finally recouped itself (sort of), zombies are now a form of extreme entertainment. Your team is dropped into a zombie killing, reality television show and your goal is to rack-up the most points to take home that sweet, sweet cash prize.
Undead Arena allows players to wander around different stages of the arena, with a more open feel to where and when you can move. There are several levels to the experience, with outlooks and crevices across the environment. The arena changes as you complete waves, introducing new environments and hazards like moving platforms that you can step onto. This can be a little mind-bending; when a platform is virtually moving you from one spot to another but physically you're not moving anywhere. It takes some getting used to but it adds to the fun!
This VR experience includes an assault rifle for mid-range, a crossbow for long-range headshots, and a shotgun when you need to get up close and personal. There are also several traps that can be activated by shooting targets laid across the stages. They'll do things like turn on fire pits and explode barrels to generate huge points and up your headcount. Undead Arena is certainly a simpler game than Singularity, though it gives you a chance to get used to the VR experience and is equally as chaotic. – Omi
Keen to try it out for yourself with a few friends? You can book in for a session today via the Zero Latency website.
Checkpoint's experience with Zero Latency VR was provided to us for free. We'd like to thank Zero Latency for the opportunity to check out their venue and share our experience with our audience.