Amidst a slew of announcements from this morning's Ubisoft Forward event came this little nugget of local news. Far Cry VR: Dive Into Insanity will be launching exclusively in Zero Latency venues in 2021.
Set in the paradisaical Rook Islands, players will be able to immerse themselves in the play experience using Zero Latency's location-based VR technology. In their announcement this morning, Ubisoft stated "Zero Latency VR's unique setup provides players with props and plenty of space to move, allowing them to become immersed in the adventure. Far Cry® VR: Dive into Insanity's mechanics are simple and intuitive, giving players the freedom to discover the vast, colorful world of the game." You can check out the trailer below.
Since its humble beginnings in North Melbourne in 2015, Zero Latency has expanded rapidly and now has venues in over 20 countries. The Checkpoint team have enjoyed the chance to check out their various VR gameplay modes, including a classic zombie survival mode and a cooperative shooter. Its unique blend of laser-tag style gameplay and immersive virtual reality has amassed a steady following.
Far Cry VR: Dive Into Insanity takes players back to the islands of Far Cry 3 and pits them against an army of pirates. You can explore the islands' jungles and will need to work together to defeat the villainous warlord Vaas. The cooperative experience can be enjoyed by up to eight players at a time and takes approximately 30 minutes to complete.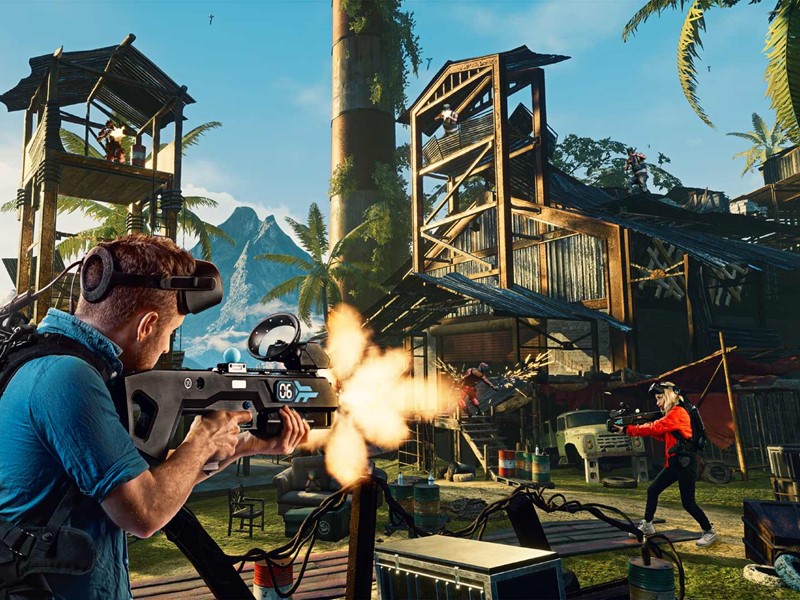 This is not the first time Ubisoft has delved into the world of immersive virtual reality. When Paris' Notre-Dame sustained heavy fire damage last year, they created a virtual tour of the cathedral based on its appearance in Assassin's Creed Unity. Ubisoft has also developed a number of regular VR games and experiences for consumer hardware such as PlayStation VR and the Oculus Rift.
We'll be keeping a close eye on Far Cry VR: Dive Into Insanity when it launches next year! Fingers crossed the Far Cry series' bombastic action translates well into this multiplayer VR-IRL experience. Don't forget to check out the other announcements from today's Ubisoft Forward event, such as a new extreme sports MMO and a remake of Prince of Persia: Sands of Time!