Development team Supermassive Games have found themselves having to prove themselves once more. In 2019 began The Dark Pictures anthology series. With its first two entries, 2019's Man of Medan and last year's Little Hope, I'm far from alone in saying that the series hasn't quite reached the majesty of their early beloved cult horror hit Until Dawn. Now, with a good look at the planned next game in the anthology series, House of Ashes, the talented team look to be giving it their all.
There's plenty to look forward to, but concerns still look to be present this time around. Here's what I saw of The Dark Pictures House of Ashes thus far. Let's hope it's enough for the studio to bring it home.
Horrors and politics await in The Dark Pictures House of Ashes
House of Ashes follows two intertwining stories, both set in Mesopotamia. One in 2003 amidst the Iraq war with the other set thousands of years prior, depicting an ancient civilisation's downfall. In the game's "current" day, you'll control a team of U.S soldiers (and an Iraqi soldier) that have found themselves deep underground following an earthquake brought about by explosive warfare. What the characters have stumbled into, hundreds of feet below, are the ruins of an ancient temple previously ruled by the Akkadian Empire's Naram-Sin. As the myth goes, this previous civilisation became cursed and fell to war, famine and death. Knowing this, I'm sure there's plenty of supernatural threats and ill fates for our '03 heroes to face.
While this is a quite refreshing setting for both Supermassive and horror games in general, that alone brings some fear. A game in the recent zeitgeist by the name of Six Days in Fallujah bears some resemblance here. It's another game set during the Iraq War. Only, this received some controversy for the proposed games' problematic handling of such a delicate topic. I understand that House of Ashes is a horror game, intent on thrilling and scaring the player with Iraq merely serving as a backdrop.
Still, red flags were especially raised when I learned of the hick character Jason, a God toting individual with a particular elevated distaste for the Iraqi people. Knowing this game is all about how soldiers from both sides of the war are to come together to face a mutual supernatural threat, I can only wince imagining the interactions we'll be seeing. I can easily see House of Ashes soon having a weak, heavy-handed story about how we're supposed to see a racial war from both sides, asking us to empathise with the undoubtedly bad side. I'm looking at you, Detroit: Become Human. It's also likely to be another relatively short experience. If true, I can't fathom why that's a story they'd even dare to tell in such a limited scope.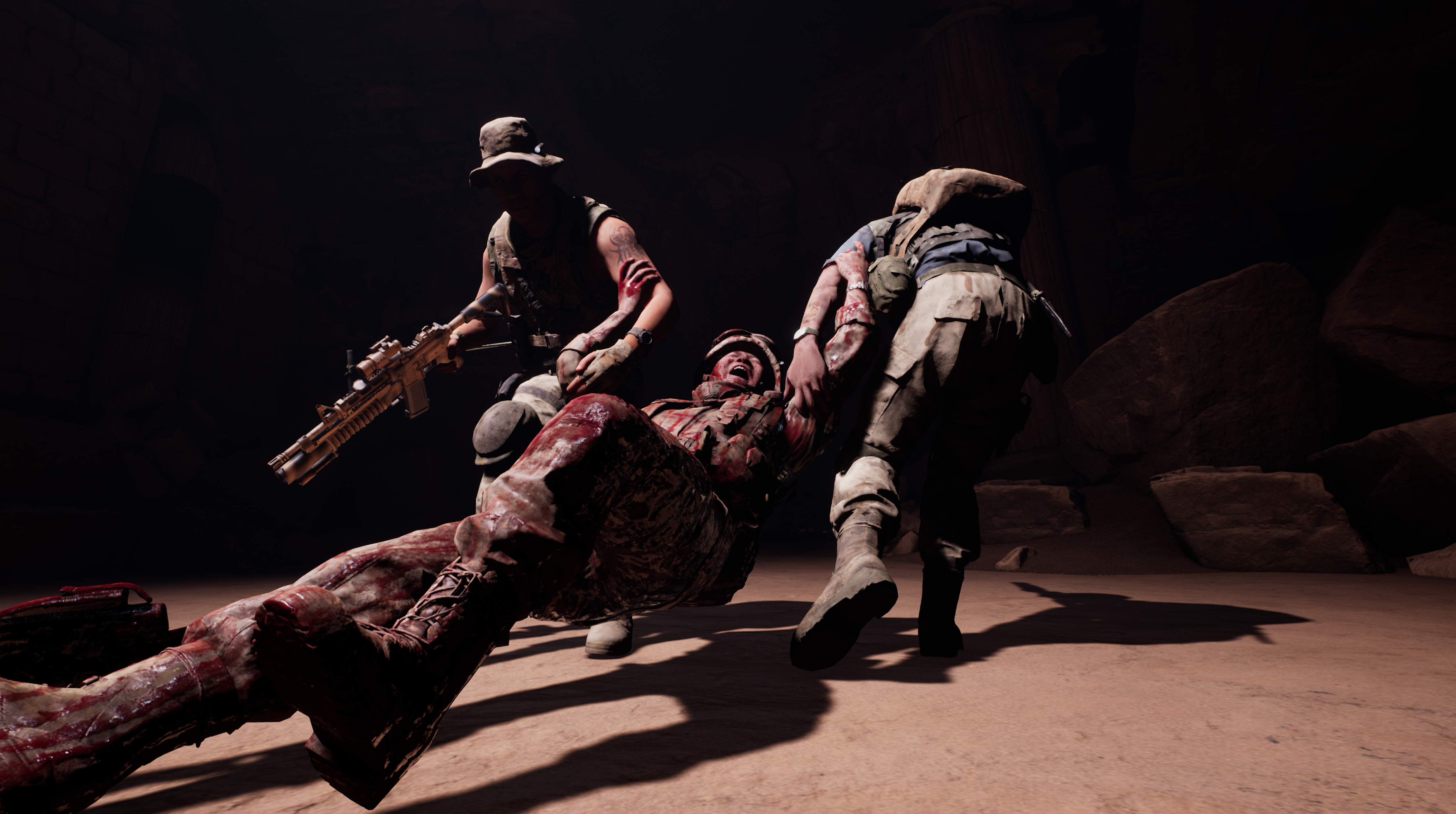 Alas, it's still an interesting enough premise from what I've seen. In the preview, I only received snippets of what the supernatural foes look like. Just what have those cursed ancient humans transformed into this point? How is Ashes going to make its heroes feel powerless and scraping for survival when they naturally have a bigger arsenal? Just what is that big, bouldering shadow I saw at the end? There are enough questions laid out for me there that I'm at the very least curious to pick it up. If all else, Supermassive do always provide the goods via some pretty solid scares.
Reusing the good and reformatting the bad
Along with the gameplay look for The Dark Pictures House of Ashes, a provided behind the scenes look at what's in the store was welcome aid in visualising the experience. Game director Will Doyle thinks fans are in for a "real treat" while newcomers will be pleased to hear that it's a "great place to jump on board." This is balanced in a number of ways. All of the good stuff that has come from the prior entries is there: Choices rife with danger, a cast of characters intended to divide you (jury's still up on if that's for better or worse), and all the prior included game modes. That includes the two single-player experiences in the main 'Theatrical Cut' campaign and the B-side-esque 'Curator's Cut' along with the two multiplayer modes that see players either playing co-operatively online or locally via the passing of the controller.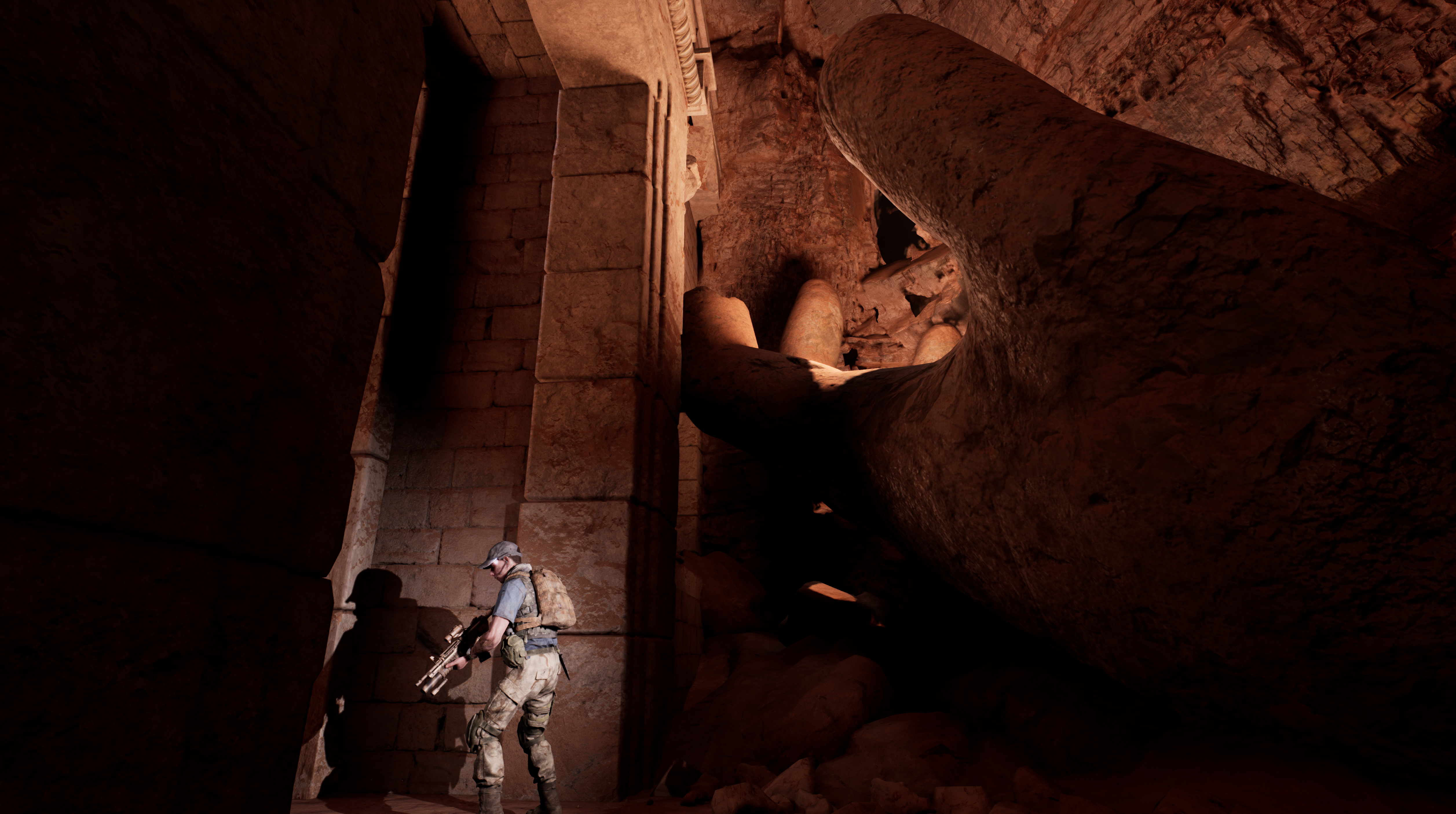 Additionally, Supermassive has heard the divided cries from fans. Some think the QTEs are too easy. Some too hard. Now, House of Ashes will allow players to tailor their difficulty and experience in regards to this to their liking. That benefits not only simple enjoyment but accessibility. Hell if that isn't a win I don't know what is. I'm quite pleased to hear this, I always am very encouraged when developers actively take on a solid amount of feedback for their games and adapt accordingly. This is all the more assuring and likely a notch in the studio's favour as The Dark Pictures as a series hasn't quite taken off the way it's been desired to yet. Maybe this will change that.
Perhaps the most curious change that needs more proof in execution is the camera perspective change. Previously, both Until Dawn and the series of The Dark Pictures games were experiences with a fixed camera. Like the greats such as the early Resident Evils, this allowed for not only wonderful and eerie staging but also dread about what's around every corner. House of Ashes does away with that and provides a full 360° camera to explore with. I don't want to entirely dismiss the idea yet, it may very well help in noting every nook and cranny in those wider spaces. Still I can't help but wonder how this is going to affect the tone that Supermassive has long established in their previous horror games.
The Dark Pictures House of Ashes releases later this year on PlayStation 4 & 5, Xbox One and Xbox Series X|S and PC. Will it make the splash that the franchise has so desperately needed? I'm not all that convinced yet. Still, Until Dawn was one of my favourite games last generation. For that alone, I want to follow the horror experiences this team puts out. I want Supermassive to thrive. Here's hoping this is a hit. I'm certainly cautiously rooting for it.