It's the year of going on holidays across scenic escapes and Elder Scrolls Online: High Isle has given us a taste. We reviewed this year's ESO Chapter about a month ago and now we've got the opportunity to ask Art Director at ZeniMax Online Studios, CJ Grebb, burning questions about creating High Isle.
You can also listen to the full interview on your favourite podcasting streaming platform.
Welcome to paradise
High Isle is the largest island of the Systres archipelago in Tamriel, quite a different location to the previous year's more cataclysmic and gloomy zones. CJ resonates with the change of tone, remarking on the "really cool underground caverns and Oblivion planes" but excited to deliver a different space.
"We try to do something new with every Chapter visually, not only in storytelling. We try to make every zone feel very distinct. We have an edict where we really want people, wherever they're standing in Tamriel, to be able to instantly recognise where they are… Combined with the desire to go someplace pretty, we had this great backstory about the Bretons and really started to explore their culture. Players had been asking us to do this for a long time."
Playing through the opening minutes of the Chapter, players are treated to harbour views and the bustling city of Gonfalon Bay, trades and hustlers left and right. CJ describes it as, "where the 'well-to-do' go to spend their money and be catered to". Not only is the marketing material and key art a great depiction of the area, but the team at ZeniMax Online Studios have done a magnificent job of making it a living and breathing picturesque place.
"You kind of build and build until it all just comes together."
Designing an environment like High Isle involves plenty of research and inspiration to absolutely nail the right atmosphere. Unfortunately for CJ and his team, they don't get to fly out to Tanzania to explore the Serengeti like a blockbuster studio, but they work closely with other departments at ZeniMax to develop a lived-in world. Instead, the process involves a combination of "internet searches and mood boards" to begin brainstorming the ideas for the Mediterranean-esque High Isle.
"We really loved the bleached out sandstone cliff faces contrasted against really bright greens that happen along the rolling hills at the top of those structures—that was an instantly what we kind of gravitated towards… Our concept artists started to come up with original rock shapes to combine with that idea. We hit on the idea of bright turquoise water, in the inner portions of the island which turned out to pair well with the colours we were going for. Broadleaf greenery was another thing that eventually came along. You kind of build and build until it all just comes together."
New love for new worlds
At this point, creating anything in the Elder Scrolls universe is a tricky task. The series is one of the most beloved in all of games media, holding a very special place in many of our hearts. High Isle is a space that has never been represented before in any shape or form. ZeniMax Studios "takes the responsibility of being stewards of an Elder Scrolls game seriously", and doesn't aim to disappoint.
"It's not lost on us that these games have been around for 20 or 30 years. People love this game, they name their kids and their pets, after characters from these games. You can go read the online debates about whether Elder Scrolls IV: Oblivion was better than Elder Scrolls III: Morrowind was better than Elder Scrolls V: Skyrim. You know, people are there for real about this—that's a heavy responsibility."
As a team of passionate artists and designers, all totally enamoured by the Elder Scrolls world, it's hard to deny that CJ and his team don't put in an incredible amount of effort. High Isle is true evidence of that, acclaimed for being one of the best areas of the MMO's many DLCs.
"You can't know that you're going to captivate people… You can only do your best work and hope that they love it."
"Where we're a group of creative people, we're trying to do something that excites us creatively. So, you do bring your own sense and sensibility into the creation of these kinds of things. We try to honour the past of the games while doing new things and giving people characters and adventures that captivate them. You can't know that you're going to captivate people, you can't know that they're going to love what you do. You can only do your best work and hope that they love it."
It isn't just the world around adventurers that makes High Isle so outstanding to play. It's the people, enemies, and iconic figures that drive the quests and storylines. With terrific voice acting, design, and writing, the imaginative minds across all of ZeniMax Studios Online bring them to life.
"We're lucky to have a writing staff that injects character, deep character, into these NPCs. They're not just cardboard cut-outs. Their histories and what compels them are written. That's all sussed out beforehand. When they get to us [Art Department], they are fully formed characters… When you're presented with Lady Arabelle Davaux and you hear she's a diplomat, a very well-respected person, and, oh, she might be the author of a famous set of novels that have been captivating Tamriel for years—you kind of get that character right away… They're just so well written and delightfully presented to us."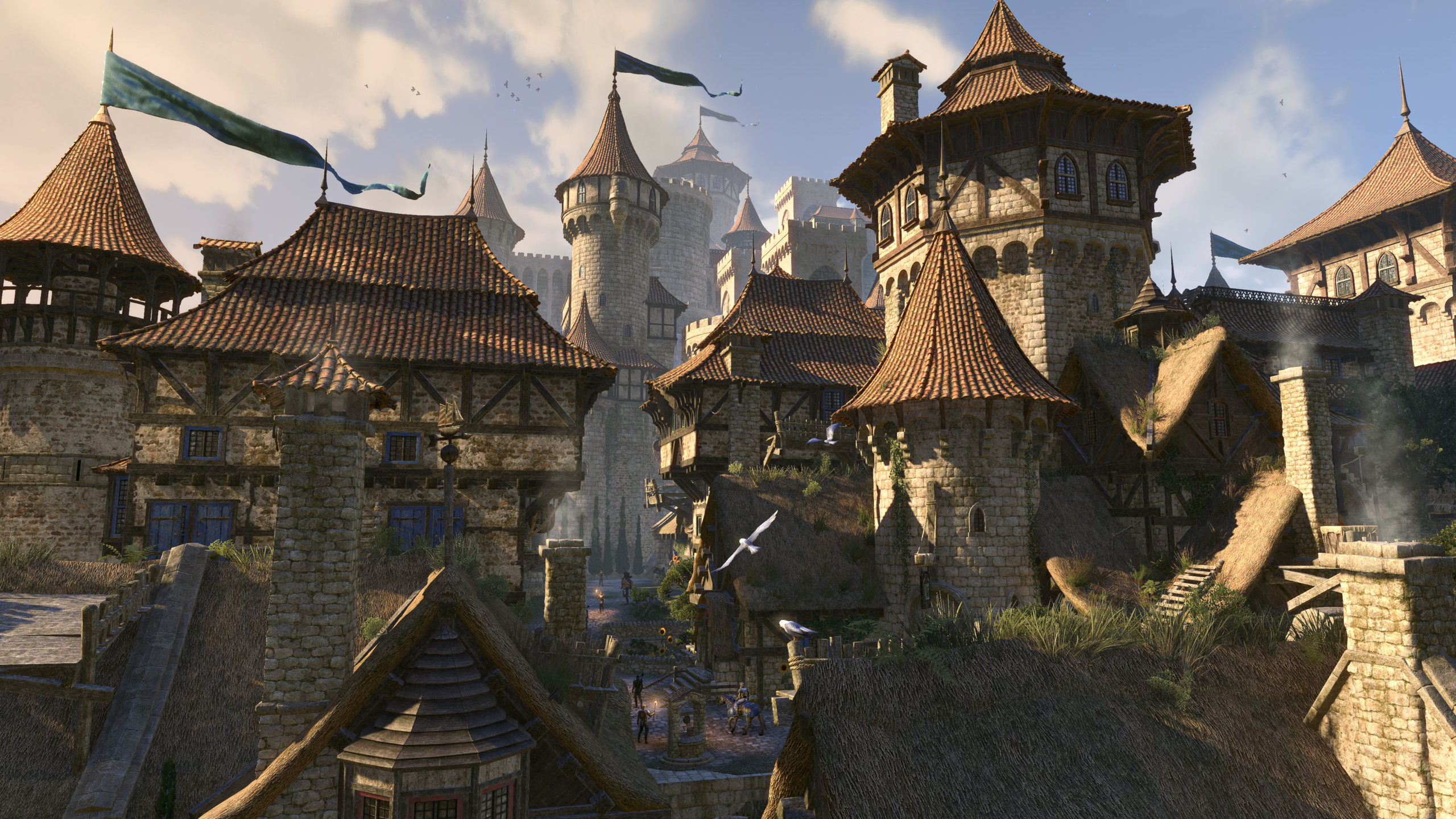 History of the Bretons
ESO hasn't had a Chapter like High Isle before. While Blackwood was a catastrophic tale of high stakes and Daedric culture, the more grounded, Breton world has been done before in ESO. CJ says, "one of the biggest challenges was the Breton culture", rejuvenating what was already in the base game and building upon the learning and experience the artists now have many years later.
"I was really proud of how we hit that sweet spot, where you can walk into Gonfalon Bay and you get it—I'm in a Breton area. We pulled some Germanic Castle medieval influences and incorporated those shapes and colours in a way that all played with the light of the zone. I love that city. I love walking around it, and so I was proud of how that came out."
"I love the Druid style, and I love where we're going with that… You know, what would a big adventure with them look like? I wonder…"
High Isle also gave players a look at Druid culture in the Elder Scrolls universe. They've only really been mentioned in Elder Scrolls: Arena and Daggerfall offhandedly. This was another small taste, "fledgling" as CJ likes to call it, but with a promising future ahead for fans of those archetypes.
"We didn't get too deep into that culture yet but it was really fun to sort of explore something kind of all new, right? We weren't necessarily drawing from old sources. And so it's always fun to see the artists kind of start to play around and get their ideas out there. I love the Druid style, and I love where we're going with that… You know, what would a big adventure with them look like? I wonder…"
Elder Scrolls Online: High Isle is available now on PC and consoles. For more information, you can read our full review of the Chapter and visit the ESO website.