Here's your list of free games for PS Plus, Xbox Live, Humble, Epic and Twitch subscribers for September 2020. Despite a chocker month of indie games and other releases, there's always a bunch of freebies to keep in mind!
PUBG: PlayerUnknown's Battlegrounds (1 September – 5 October 2020)
Parachute into a treacherous battleground with only your wits for protection, as you loot gear and outsmart your enemies in a fierce battle royale. The infamous battle royal that arguably started it all, PUBG will be competing for first place with Call of Duty's Warzone. Who will be the 'Winner, Winner, Chicken Dinner'? Build the ultimate soldier from scratch and test your mettle against up to 99 other players across multiple unique maps. Only one life. Only one shot at victory per match. Wreak havoc on your own or take on the challenge in a squad of up to four players to increase your chances of survival — and glory.
Street Fighter V (1 September – 5 October 2020)
Capcom's blisteringly ferocious fighter and the latest entry in the legendary Street Fighter series! This freebie comes with PlayStation's official Street Fighter V tournaments that will be starting in the US and Canada on 4 September. We reviewed it all the way back in the baby years of Checkpoint Gaming. Find out if it stands the test of time.
Override: Mech City Brawl (16 August – 15 September 2020)
Control gigantic robots and duke it out in this 3D mech brawler! Epic battles await in local and online Versus mode, 4-player Co-op – where each player controls one part of a mech – and a single-player campaign. It's basically living out the Cartoon Network version of Voltron or Gundam.
Tom Clancy's The Division (1 to 30 September 2020 on Xbox One)
Set in a near-future in New York, the world has gone into another dystopian post-apocalypse where factions fight each other for survival. A criminally underrated looter-shooter.
The Book of Unwritten Tales 2 (16 September to 15 October 2020 on Xbox One)
Another classic point-and-click adventure in the wicked world of Aventásia. Help fulfil their destiny. A destiny as yet unwritten.

de Blob 2 (1 to 15 September 2020 on Xbox One & Xbox 360)
Blob and his friends will have their work cut out for them bringing colour back to the citizens of Prisma City. Set off on an action-packed colour adventure where custom paints, patterns and music bring the world to life. Drive your imagination.

Armed and Dangerous (16 to 30 September 2020 on Xbox One & Xbox 360)
A third-person action-adventure shooter which parodies other media such as The Lord of the Rings, Star Wars, and Monty Python and the Holy Grail. 
HITMAN (28 August – 4 September 2020) 
Become Agent 47 and delve into a large world of various assassination targets and objectives. One of the best action games of the last decade. Don't miss it.
Shadowrun Collection (28 August – 4 September 2020)
One of the best future CRPGs of all time, now all within a simple package. Get hundreds of hours of in-depth RPG adventure.
Into the Breach (4 September – 11 September 2020)
Build a team of mechs and defend the world from alien forces, attacking human bases. When you eventually fall to the forces, reset through time and retry again with one of the favourite strategy rouge-likes.
The Inner World (until 12 September 2020)
A 2D-Point'n'Click Adventure. Robert is a novice, a bit clueless, but with a heart of gold. He lives a peaceful life as a court musician in Asposia's largest wind monastery. The world's air is provided through three wind fountains, but as one wind fountain after the other petered out and the wind gods came to Asposia, all of the sudden Robert found him in the middle of a whirlwind.
Tempest (until 19 September 2020)
A Pirate Open World Action RPG which is offering an ultimate ability to free roam three vast worlds filled with dozens of colonies and forts, hundreds of quests and countless ships to plunder. You can trade, fight, explore on your own or call friends to do the same together!
Autonauts (Available from 1 September 2020)
Explore, craft, and automate. The goal of the game is to try to automate as much as possible from chopping trees to crafting tools as well as housing and feeding colonists to make them happy.
Pumped BMX Pro (Available from 1 September 2020)
Choose from 15 riders with pre-designed bikes, or get creative and design your own in the easy to use bike designer. Tackle difficult tracks in this Trials like arcade-biking game.
Effie (Available from 1 September 2020)
A 3D action-adventure game full of vivid combat, platforming, and puzzles, with the exploration of an expanded world. Free cities from powerful and dark evil, and relive the look and feel of old-school video-games! Looks like a fun, little romp for a bit of a light-hearted adventure.
Tiny Troopers Joint Ops (Available from 1 September 2020)
Guide your tiny troopers through heaps of deadly missions with a range of objectives. Destroy armoured enemy forces, rescue hostages and eliminate enemy generals, to name but just a few.

Outcast: Second Contact (Available from 1 September 2020)
Step into the shoes of Cutter Slade, an elite soldier exploring the planet Adelpha. Journey through a world where magic and science mix, discover exotic cities, face fierce enemies and attempt to learn the secrets of an advanced civilization.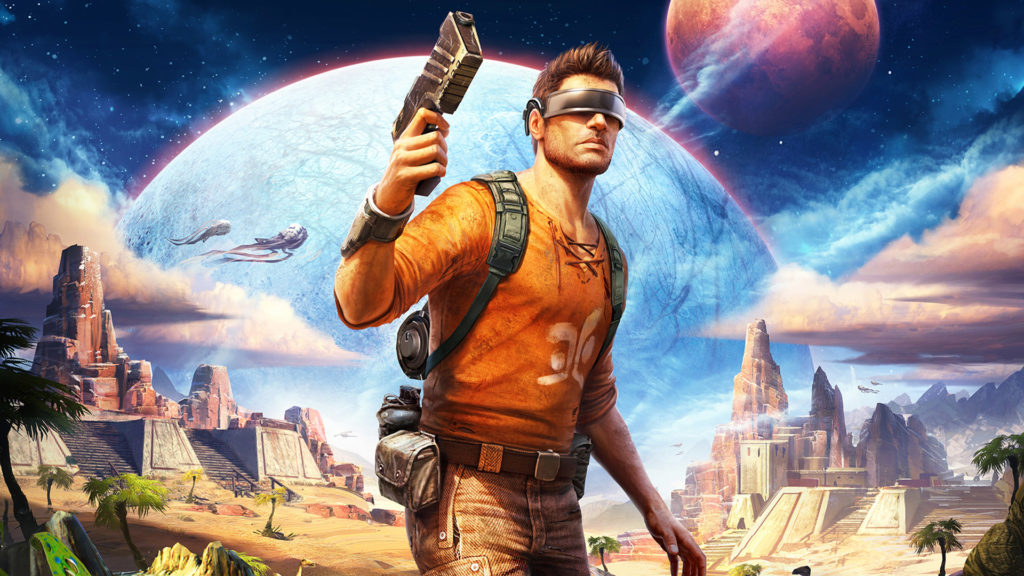 And those are the free games for September! Which are you most excited for? Which game do you wish was on this list? Have fun with these and whatever else you're playing at the moment, and stay safe.