There is no doubting the popularity of Devolver's Fall Guys, a game that is simple in nature but has captivated the world garnering millions of players since it launched in August on PC and PS4. If you were holding your breath waiting for the announcement that Fall Guys would make its way to Xbox Game Pass much like its contemporary Among Us, I can safely assure you that you can let go and breathe normally again.
In a response to Tom Warren on Twitter Devolver Digital responded stating that "There are no plans for Fall Guys to come to any form of Gamepass ". Instantly crushing any hope people had that it would soon join the beloved service.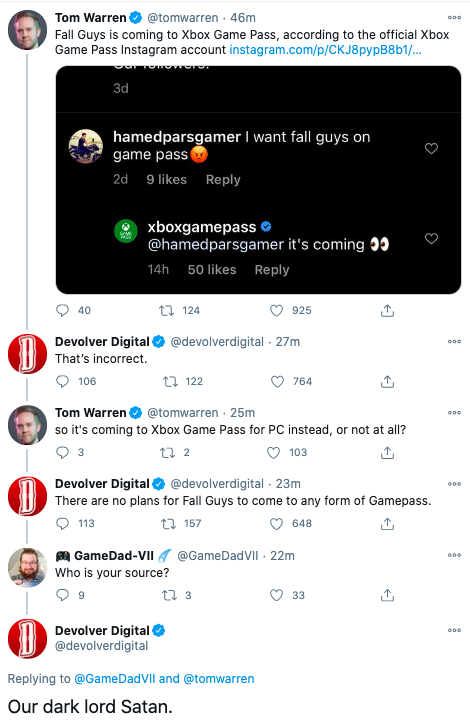 It is unknown if there were plans for Fall Guys to join the service or not, as the 'xboxgamepass' Instagram account seemed to indicate that it was coming before Devolver Digital swooped in to deliver the crushing blow of devastating news. Regardless of this, the title remains a popular game on many platforms, with its colourful and charming aesthetic, and simple, yet challenging gameplay providing for some truly hilarious moments with friends.
All is not lost though, as Xbox Game Pass is a fantastic service either way and with Microsoft's recent acquisition of Zenimax it seems that bringing some of the best games to Game Pass will remain a top priority for the company.