With Microsoft's acquisition of Bethesda now finalised and complete, it has been announced that 20 Bethesda games from some of their most iconic franchises will be hitting Xbox Game Pass tomorrow.
The list is as follows:
– Dishonored
– Dishonored 2
– Doom
– Doom 2
– Doom 64
– Doom 3
– Doom Eternal
– Fallout New Vegas
– Fallout 4
– Fallout 76
– Prey
– Rage 2
– The Elder Scrolls 3: Morrowind
– The Elder Scrolls 4: Oblivion
– The Elder Scrolls 5: Skyrim
– The Elder Scrolls Online
– The Evil Within
– Wolfenstein: The New Order
– Wolfenstein The Old Blood
– Wolfenstein: Youngblood
From the list above, all of these games except for but Morrowind, Oblivion, TES Online, and Fallout: New Vegas will be available through Cloud play for Xbox Game Pass Ultimate members. Following up the announcement, it was revealed that "a handful" of these titles would eventually benefit from FPS Boost on Xbox Series X|S, saying it would have more to share on this soon.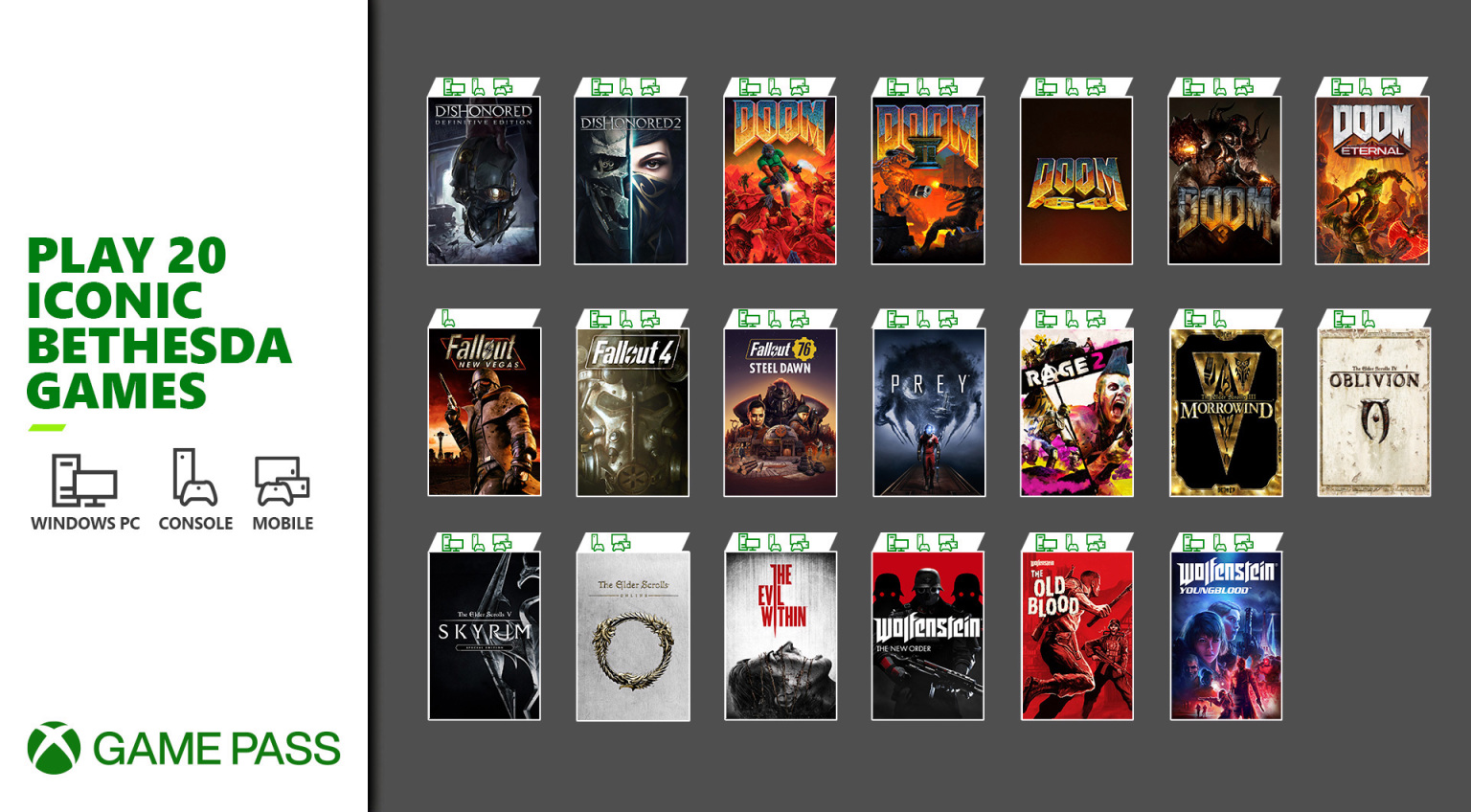 Additionally, Xbox head Phil Spencer also gave a firm, specific statement on the future of existing Bethesda games and franchises on other platforms, which has been a point of contention since the acquisition was announced in November 2020.
"Obviously I can't sit here and say every Bethesda game is exclusive," Spencer said. "Because we know that's not true. There's contractual obligations that we're going to see through, as we always do in every one of these instances. We have games that exist on other platforms, and we're going to go support those games on the platforms they're on. There's communities of players, we love those communities and we'll continue to invest in them. And even in the future, there may be things that have contractual things or legacy on different platforms that we'll go do."
"But, if you're an Xbox customer the thing I want you to know is that this is about delivering great exclusive games for you that ship on platforms where Game Pass exists. That's our goal, that's why we're doing this, that's the root of this partnership that we're building and the creative capability we'll be able to bring to market for Xbox customers is going to be the best it's ever been for Xbox after we're done here."
None of this should be surprising; after all, why would Xbox acquire one of the biggest game companies in the world only for them not to be exclusive on their platforms? It's good to see as well that support will continue for Bethesda titles on other platforms, meaning that nobody will be left out in the cold.
Which of these new Xbox Game Pass additions from Bethesda will you be checking out? Anything missing?