Horizon fans rejoice! Horizon Zero Dawn has a sequel on the way that's already turning heads. The machines are as fierce as ever in the sequel Horizon Forbidden West. In todays' State of Play, fans saw the first gameplay footage running on PlayStation 5. It truly is a feast for the eyes, so catch the footage below!
The gameplay showcases Aloy rescuing a fan favourite character Erend from a raider group. Notably, this game features a change in the environment that sees Aloy moving through an oasis of colour. Player mobility also seems to have improved drastically.
The Forbidden West Gameplay:
After a fierce battle with a raider-controlled Tremortusk, a mammoth-esque gigantic foe that Aloy makes short work of, we discover what Erend found. It's a map that activates with Aloy's focus, a small AR device that projects the data found – revealing the sinister forces at play in the sequel. A storm is coming, and more worrying yet… it's almost here.
For those unfamiliar with what's known about the story of the sequel, Forbidden West will follow Aloy on a new quest to stop the blight, an invasive red plant that spreads disease and is slowly choking the world.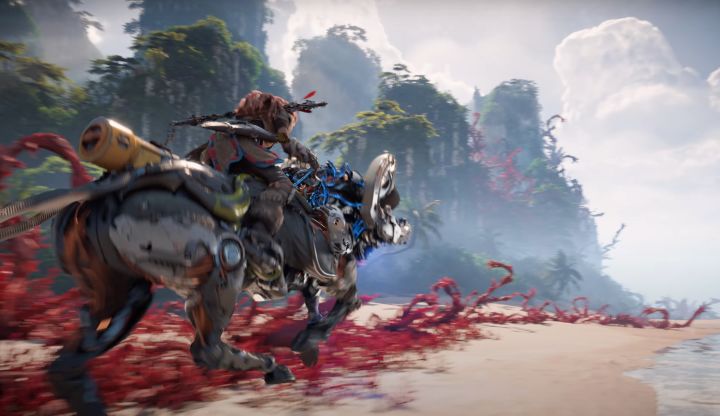 As State of Plays go, this one is already the most viewed out of any solo game presentation, which truly is a testament to how this franchise has many fans. The Horizon Forbidden West Live presentation is currently sitting at 2.4 million views while the Demon Souls presentation has 2.2 million by comparison. Honestly, it isn't a surprise at the hype for this game considering the previous games' impressive sales. It was once exclusive to PlayStation but now it's available on PC too!
Horizon Forbidden West is hopefully on track for release this year but given the pandemic, we know anything can happen. I just hope I get my hands on a PS5 before this game releases!