Valve has finally announced their new portable console, dubbed the Steam Deck. Rumours of this project have been going around since early this year. The console will be available for preorder tomorrow, with a December 2021 release period. Unfortunately, it is not available for reservation in Australia, but hopefully that will be subject to change.
Introducing Steam Deck: powerful, portable PC gaming starting at $399. Designed by Valve, powered by Steam. Shipping December 2021.

Learn more at https://t.co/ZOTx3KUCVK and reserve yours tomorrow. #SteamDeck pic.twitter.com/jcgbaKfT9c

— Steam (@Steam) July 15, 2021
"We partnered with AMD to create Steam Deck's custom APU, optimized for handheld gaming. It is a Zen 2 + RDNA 2 powerhouse, delivering more than enough performance to run the latest AAA games in a very efficient power envelope," Valve writes on the Steam Deck website. "Once you've logged into Steam Deck, your entire Steam Library shows up, just like any other PC. You'll be able to find your collections and favorites – exactly where you left them."
The Steam Deck boasts a 7 inch screen, putting it on par with the recently announced OLED Nintendo Switch model. The controllers cannot be detached like the Joy-Cons can, making it similar to a more powerful Nintendo Switch Lite. The specs are pretty impressive for coming in such a small package:
– CPU: Zen 2 4c/8t, 2.4-3.5GHz (up to 448 GFlops FP32)
– GPU: 8 RDNA 2 CUs, 1.0-1.6GHz (up to 1.6 TFlops FP32)
– 16 GB LPDDR5 RAM (5500 MT/s)
– 1280 x 800px (16:10 aspect ratio)
– 7″ optically bonded LCD
– Bluetooth 5.0 (support for controllers, accessories and audio)
– Wi-FiDual-band Wi-Fi radio, 2.4GHz and 5GHz, 2 x 2 MIMO, IEEE 802.11a/b/g/n/ac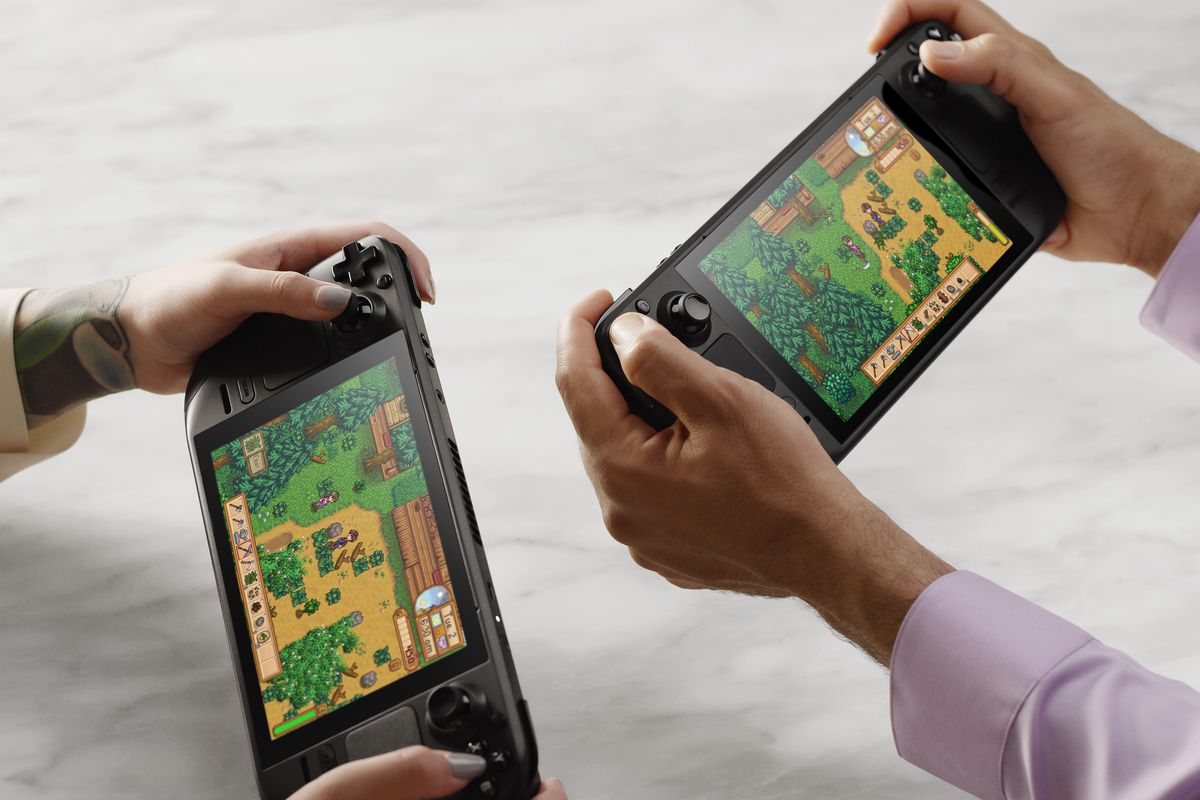 In an interview with IGN, Valve's Pierre-Loup Griffais stated that the device's battery life is "about 2-8 hours, depending on what you're doing. You can play Portal 2 for four hours on this thing. If you limit it to 30 FPS, you're going to be playing for 5-6 hours." There are three models, with with progressively larger storage sizes.
Predicting the enormous demand for what is essentially a more powerful Nintendo Switch that plays Steam games, you need to pay Valve $5 in order to preorder it. "The additional fee gives us a clearer signal of intent to purchase, which gives us better data to balance supply chain, inventory, and regional distribution leading up to launch," writes Valve in the site's FAQ section. As of yet, "This item is not available for reservation in your country" is the message you will see if you try and reserve it in Australia. Hopefully it will eventually see a wider launch once Valve has a better idea of demand.
The Steam Deck looks very exciting and there is definitely a big audience for this sort of thing, if the Switch's sales figures indicate anything. Hopefully it will live up to the hype when it eventually releases in December.