Activision Blizzard recently landed in hot water with the public after multiple allegations from staff outlined various instances of misconduct and abuse from senior members of the company. Now reports have surfaced that alleges that CEO Bobby Kotick was informed of misconduct and even rape back in 2018, but did nothing about it. There has been an increasing amount of pressure from staff and even shareholders of the company requesting for Kotick to resign from his position with Activision Blizzard.
It has been alledged that a female ex-employee of the Activision-owned Sledgehammer Games was raped by her male supervisor in 2016 and 2017 after being pressured to consume too much alcohol. It is reported that the female staff member informed Sledgehammer's HR Department of these incidents, but nothing was ultimately done. An out-of-court settlement was made after the email and report of the incidents were submitted, and it appears Bobby Kotick, who has previously denied knowledge of any harassment or misconduct, had knowledge of the incidents.
It is also alleged that Kotick failed to inform any of the board members about this incident or the subsequent settlement that was made, leaving them in the dark about what transpired. This comes from a recent report from The Wall Street Journal, which has not only indicated Kotick acted oblivious to claims of misconduct but that he himself was also someone who was guilty of mistreating women. "Over the years, Mr Kotick himself has been accused by several women of mistreatment both inside and outside the workplace, and in some instances has worked to settle the complaints quickly and quietly," The Wall Street Journal writes.
It was further reported that 30 female employees of Activision's esports department sent an email to senior management that they were "subject to unwanted touching, demeaning comments, exclusion from important meetings, and unsolicited comments on their appearance". The Wall Street Journal once again claimed that Kotick had knowledge of this email, and addressed the matters by implementing diversity and inclusions training.
In an internal video message, Kotick said that the news "paints an inaccurate and misleading view of our company, of me personally, and my leadership", adding, "Anyone who doubts my conviction to be the most welcoming, inclusive workplace doesn't really appreciate how important this is to me."
Things are not looking good for Activision Blizzard, which today remains one of the largest gaming and entertainment companies in the world. A Twitter account going by @ABetterABK which is made up of employees of Activision Blizzard are choosing to not be silent about the matters, even recently tweeting that, "…We will not be silenced until Bobby Kotick has been replaced as CEO…".
We have instituted our own Zero Tolerance Policy. We will not be silenced until Bobby Kotick has been replaced as CEO, and continue to hold our original demand for Third-Party review by an employee-chosen source. We are staging a Walkout today. We welcome you to join us.

— ABetterABK 💙 ABK Workers Alliance (@ABetterABK) November 16, 2021
This is the second mass walkout performed by staff in an effort to have their voices and concerns heard, and to not simply be silenced.
Additionally, a group of Activision Blizzard shareholders led by the Strategic Organizing Center (SOC) Investment Group, with a total of just under $5 million worth of shares between them is demanding the company CEO's resignation in a letter to the company's board of directors. The letter which was also shared with The Washington Post states, "In contrast to past company statements, CEO Bobby Kotick was aware of many incidents of sexual harassment, sexual assault and gender discrimination at Activision Blizzard, but failed either to ensure that the executives and managers responsible were terminated or to recognize and address the systematic nature of the company's hostile workplace culture,".
Along with Kotick's resignation, the group of shareholders is also calling for Brian Kelly and Robert Morgado, two of the longest-serving directors to retire by years end.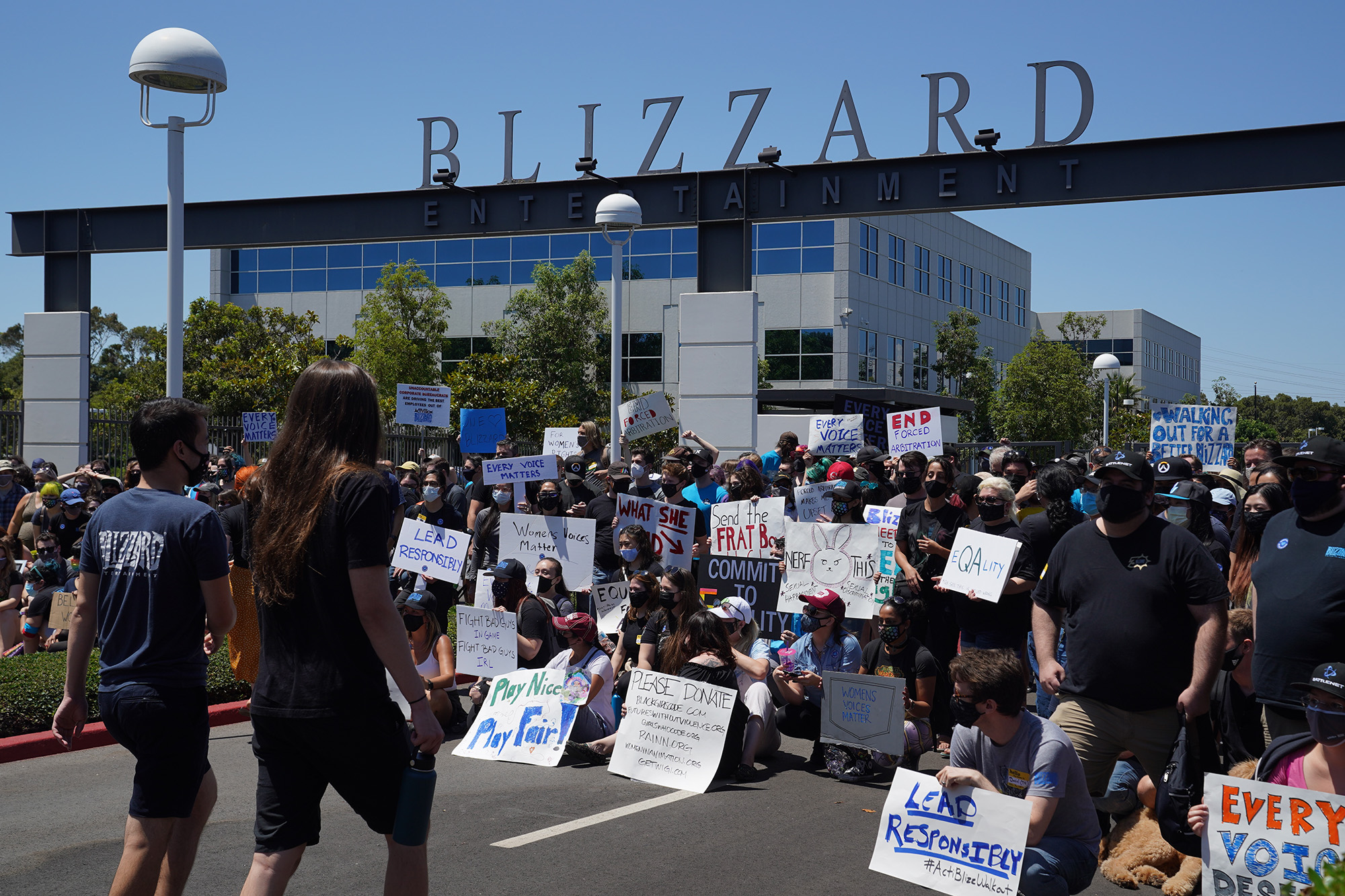 Activision Blizzard's Board of Directors issued a press release backing up their faith in the company and Kotick, stating, "The Activision Blizzard Board remains committed to the goal of making Activision Blizzard the most welcoming and inclusive company in the industry. Under Bobby Kotick's leadership, the Company is already implementing industry-leading changes including a zero-tolerance harassment policy, a dedication to achieving significant increases to the percentages of women and non-binary people in our workforce and significant internal and external investments to accelerate opportunities for diverse talent. The Board remains confident that Bobby Kotick appropriately addressed workplace issues brought to his attention."
There is no doubt that this will be an ongoing and evolving situation, but one thing is clear, neither the employees, former and present nor the public at large are sitting idly by with this situation. Many gamers have expressed their disdain for the handling of such sensitive matters by the company, pledging to never buy a product or service provided by the company again.