Cyberpunk 2077 is no stranger to criticism, having a very rocky launch that resulted in many fans being disappointed with a variety of issues, none more so than the horrific console performance on the previous generation of PlayStation and Xbox devices. Despite this, it still sold extremely well and to date, there have been various improvements made to the title; but the promised next-gen update was pushed back from its initial release window.
Finally, the update many have been waiting for is live, providing enhanced performance and visuals for owners of the PS5 and Xbox Series X. This update comes courtesy of patch 1.5 which itself has a host of other inclusions apart from the next-gen update. CD Projekt Red have also kindly launched their own videos on YouTube showing off the gameplay for the next-gen hardware.
With the next-gen update, users can now experience Cyberpunk 2077 in 4k at up to 60fps. For the PS5 and Xbox Series X, there will now be a choice between either performance mode and ray-tracing mode. Performance mode is set to provide a resolution of 4k targeting up to 60fps (it is noted that some frame drops may be experienced) with medium SSR. The ray-tracing mode will provide a resolution of 4k at 30fps with local shadows and high SSR enabled.
The PS5 version will also benefit from the addition of support for the DualSense controller's features for a more immersive experience. As for the Series S, users will be able to experience the title in performance mode at 1440p with 30fps.
"With the update, Cyberpunk 2077 takes advantage of the additional power of the newest generation of console hardware, allowing for ray tracing features and 4K with dynamic scaling, faster loading times, and a variety of other visual and technical improvements," CD Projekt says.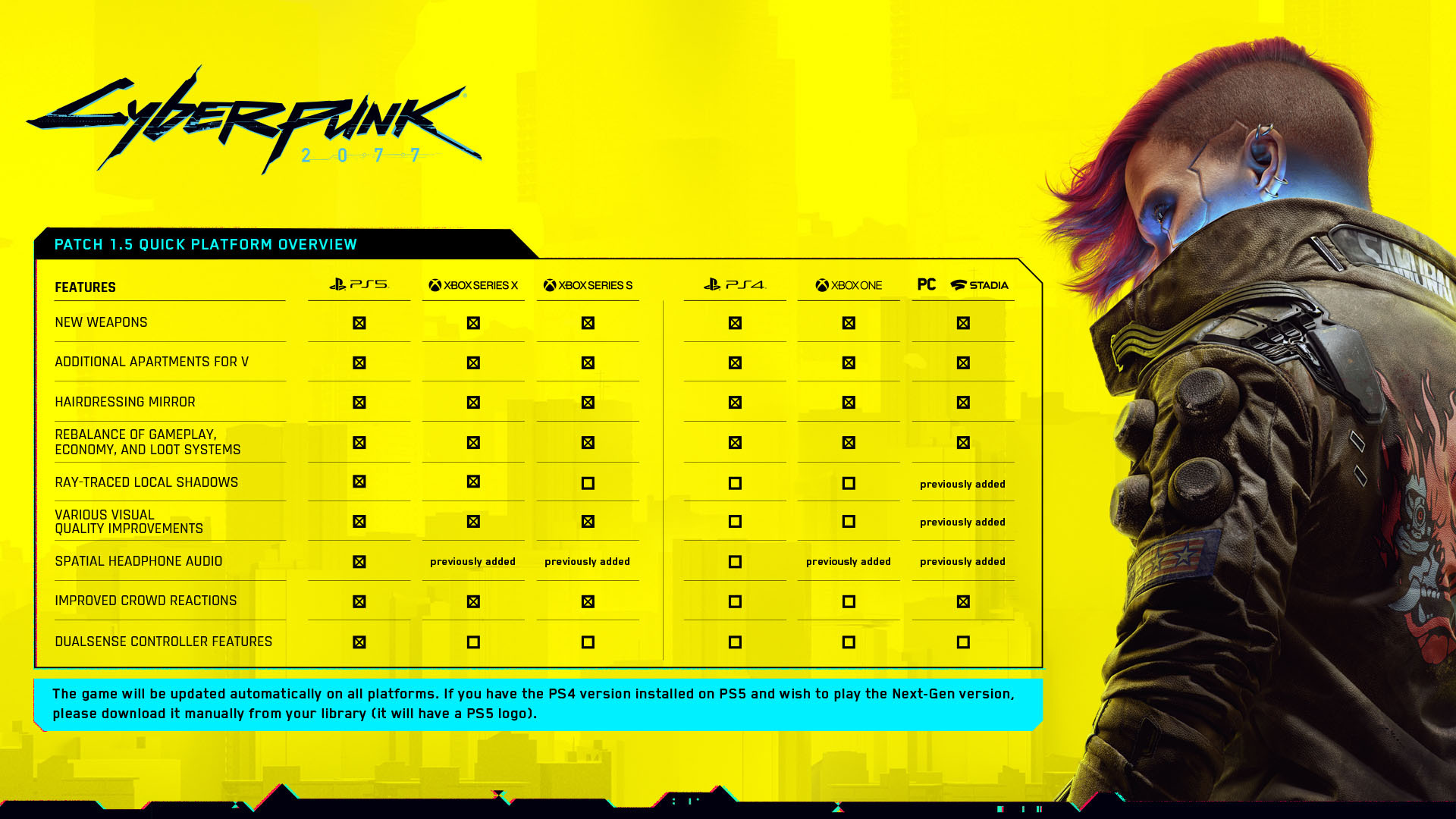 Along with the next-gen update, users will also see other improvements and inclusions. You can view the full list on Cyberpunk's official website, but some notable mentions are the addition of 4 new apartments to purchase and the ability to customise these apartments, the ability to customise your appearance from these apartments at anytime, some new weapons and mods, and a variety of tweaks to the world, AI, combat, quests, and even the perk tree. It is worth mentioning that the perk tree has had some skills removed and others tweaked, all progress will be reset but players can reassign their skill points for free. There is even mention of the fact that some new secrets have been scattered across the game for fans to hunt down, though no specifics were given on where to find these or what they will be.
On top of the new inclusions from the update, anyone that was on the fence about Cyberpunk 2077 can play through a 5 hour free trial of the game before purchasing it, with any progress carrying over. Thoughtful consideration for anyone that was thrown off by the mixed reception and didn't want to purchase the title yet.
Whilst Cyberpunk 2077 failed to live up to expectations, it must be commended that CD Projekt Red has continued to work on the title to improve it where possible and deliver on the promises they made. It may not be in the same league as the massive overhaul that No Man's Sky experienced, but better late than never.