KONAMI has kicked off 2023 with a short but promising message for fans. The message includes key art for Silent Hill 2, eFootball 2023, and Professional Baseball Spirits 1-A.
The translation of the message reads, "Happy New Year to all game fans. Thank you so much for enjoying KONAMI games a lot last year. This year, we are planning power-ups and new developments with the aim of making a leap forward in familiar series. In addition, new projects that we have not yet revealed are in deep and quiet progress. Please look forward to the further breakthrough of KONAMI".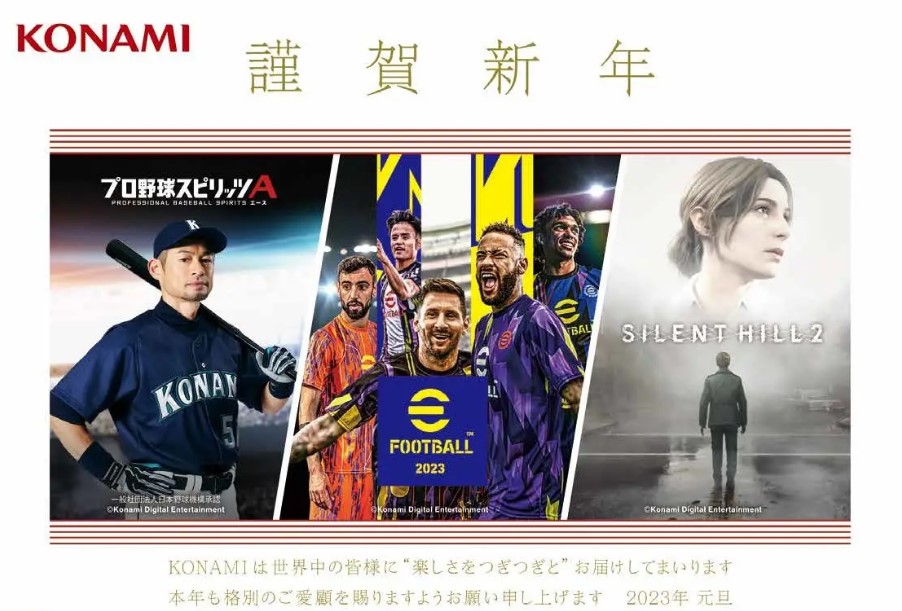 Fans have been waiting a long time for new Silent Hill content, and the announcement of five new projects in the universe last year has definitely regained interest. Including a remake of Silent Hill 2, the full 50-minute showcase gives survival horror fans a promising year ahead. This message reiterates KONAMI's focus on making a triumphant return to Silent Hill.
eFoortball 2023 isn't a massive surprise, but after the disasterous result of eFootball 2022 there wasn't much hope or hype behind the series. Regardless, KONAMI have always been good at pumping at their sports games and continue delivering new games yearly.
Professional Baseball Spirits 1-A may be the new game KONAMI is developing in collaboration with the World Baseball Softball Confederation (WBSC). The partnership was announced in the middle of 2022, with heavy influence on esports and competitive gameplay. There aren't many great baseball series out there and this may certainly give sporting fans the fresh experience they are looking for.
Of course, the tantalising part of this message is "new projects" that are currently unknown but underway. While it isn't specified whether these games will be completely new IPs or breathing new life into old favourites, there are rumours and clear opportunities that we hope KONAMI will take. Two of the best RPG games of all time, the Suikoden series is way overdue for a new edition. A new entry in the Castlevania series or Bomberman perhaps? There have even been talks about returning to Metal Gear sometime in the future, but whether Hideo Kojima would ever be involved in any capacity is slim.
Either way, 2023 is looking to be another big year in gaming and maybe the year of KONAMI. Time will tell.