We are less than one week away from E3, and already some delicious tastes of information are starting to be revealed, with game trailers already dropping and giving us a bit of a sneak preview of what the biggest gaming expo in the world is going to offer in 2016. But as with every year, a lot of the talk is just speculation and rumor, and this is the best stage of all to reveal new projects and release dates for major releases.
We thought we'd break it down for you! Check out the Australian times of the press conferences below, and some thoughts around each major publishers showcase. Start the hype train!
EA: Monday, June 13, 6:00am AEST
While EA are not going to literally be present at E3, they are still going to make their presence felt by doing their own style of press conference focusing on their upcoming releases. With some big games already having released in 2016 (including Mirrors Edge Catalyst this week), all eyes will shift to the future, with a guaranteed focus on Titanfall 2 (OMG you guys), Battlefield One and Mass Effect: Andromeda, two of their biggest 'guns'.
Of course there will be the usual suspects like FIFA 17 and the regular sports stable, but EA are capable of doing some surprises – look at Unravel from last year as an example, a game that nobody thought EA would be handling but turned out to be the critical darling of the whole expo and is getting a sequel.
What we know will be there:
Battlefield One
Titanfall 2
Mass Effect: Andromeda
Sportsball
What we hope will be there:
New Star Wars
New Bioware IP
Unravel 2? Too soon?
Bethesda: Monday, June 13, 12:00pm AEST
In many eyes, Bethesda won E3 last year by showcasing Fallout 4 in a massive way, arguably one of the most anticipated releases in quite some time. On top of that, they showed off DOOM and launched the cute mobile/tablet game Fallout Shelter as an extra bonus, winning the hearts of gamers everywhere with their in-depth information on their upcoming games.
This year, there is a bit of uncertainty regarding what Bethesda has in the pipeline. We know there will be a focus on Dishonored 2 as it's scheduled to launch later this year and is a massive sequel, but it's the rumors that are more tantalizing in 2016. A remaster of The Elder Scrolls: Skyrim? The once lost but now may be found Prey 2? Horror sequel The Evil Within 2? How about a new Wolfenstein? The possibilities are exciting, and they wouldn't have booked a slot in E3 for nothing. This is one to watch.
What we know will be there:
What we hope will be there:
New Wolfenstein
The Elder Scrolls: Skyrim Remastered
The Evil Within 2
Prey 2
Microsoft: Tuesday, June 14, 2:30am AEST
There is a lot of talk regarding the possibility of a new and more powerful version of the Xbox One, so Microsoft could indeed spend some time hyping that up, much like they did the Elite controller last year. While new hardware might be a potential focus point, I am much more looking forward to the information on their upcoming software, as the only firm release date for later this year is Gears of War 4.
While an entire conference focused on Gears 4 would make this fanboy incredibly happy, I have to think there will be more information incoming about Crackdown, ReCore, Sea of Thieves and Scalebound (even though the latter is now scheduled for 2017). Rumour has it we may see a return of the Dead Rising series, potentially in the form of a remaster of the original. Xbox also had some great looking indie titles last year such as Cuphead, so some more of these little surprises would be great to see as well.
What we know will be there:
Gears of War 4
ReCore
Scalebound
Sea of Thieves
Halo Wars 2
What we hope will be there:
Crackdown
New Halo of some kind
New Blinx: The Time Sweeper (okay this is a long shot but I CAN DREAM)
Ubisoft: Tuesday, June 14, 6:00am AEST
Ahh, Ubisoft. Always brings their A game to E3 but that hype has bitten them in the arse more than once, as seen with Watch Dogs a couple of years ago. They will be hoping that history won't repeat itself in 2016, as we fully expect Watch Dogs 2 to get a real focus, especially given they made the effort to do a teaser trailer before the conference.
What I'm super keen to see is more on For Honor. Announced last year as a close quarter's multiplayer game featuring Knights vs. Vikings vs. Samurai, it was one of my highlights from last year's E3 and I WANT MORE. We're also expecting the obvious with more Ghost Recon: Wildlands, and is it too soon for another Far Cry? Probably not, as it seems to have become almost a yearly franchise. We know Assassins Creed is taking a year off so there is plenty of room for other games to take the spotlight in Ubisofts vast open world catalogue.
What we know will be there:
Watch Dogs 2
Ghost Recon: Wildlands
For Honor
South Park: The Fractured But Whole
What we hope will be there:
New Far Cry
Beyond Good & Evil (unlikely but hey)
Less open world games overall?
Sony: Tuesday, June 14, 11:00am AEST
Like Microsoft, Sony have been teasing potential new hardware with the PS4.5. Again, this could be something that they focus on during their conference, and it wouldn't be very surprising. With PS VR now only a few months away, I imagine that most of their E3 will be focused entirely on that; Virtual Reality isn't the best thing to show off on stage though… after all, it is about the experience more than the 'visuals' that would represent it.
Apart from VR, we know there will be some more on Horizon: Zero Dawn despite its delay to 2017.  No Man's Sky is also just around the corner, Gran Turismo Sport and Kojima jumped on board with Sony recently but we doubt he has anything ready to show just yet, and we are still waiting on a firm release date for The Last Guardian as well, after it was shown off last year for the first time.
What we know will be there:
PS VR
The Last Guardian
Horizon: Zero Dawn
What we hope will be there:
A new God of War
Silent Hills. I'm still not over it. :'(
Nintendo Treehouse Live: Wednesday, June 15, 2:00am AEST
Finally, we will get a chance to see the new Zelda in action. Recently announced to be releasing on Nintendo's new console and the Wii U next March, Nintendo have stated previously that there will be nothing else for them to show at E3, focusing entirely on their favourite green-wearing HYAAAAAAing mascot.
This makes things a little bit interesting, as Nintendo seems to be avoiding E3 as the platform to really show off their newest console, which we still don't really know that much about. Their strategy is going to be a big reveal towards the end of 2016 with some more information, but I'm not sure if this is going to hinder or help. With no other brand new consoles launching at E3 next week, it would have been a pretty interesting press conference from the big N. We'll have to wait and see.
What we know will be there:
The Legend of Zelda (Wii U/NX)
Pokemon Sun and Moon
Monster Hunter Generations (3DS)
Dragon Quest VII + Dragon Quest VIII (3DS)
What we hope will be there:
Maybe one or two new Wii U games?
ANYTHING about the NX. Anything at all. Please.
THE REST
While they may not have their massive press conferences, there are other publishers that come to the party, and have lots of potential to make an impact.
Square Enix
There's a lot that Square Enix have on the way, including Deus Ex: Mankind Divided, Final Fantasy XV, the recently announced Final Fantasy XII: The Zodiac Age. Then there is the Final Fantasy VII Remake as well. Worth noting that the original Tomb Raider came out 20 years ago and the recent reboots have been a big success. Could we see another announcement, or will it just be 'Yay, Rise of the Tomb Raider is getting a Definitive Edition for its PS4 launch'.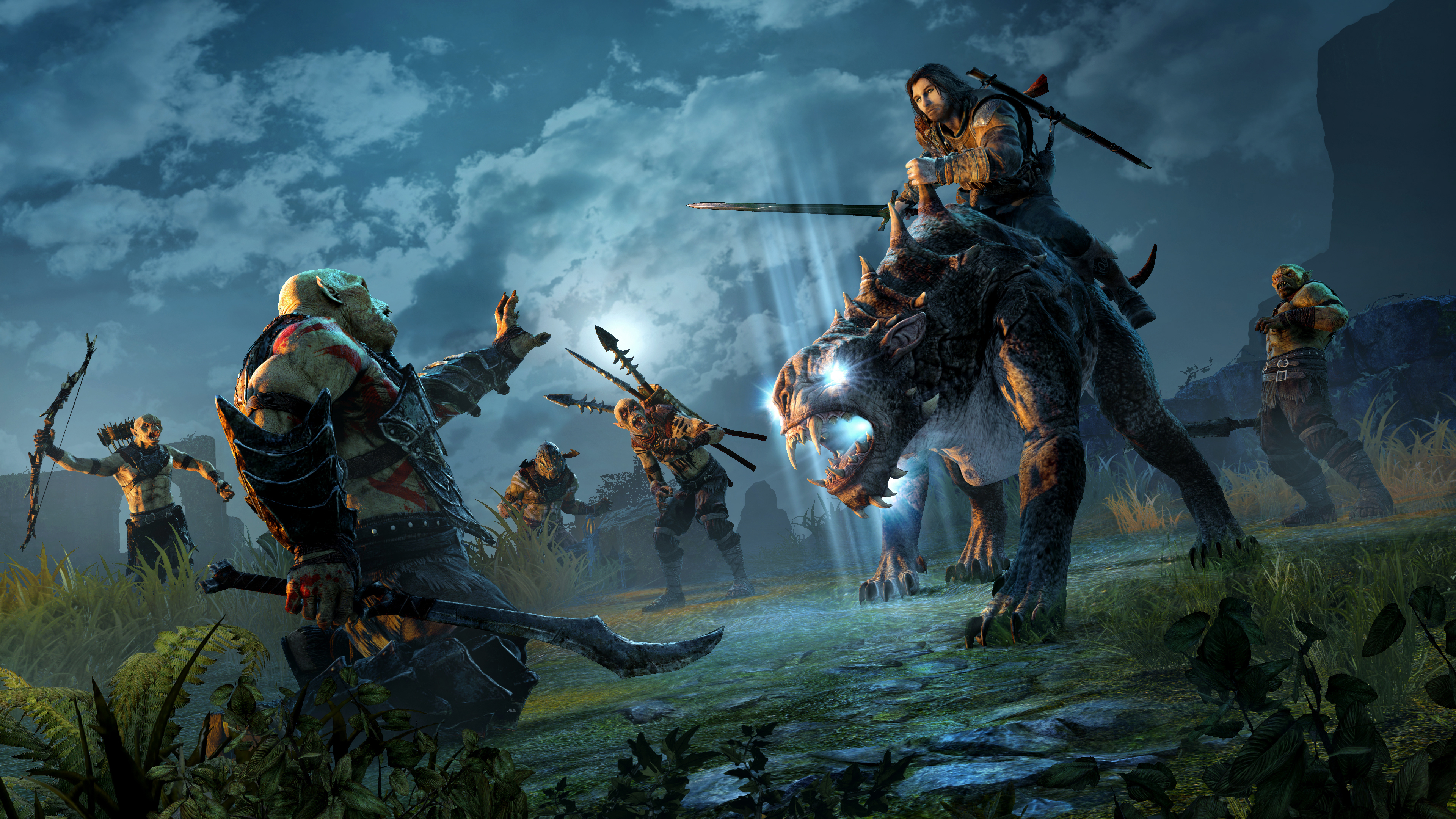 Warner Bros. Interactive
I'm tipping something official about Shadow of Mordor 2 here. This was one of the big critical and commercial successes when the original launched in 2014, and we're long overdue for some information on a new one. There's also the chance for more Batman or something else from the DC universe.
Capcom
RESIDENT EVIL 7. DO IT.
We'll be doing commentary during the E3 press conferences LIVE right here on Checkpoint, so make sure you join in the fun.