Here are all the free games for PlayStation Plus, Xbox Gold, Humble Monthly, Epic Games and Twitch Prime subscribers for August 2019. This month, we've got a few remasters of classic titles, and several games with gorgeous art styles and simple mechanics. Add a pop of colour to this cold, dreary winter.
Wipeout Omega Collection
You get two remasters in one: Wipeout HD for the PS3 (along with its Fury expansion) and Wipeout 2049 for the PS Vita. Both titles have been bumped up to 1080p and 60fps, so you can enjoy all the fast-paced futuristic racing to your heart's content. We enjoyed this collection when it first came out in 2017, so read our review if you'd like a recommendation.
Sniper Elite 4
According to our review, Sniper Elite 4 is an impressive open-world stealth game with a wide assortment of World War II-appropriate weapons to play with. With the series' trademark X-ray Kill Cams, you can watch your bullet eviscerate a Nazi's skull in graphic detail. So it's educational as well as fun.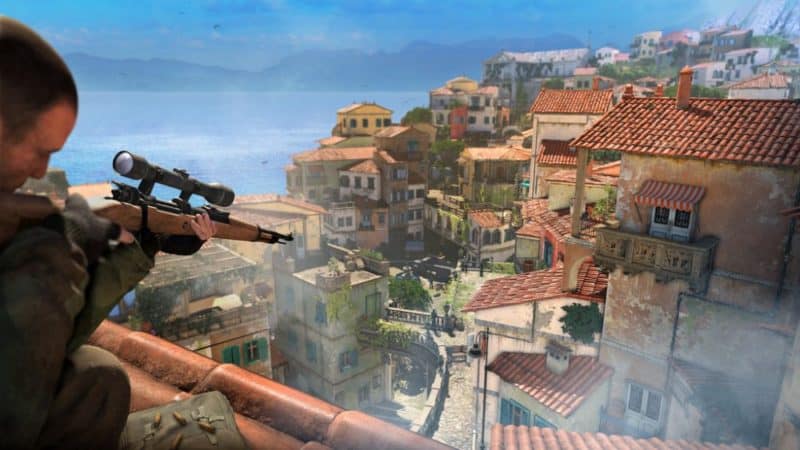 Xbox One
Big Crown Showdown (available June 16 – August 15)
A kooky little couch co-op game about navigating virtual obstacle courses with your friends. Our review says it may not blow your mind, but provides some competitive chaos in a fun, accessible, family friendly package. This may be one of the better free games to play next time you have to suddenly entertain children.
Gears of War 4 (available August 1 – August 31)
The fourth instalment of the extremely popular third-person alien shooter series. Instead of hypermuscular dude Marcus Fenix, the new protagonist is his hypermuscular son, JD. We loved this game when we reviewed it in 2016. We enjoyed the combat, the multiplayer and new iteration of Gears' trademark Horde Mode. With its inclusion on the free games list, sounds like it's a good place to start for anyone looking to get into the series.
Forza Motorsport 6 Standard Edition (available August 16 – September 15)
The realistic racing game that brought bad weather and night driving to the series. Race over 450 cars across through almost 30 tracks, all based on real life. Experience the thrill of driving as  fast as you want in the middle of the night, without any pesky trucks or sleepiness getting in your way.
Xbox 360
Torchlight (available August 1 – August 15)
A delightful top-down RPG with engaging mechanics. Delve into a dungeon, acquire randomised loot, and fight monsters with an ever-increasing arsenal of abilities. If that sounds familiar that's because it was developed in part by some of the designers of Diablo and Diablo II. What Torchlight brings to the table is the addition of pets, who can fight alongside you, and go sell your items for you when your inventory gets full. I wish real alpacas could do that.
Castlevania: Lords of Shadow (available August 16 – August 31)
A reboot of the Castlevania series, eschewing its side-scrolling metroidvania origins and to become a Devil May Cry-style action game. The combat revolves around switching between light (defensive) and dark (offensive) magic, giving players a degree of choice in how to customise their playstyle. Sir Patrick Stewart plays one of the main supporting characters. If that doesn't convince you to play this, nothing will.
Slay the Spire
It's a roguelike, but it's also a deck-building card game. This unexpected stir-fry of two different genres was in Steam's Early Access program since 2017, but finally came out this year. We had a lot of fun when we reviewed it,  with the easily accessible mechanics and design allowing us to enjoy the randomised chaos of the spires.
Squad
This multiplayer first-person shooter is all about teamwork and communication: the key to victory is to stick with your team, and running off on your own is an easy way to get spotted by an enemy sniper. With huge open worlds and a complex voice chat system, Squad tries to simulate the necessity of cooperation in modern military settings. If you can get past the SEO nightmare of a name, you might have some fun.
Other titles will be revealed on September 6
GNOG (available until August 16)
A beautiful puzzle game about exploring what goes on inside a monster's head. It's so full of colour, every screenshot looks like a work of art. Consider picking this up if you need some extra additions to your endless desktop wallpaper collage. Free games rarely look this nice.
Hyper Light Drifter (available August 16 – August 23)
Speaking of games that looks like works of art, here's an action RPG inspired by The Legend of Zelda: A Link to the Past. Explore an expansive world, fighting monsters and collecting new weapons and abilities along the way. More neon pink/blue/yellow colour schemes in games, please.
Mutant Year Zero: Road to Eden (available August 16 – August 23)
This post-apocalyptic turn based tactics game starts a boar named Bormin and a duck named Dux. That's really all you need to know. I could bring up the real-time stealth sections, or the witty dialogue. I could bring up the fact that you can read all about it in our review. But none of that matters; all you need to know is there's a boar named Bormin and a duck named Dux.
Pumped BMX Pro
Master every bike trick as you make your way through BMX obstacle courses. Pick a premade bike, or create one yourself, and customise it to your liking. And if you manage to crash your bike, you get to see the game's ragdoll physics. They really have thought of everything.
Wonder Boy: The Dragon's Trap
A modern remake of a 1989 classic. Featuring a new hand-drawn art style and a couple of quality-of-life improvements,  this is a great way to experience a classic title in a new context. Also, if you're an oldie, you can type in your save password from the original Sega Master System to continue your adventure in the new game, exactly where you left off.
Mable & The Wood
A charming Metroidvania with a pixel art style. Every time to defeat a monster, you are able to morph into them to access new areas. Intriguingly, the entire game can apparently be played without killing anyone. Now that's a blurb that screams "replay value".
Automachef
A puzzle game in which you must build an elaborate kitchen to fulfil various orders. It's reminiscent of other cooking titles like Overcooked, but you have to plan and automate everything with a system of machines and conveyor belts in order to cook. This way, if you make a mistake, your housemate won't get mad at you.
There are your free games of August! Let us know which games you're interested in picking up. Whether you're interested in action, puzzle, strategy, racing, or big rippling muscles, there's something here for fans of any genre.