From long-delayed expansions to its lead developer leaving the project, Anthem stands as one of 2019's most troubled major releases.
However, EA and Bioware are showing no signs of giving up on their online sci-fi shooter, but are changing how it will continue to be supported. Previously, future support for Anthem would be rolled out in Act-based instalments, whereas now the developers will focus on seasonal updates.
The earliest sign that Anthem's post-launch life would face turbulence was the indefinite delay of its Cataclysm expansion. The developers made the wise decision at the time to focus on important quality of life improvements and bug fixes over major new gameplay features. Whilst this was likely a good move for Anthem's stability, it led to a post-launch roadmap that was now in tatters. Cataclysm finally arrived three months later, to little fanfare.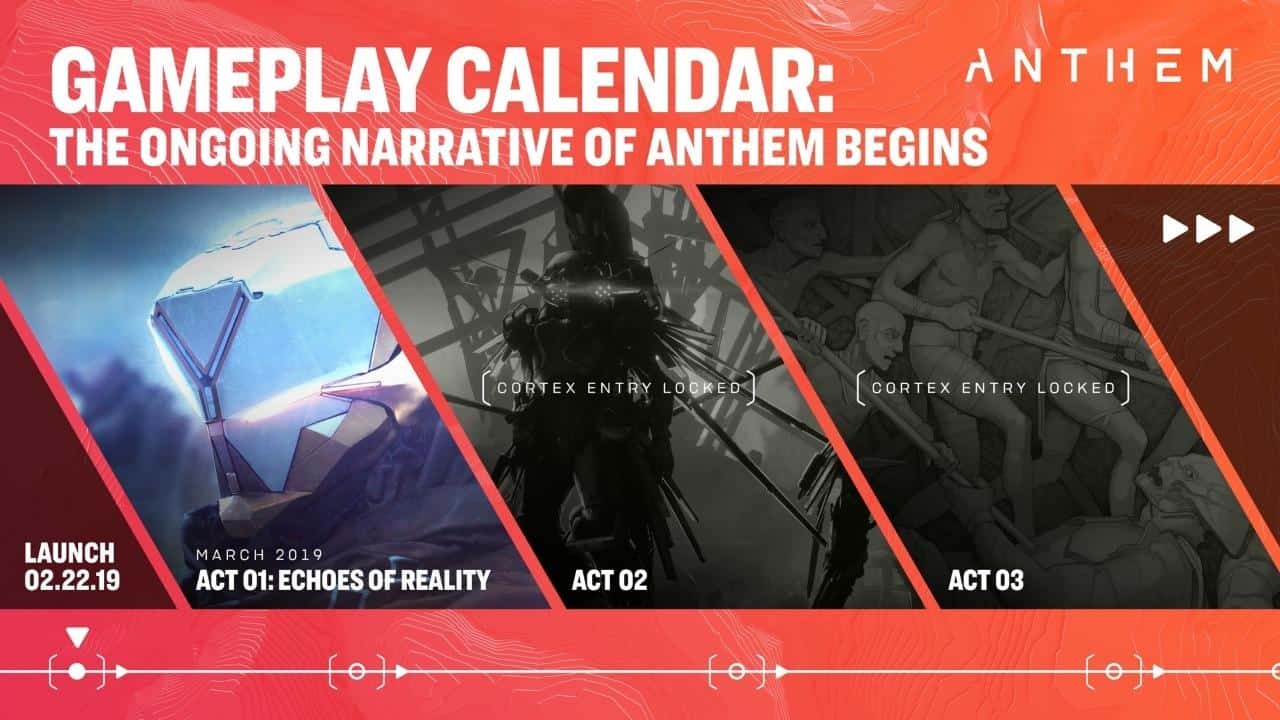 In response, Bioware have laid out their future plans for the game on their official blog. They begin by thanking the players who participated in Cataclysm. "We were humbly excited by the increase in player engagement we've seen with the Cataclysm. The team and I appreciate the response and support  (their emphasis)— it is what keeps us motivated to continue to improve Anthem."
Bioware continues by discussing some of the challenges facing Anthem in the future. "We hear your concerns on core issues in Anthem and are acting on it. Those systems require a more thorough review and re-working versus quick fixes", they state. "In order to address these long-range plans, we are moving away from the Acts structure for updates. Instead, we have additional seasonal updates planned for this year that we think players will enjoy."
"These events will deliver challenges and chases similar to what you've seen, and are built around some fun themes we're bringing to the game."
Overall, the announcement is light on concrete details, but suggests that the future of Anthem is uncertain. No doubt Bioware is wary of commiting to any further content expansions that could fall behind schedule.  This change in direction may have been influenced by Ben Irving, the game's Lead Producer, stepping down last month.  This was followed by being placed on EA Access, the publisher's subscription service, a mere seven months after launch.
Whatever the case, Bioware is still commiting to supporting Anthem in the long term. However, the future of Anthem's support will be less big expansions and more incremental updates that steadily improve the experience. At least the developer is acknowledging how much Anthem's buggy launch has set the game back; maybe by focusing less on optimistic pre-launch roadmaps and more on simple gameplay improvements,  Anthem can finally get on track.