The Epic Games Store has hosted a direct-like showcase of their own, showing off some of the games that will soon be hitting the digital storefront. These include some brand new announcements, new footage of games we've already seen, and some content updates. We've compiled the highlights for you below, starting with perhaps the most surprising announcement of all:
The Kingdom Hearts series is coming to PC
Yes, strange as it may seem, The Kingdom Hearts series will be available on PC for the first time in the series' 19-year lifetime. Think of the insane mods that will come from this! This collection includes Kingdom Hearts HD 1.5 + 2.5 ReMIX, Kingdom Hearts HD II.8 Final Chapter Prologue, Kingdom Hearts III, and Kingdom Hearts Melody of Memory, and will be available from March 30 2021.
Overthrow the ruling class in Binary Smoke
Binary Smoke is a cyberpunk action narrative game developed by Outside Studio. In the future, 'digital darkness' has consumed the world and the ruling class dominate all below them using fear. The game looks to be about starting a revolution that will change the world, with platforming and action elements from an isometric perspective. Binary Smoke doesn't have a firm release date, but we do know it's coming to Epic Games Store sometime next year.
Core is like the PC version of Dreams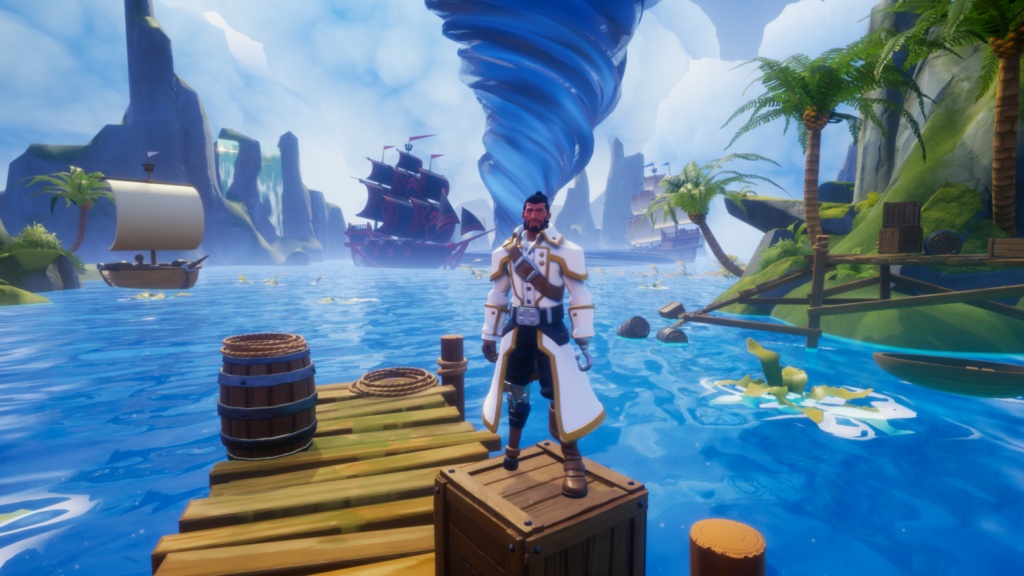 Ok, so it's not exactly like Dreams for PS4. Core is "an endless arcade of games", with a collection of already existing games all made with Unreal Engine. The cool thing is, users will be able to upload their own Unreal Engine games to Core using an in-built interface, allowing others to play their games. There was an impressive variety of games shown in the trailer: action, ship simulation, rhythm, battle royale, and shooters. Who knows what kinds of games we'll find in Core after it becomes available this Autumn?
Magic: Legends open beta is coming soon
Set in the multiverse of Magic: The Gathering, Magic: Legends is a deck-building strategy game of epic proportions. You control a powerful, spell-slinging Planeswalker and take control over the chaotic battlefield. The beta will be free to play on the Epic Games Store starting on March 23.
More Axiom Verge 2 gameplay
Axiom Verge was a fantastic Metroidvania title that released in 2014 for Playstation 4, then to other platforms in 2015. Its retro yet detailed pixel art style and tight gameplay made it an unexpected indie darling, which is why it's so exciting to see a sequel. It was first announced during the 2019 Indie World presentation, and was originally slated for a 2020 release on the Nintendo Switch before being pushed back to Q1 2021. While we still don't have a release date, we know it's coming soon as an Epic Games Store exclusive on PC (it's still up on the Nintendo website, so don't worry, Switch players. You'll still get it on Switch).
Updates, expansions, and more
Additionally, the Epic Games Store showcase announced some cool updates to existing games. Godfall's Primal Update launches today, adding more end-game content and changes to the Tower of Trials. Rocket League begins its Lucky Lanterns event today, bringing new car toppers, designs, and a new arena to celebrate Chinese New Year. And there were also updates announced for Rogue Company, Fortnite, and Warframe. For the full details, plus more game trailers and announcements, you can watch the 20-minute Epic Games Store Spring Showcase on their official channel.