Square Enix has gotten on board with the Nintendo Direct style of video game events, and has announced Square Enix Presents, which will take place at 4am AEDT on March 19th.
The presentation, which is said to be about 40 minutes in length, has been announced as the first of "a series of shows" where the company will reveal new games, updates and news directly to the video game community. The big reveal has already been dropped, too: next week's episode will be the world premiere of the next game in the wonderful Life is Strange series, featuring an all-new protagonist wielding "an exciting new power".
You can also expect to see the following:
– Outriders™, the high-intensity RPG-shooter set in an original dark and desperate sci-fi universe, coming out on April 1
– Balan Wonderworld™, which arrives on March 26
– The ongoing celebration for the 25th anniversary of TOMB RAIDER®
– Marvel's Avengers, the story-driven, third-person action-adventure game from Crystal Dynamics
– Upcoming action shooter Just Cause® Mobile
– New mobile game announcements from the award-winning Square Enix Montréal studio
– A look at a few of the whimsical games from Square Enix sister company TAITO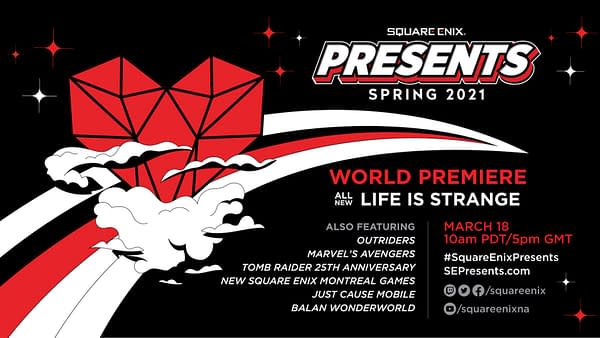 With many game companies pivoting to virtual announcements off the back of an awkward 2020, it's exciting for a publisher with the breadth and depth of Square Enix tap into this. While Life is Strange certainly seems to be the big draw this time around, who knows what other surprises they'll have in store?
Square Enix Presents will be viewable on Square Enix's  official Twitch and YouTube channels at 4am AEDT on March 19th.