It's that time of the month! Games are being added to subscription services. Players love them, maybe even hate them because it's something they already own. The gaming world rotates once more. Regardless, there's some pretty sweet free games coming to the subscription services this month. Here's what's coming to PlayStation, Xbox and PC platforms in April 2021.
Oddworld: Soulstorm (PS5 only)
Perhaps the biggest game drop in subscription services this month is Oddworld: Soulstorm, a game that's debuting day and date on PlayStation Plus for PS5. It's a return for the 2D Oddworld Series that follows alien Abe, set on rescuing his enslaved fellow alien race. The game is also a remake of Abe's Exoddus while adding new visuals and story elements.
Days Gone (PS4 only)
Another big get is PlayStation exclusive Days Gone. This is a post-apocalyptic zombie game that reviewed quite favourably at Checkpoint for featuring a world that truly feels like it's out to kill you. Plus subscribers that own a PlayStation 5 may note that this game is already available via the console exclusive PlayStation Plus Collection, archiving great first and third-party games. Still, it's a great get for those yet to own a PS5.
Zombie Army 4: Dead War (PS4 & PS5)
Yet another zombie game! Zombie Army 4: Dead War released early last year and is quite a good game. It's the most recent entry in Rebellion's zombie entry spin-off series, originally coming from Sniper Elite. Zombie Army 4 makes for some solid co-op fun. You can read our review here. We're sensing a theme for your free games this month, PlayStation.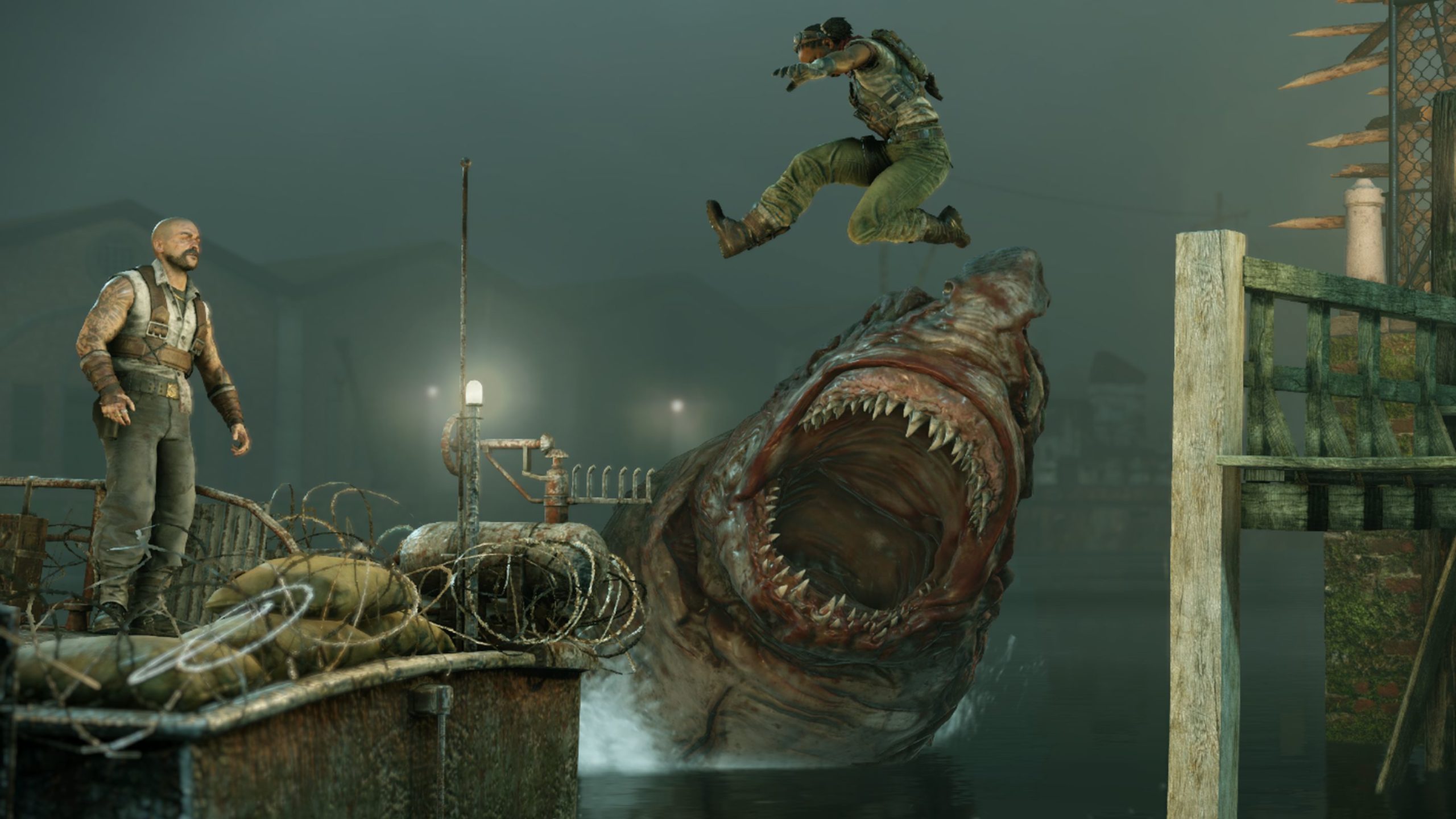 VALA: Vicious Attack Llama Apocalypse (Available until April 15)
Here's a certainly curious one. Vicious Attack Llama Apocalypse (shorthanded to VALA) is a game that is exactly what its name suggests. This is a co-operative twin-stick shooter game serving as a rogue-like that sees players getting stronger through every run in the isometric game. Also featured is an impressive llama count on screen along with a massive city to explore, a campaign and endless mode. Weird! Bold choice for one of your free games, Xbox.
Viking: Wolves of Midgard (Available until April 30)
Viking: Wolves of Midgard is an isometric action role-playing game akin to Diablo but with a Norse skin on it. It received middling reviews but still could make for a fun, mindless slasher.
Dark Void (Available until April 15)
Dark Void is a Capcom published game that sees players in a sci-fi action-adventure universe controlling a pilot stuck in a parallel universe labelled 'The Void.' Use some jetpack boosting and third-person combat to make it out alive.
Sniper Ghost Warrior Contracts 
A sniping sim game with some superb controls could make for some fun! Weak story and dumb AI aside, it was an enjoyable enough title according to our review.
F1 2020
A damn great racing game. Those looking to jump into the world of Formula 1 and sweat it out on some tense tracks should look no further than this entry. Read our review here.
Shenmue III
After eighteen years, Ryo Hazuki is back! Return to the world of Shenmue and continue the hunt for your father's killer. Yes, old Ryu's still searching after all this time. C'mon, man!
Main Assembly 
If you can think it, you can craft. Make a plane, a race car, a spacecraft and more in this bot creator sim game filled with creativity and some multiplayer for added measure.
Rock of Ages 3: Make & Break 
You are a giant rock. Boulder downhill through enemy structures and pray it all comes tumbling down in this destructive game. Read our review here.
Remothered: Broken Porcelain 
I'm gonna be brief with this one. I reviewed this game. It's a terrible, offensive mess of a horror game. Though, the best price for a bad game is a free price. Jump on in, maybe?
In Other Waters 
In Other Waters is a pretty great sci-fi exploration game set within the deep blue sea. It's got puzzle elements, and a calming setting on the top, with a queer love story buried underneath. Read our review here.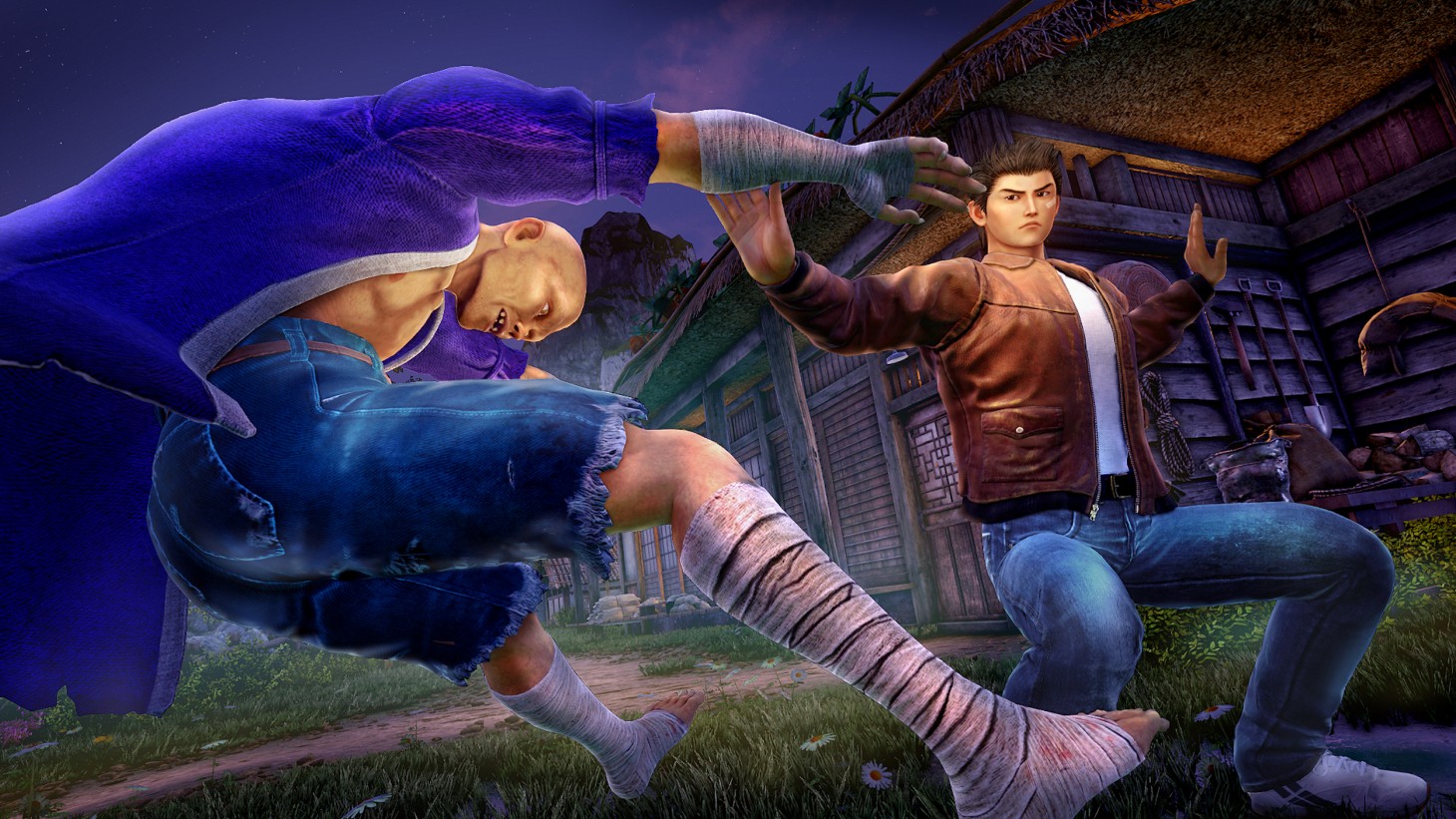 Aven Colony 
You are put in charge of humanity's first extrasolar settlement. Colonise an alien world in this well-received strategy game!
Simulacra + Simulacra 2 
You've found yourself with a dead girls phone. Peruse through her social media, text messages and photos to piece together who murdered her. Can you solve the mystery?
Colt Canyon 
A pixel art shooter that is an atmospheric and punchy rogue-like. Control a cowboy and other various cowboys. Get blasting to hell. Yeehaw.
Skully 
Control a skull that's washed ashore a mysterious island. Awoken by a deity, venture across the island in this platforming adventure. Read our review here.
Popup Dungeon 
A tactical RPG rogue-like heavily inspired by popular tabletop games. Control a vast party size in this fantasy adventure.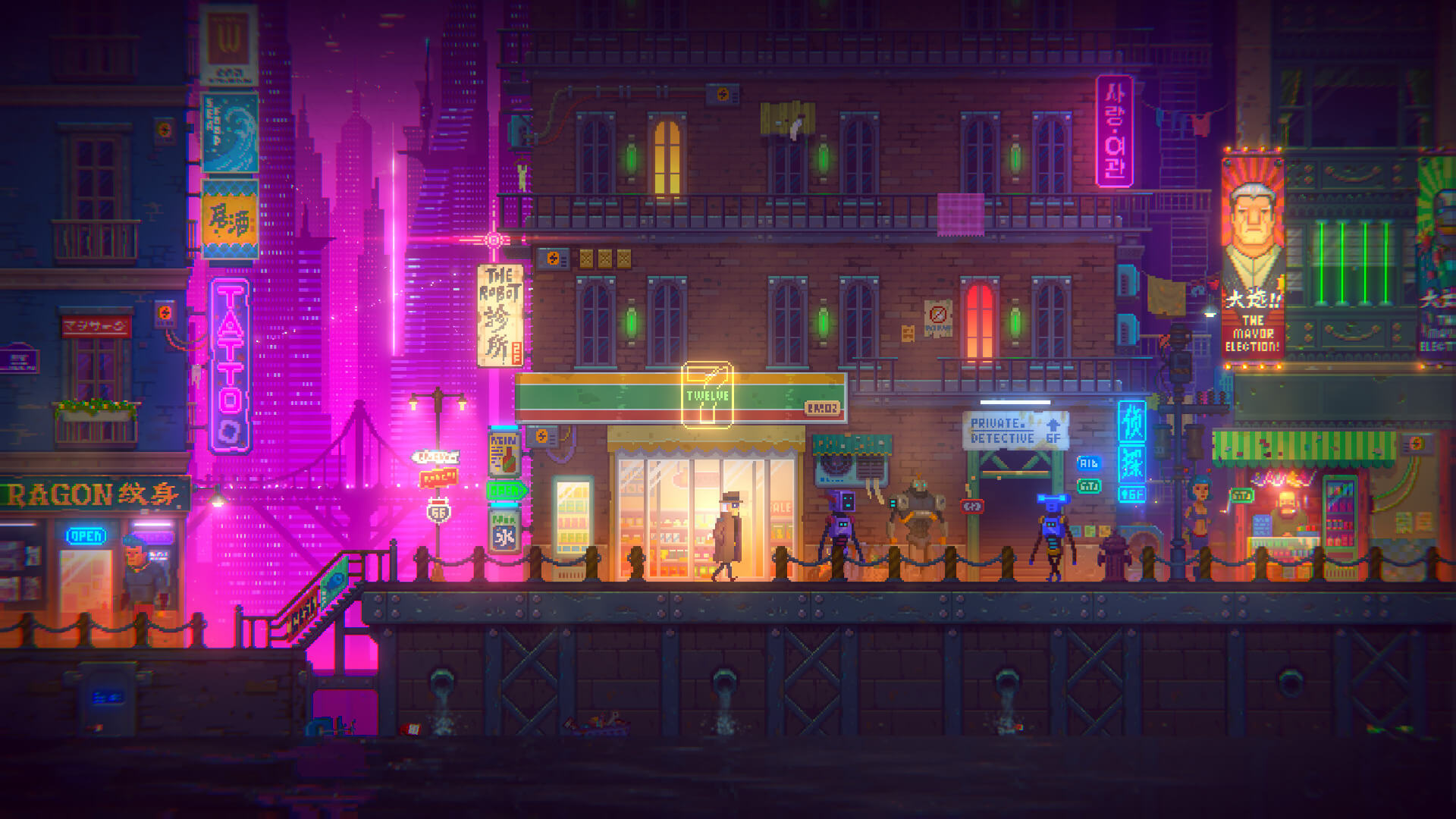 Tales of the Neon Sea (Available now – April 9)
Set in a fully realised cyberpunk cityscape, bask in the gorgeous retro-style pixel art views as you make your way through a city as a detective. Human and robot tensions are escalating, gangster felines are working their way to the top of the food chain and around it all lies a big mystery. Can you solve it?
3 out of 10: Season Two (Available April 9 – April 16)
3 out of 10, the episodic game that is a playable sitcom about a failing game studio returns for the second season. Take on other game developers in a 2D boss battle, survive a car-battle showdown and rap about cows to escape a rival studio's campus. Here's hoping you picked up the last season when it was part of Epic's free games last year!
The Escapists
The Escapists is a long-standing indie series that would eventually go on to create spin-offs such as The Survivalists. Control a party of pixelated inmates within a prison. Complete your daily tasks, ever so discretely deviating to build towards making tools to later escape. Can you make it out of the prison system alive?
Move or Die – Couch Party Edition
Move or Die is another game in the long list of party game's that'll likely be a friendship breaker. This 4-player party game changes mechanics every 20 seconds, making it easy to pick up but hard to put down.
Before I Forget
Before I Forget is another indie game that looks to tug on the old heartstrings. Players control Sunita in this narrative adventure about an individual with early-onset dementia.
The Dark Crystal: Age of Resistance Tactics
The Dark Crystal, but make it Tactics. Age of Resistance Tactics is a Netflix licensed game purposed to coincide with the previously released Dark Crystal television series. Control the Gelflings and fight against those dastardly Skeksis in this tactics adventure.
Escape Machine City: Airborne
An escape game with 3D graphics and visual effects. As an imminent danger is threatening the mechanical city known as Machine City. Can you escape alive in this puzzle game?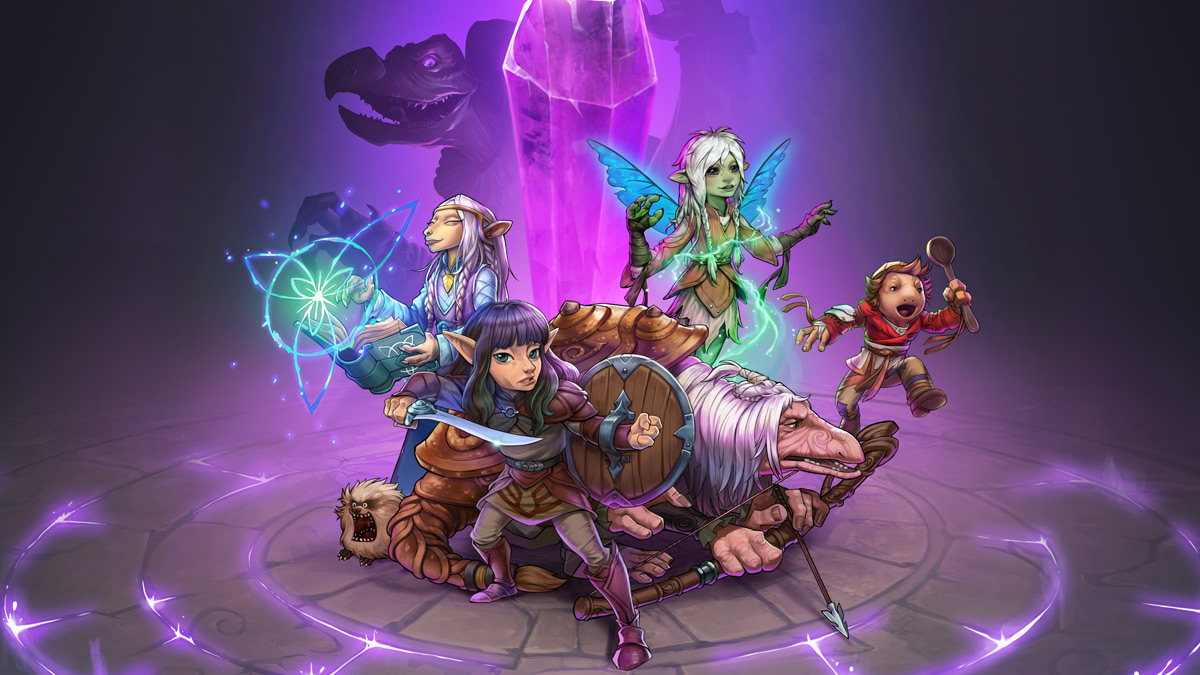 Aces of the Luftwaffle – Squadron
An action-packed, vertical scrolling shoot-em-up dogfighting game. Dodge bullets, gain power-ups and come out on top in this bullet hell adventure.
Optica
Work with mind-bending logic and illusion puzzles. Appreciate the beauty in geometric design. Challenge yourself through 70+ levels in this creative puzzler.
Moving Out
Get moving on out! Moving Out is a co-op party game akin to the frenetic nature of Overcooked. Find creative solutions in how you pack up or move into houses in this Australian made game. It's one of the solid party games of last year. You can check out our review here.
And there you have it! That's all the free games that subscription services will net you for the month of April. Needless to say, there's plenty to keep you busy. What has your eye?