Cuphead's Studio MDHR in collaboration with the Australian Centre for the Moving Image (ACMI) has unveiled a Cuphead installation that will remain in the gallery for up to a decade. It features as part of their recent free exhibition creation, The Story of the Moving Image, which will be consistently updated with new exciting elements from TV, film and of course, video games.
A marvel of the modern age!! We're thrilled to share this first-ever look at the Cuphead museum exhibit in motion.

Housed at @ACMI in Melbourne for the next decade, this 3D-printed Zoetrope contains over 100 individual models that "animate" with the help of strobing light! pic.twitter.com/tjRXhasL8o

— Studio MDHR (@StudioMDHR) April 12, 2021
Here's a real high-class bout! The very iconic characters of the Cuphead game can be seen in 3D animation using the 19th-century invention, the zoetrope. The machine spins and uses a flashing light to create the illusion of movement and action on the carousel. The Cuphead zoetrope has around 90 individual, handmade characters from the game that look like they magically come to life.
A brawl is surely brewing! Fans of the game will be familiar with the main characters, Cuphead and Mugman, bouncing around as others like King Dice, the Devil, and Ms Chalice are present with snarking smiles and jiving dances.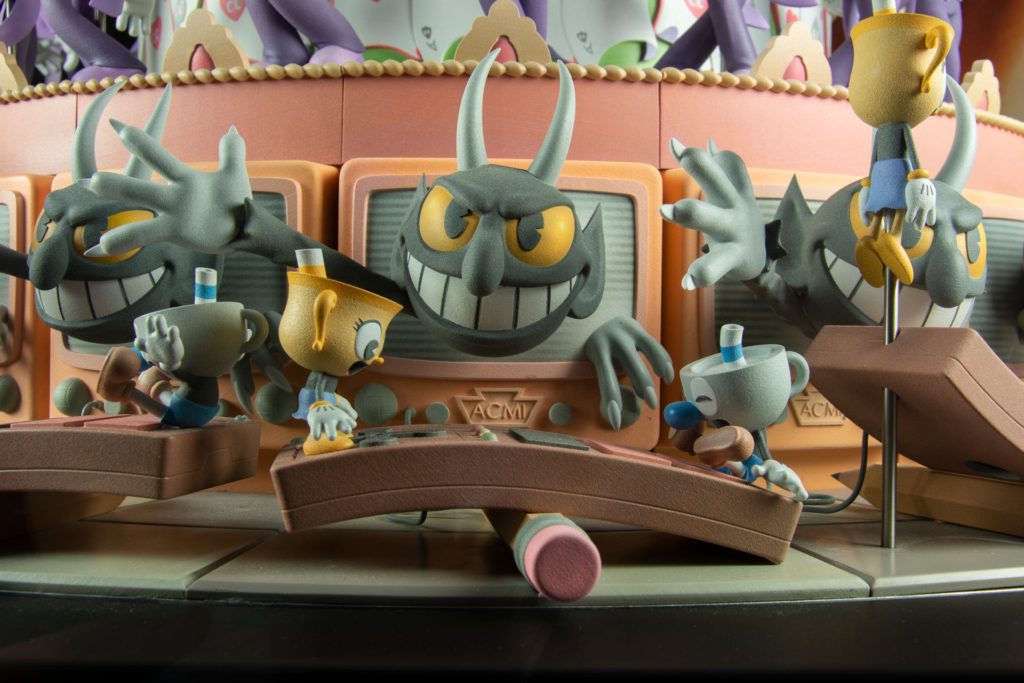 Cuphead is a platformer heavily inspired by the classic cartoons of the early 1900s. Think Walt Disney, Looney Tunes, and Merrie Melodies. The game itself was illustrated with hand-drawn cel animation, watercolour backgrounds, and a composed jazz soundtrack that truly depicts these old-school animations in the style of a video game.
Looks like there will be more to come from the animated kitchenware in the near future, as well. A Netflix series is supposedly in the works and even Elon Musk has gotten his hands on it and got it working in one of his Teslas.
It's on! The Cuphead zoetrope installation is open now to visitors of ACMI in Melbourne, Australia. You can see it in Gallery 1 up until February 2031 – SO BE QUICK!!!