It's been 5 years since the fan-favourite asymmetric horror game Dead by Daylight began pitting 4 survivors against killers in iconic arenas. Since then, there've been many generators blown, pallet stuns, and blood-thirsty killers to really keep the heart racing.
The new Resident Evil chapter will see Jill Valentine and Leon S. Kennedy join the game as survivors and brutal Nemesis as the new killer. Also, now that the game's graphical rework is complete, we'll be getting a new iconic map based on the Raccoon City Police Department. Resident Evil fans will certainly recognize the precinct from the Resident Evil 2 and 3 remakes. So no nine-foot-tall lady killers this time. The new Resident Evil chapter will be available on June 15th on respective platforms.
Jill will come with unique perks that playoff her adaptability and intensive training as a S.T.A.R.S. agent in Racoon City.
Leon's unique perks will utilise his dedication to others, resilience, and goal-driven personality despite having the worst first day ever. He will also be able to craft a flashbang which is a fresh item to the arena. That's right! This item is one you don't select in the match lobby but make in the match.
Nemesis' perks will reach as a killer and how he spreads the t-virus in the match. He's giving me a big Plague vibe with the sickness mechanic that always makes for a tricky match. Also, sounds like the cure is limited for further challenge. I sure would hate to not make it out of a match because someone was greedy on the antidotes on the map. In his games, survivors will see AI zombies stalking the arenas just to make things trickier. This is a first for any killer in the game so it will certainly be intriguing to see how this meshes with the game as it currently is.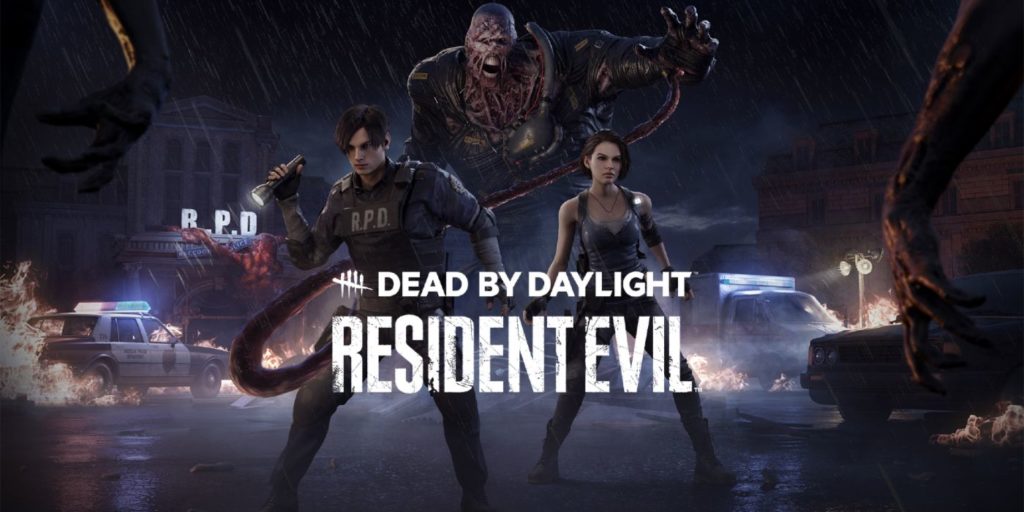 The new map features a gorgeously recreated Raccoon City Police Department. The location will feature many familiar landmarks including the S.T.A.R.S office.
The anniversary in-game event:
From June 1st till June 15th, players will be treated to the opportunity to find an awesome in-game character cosmetic crown. There's only 1 per map though and they're only available on original survivors and killers, so leave Steve Harrington in the lobby folks! There's also going to be a special cosmetic for lobby heartthrob David King and bell-ringing killer Wraith as well as some themed charms everyone will enjoy.
What's next for Dead by Daylight:
The games' 5th year will see a fresh trove of new yet to be revealed content delivered to players such as;
– 4 New Killers
– 5 New Survivors
– 2 New Maps
The game's most recent addition was the stylish Trickster, who's definitely left fans wanting more. The presentation also detailed new methods coming for tutorials such as bot matches, fixing matchmaking queue times, an auto-ban feature, a new type of boon perk, a new mori gameplay mechanic, as well as other perk and killer balancing. Oh, there's also Funko POP! Vinyls on the way for the avid collectors or those in need of a dedication to their in-game main.
#intotherainbow in-game pride event:
To coincide with June Pride Month, we'll also see a new rainbow flag charm in-game. Charms are cosmetics that can be displayed on hooks and survivor characters. It's a great way to show off your queer pride in the arena.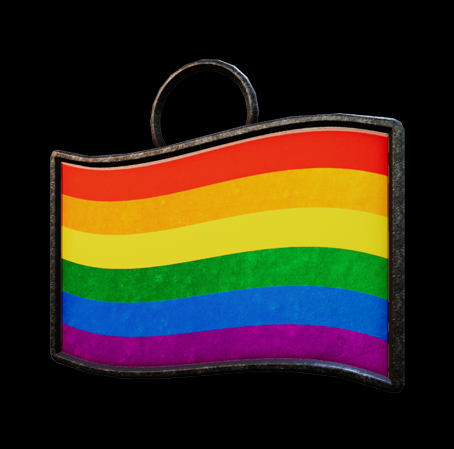 Show Dead by Daylight to a friend!
I've only recently found my way back to Dead by Daylight after a fraught few tries to understand the hype. I love playing with friends as it makes the experience so much more adrenaline-pumping. I love playing as Steve Harington in his blue Scoops Ahoy uniform plucked straight from hit Netflix series Stranger Things. One of the bonuses of the game is seeing familiar killers and going up against them as well. Playing this game with a chill group of friends is an awesome experience I can't recommend enough. It's also cross-platform compatible on certain devices for those worried they won't have anyone to group with on their console.
If your an experienced player, now more than ever is the best time to help your curious friends to try the game out for the first time. It can be a bigger learning curve. Maybe even assemble 5 friends and play a few custom matches. Show them the way as there are so many little tips and tricks one doesn't learn straight away in the game. If you're a new player, don't hesitate to look into the game. Watch a streamer play killer, check out some of the character lore or find a friend who plays!
So who's ready to run into the fog?