Sony has finally unveiled the full specifications of their newest home console, the PS5. It appears to be a siezable bump in power above the PS4. However, it doesn't quite measure up to its main competitor, the Xbox Series X.
The presentation was originally planned to be made at GDC, which was unfortunately indefinitely postponed. While the reveal video is a little dry, it sets out what the PS5 will be capable of. We also do not get a look at the console itself, or how its size compares to various objects and appliances found in a kitchen.
These are the console's key specs:
CPU: AMD Zen 2-based CPU with 8 cores at 3.5GHz (variable frequency)
GPU: 10.28 TFLOPs, 36 CUs at 2.23GHz (variable frequency)
GPU architecture: Custom RDNA 2
Memory interface: 16GB GDDR6 / 256-bit
Memory bandwidth: 448GB/s
Internal storage: Custom 825GB SSD
IO throughput: 5.5GB/s (raw), typical 8-9GB/s (compressed)
Expandable storage: NVMe SSD slot
External storage: USB HDD support (PS4 games only)
Optical drive: 4K UHD Blu-ray drive
Now, compared to Microsoft's upcoming fridge-shaped rival console, the PS5 comes a little short. The PS5 only has 825GB SSD of internal storage, compared to the Xbox Series X's 1 terrabyte. Its CPU and GPU are also less powerful than those of the upcoming Xbox. The PS5 will support expandable storage options, including NVMe PC drives rather than proprietary options. However, the expandable storage will need to support PCIe 4.0 interfaces, which not many currently on the market do.
Compared to the PS4, the PS5 holds many advantages. The Solid State memory will make it easier and faster to load large video game worlds. 16GB of RAM will also allow for more elements to be loaded at once, meaning more NPCs, more items, and larger, more immersive settings. The design of the system is focused around ease of development, similarly to the PS4, after the PS3's custom hardware made it difficult for many developers to make the most of that system's capabilities.
What will be good news for early adopters is backwards compatibility with PS4 game discs. According to PlayStation chief architect Mark Cerny, "almost all" of the top 100 PS4 games will be playable at launch. What constitutes "top 100" is ranked by total player play time. Players can also expect every PS5 model to contain backwards compatibility, and for that capability to not be stripped away for costs reasons like with previous Sony consoles.  "Once backwards compatibility is in the console, it's in," Cerny said. "It's not as if a cost-down will remove backwards compatibility like it did on PlayStation 3."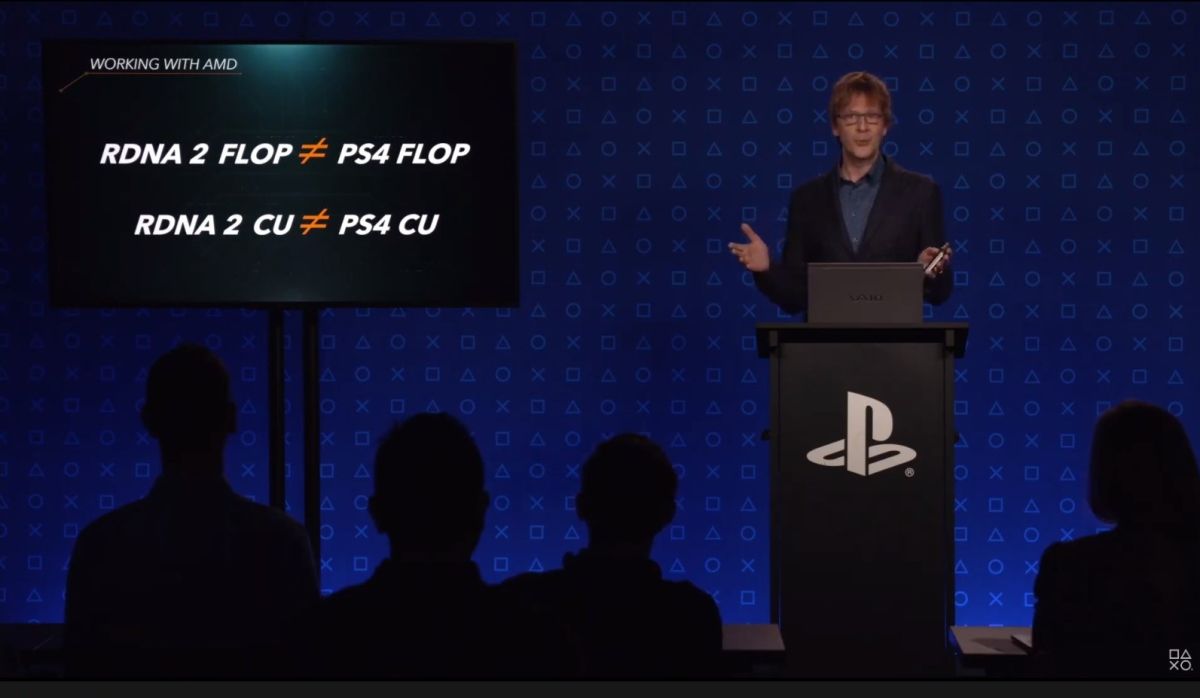 While the PS5 will not quite be on par with the Xbox Series X, it is unlikely that Sony is losing much sleep over it. The Xbox One X has technically been the most powerful console of this generation, but both the Nintendo Switch and PS4 triumphed over Microsofts consoles in sales figures. The power of consoles is an asset, certainly, but the success of Sony and Nintendo has demonstrated that good exclusive games and features sells consoles, and not the other way around.
We do not have a confirmed price for the PS5 yet, but rumours are suggesting it may be more expensive than the PS4. This will likely be exaccerbated by the Coronavirus' impact on manufacturing and shipping. The initial failure of the PS3 and Xbox One shows how damning a high price point can be at launch.
Hopefully for Sony it will have a good launch lineup and price to carry the console to success. The PlayStation 5 is set to release "Holiday 2020".